Disparities in school reopening plans could mean lifelong education impacts for students
Disparities in school reopening plans across Lehigh Valley could mean lifelong education impacts for students
By Chloe Nouvelle
March 29, 2021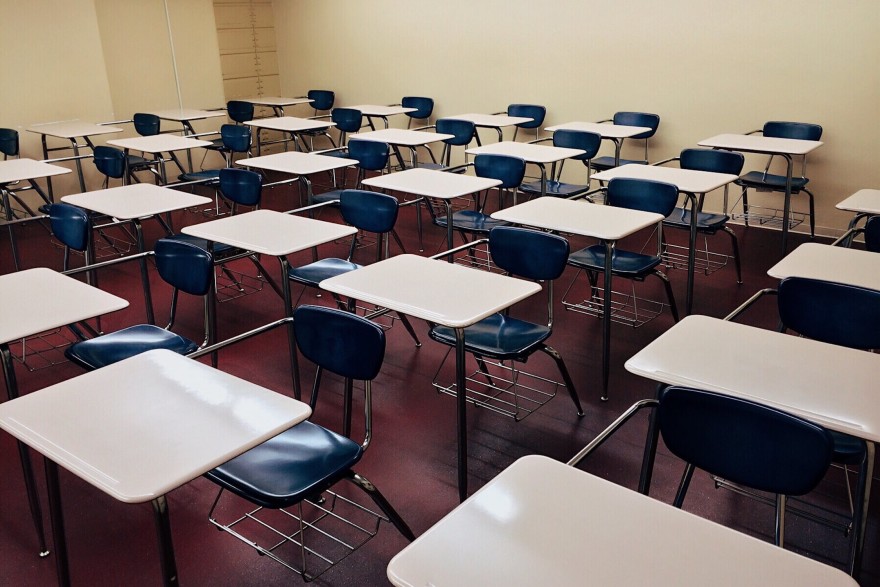 It's just over a year since the pandemic forced school closures across the Lehigh Valley, Pennsylvania, and the nation.
Closing proved to be the easy part. It looked the same, pretty much wherever you lived.
But what "reopening" looks like, how many days a kid can go to school, what counts as being present, and even what's included in science class this year, well, that depends on district borderlines.
If you started at Liberty High School in Bethlehem and drove 8 miles in either direction, you'd find what counts as school is very different.
But across the board, educators are up against the same things
Harrison Bailey is Liberty's principal. This is what he hears when he talks to other local principals.
"I can tell you that every meeting we've had all year long, there's, at some point, been conversation about engagement and student failure. We're all dealing with it," Bailey says.
Liberty is one of two high schools in Bethlehem. In this district, kids can go to school two days a week. The rest of the time, they're remote. It's "asynchronous learning." So students are mainly on their own. Lots of lessons are pre-recorded. Like Netflix, they're on-demand.
Bailey says before the pandemic hit, his school had a 96% attendance rate. He says that number has dropped to 86%. But, he says, they can't approach truancy the way they used to. They need to show "compassion and grace."
"We've done that to the N-th degree, in terms of really trying to work with families, really putting some other things in place to try to improve that engagement," he says.
The school has streamlined the curriculum. Bailey says they got rid of things that weren't essential concepts and skills.
"We refer to them as the must-dos and the may dos," says Tara Richards, a ninth-grade biology teacher at Liberty.
The "must-dos and may dos" do not apply to advanced placement and honors courses, she says, but other classes have been "pared down" by as much as 25%.
And the way Richards grades her students has changed too because kids aren't on a level playing field. Some kids may be Zooming into class with five other siblings at home. Others may have learning support from a parent. So Richards has had to adapt.
"I don't want to say, well, you know what, I feel sorry for you, so I'm not going to count those two assignments. Well, no. I appreciate and empathize with what you're going through, but now you need to do this. So I think we're kind of walking that line now and realizing it's hard to hold a standard but still have compassion, but we've got to do it," she says.
And remote learning isn't just an issue for students and teachers.
"What about parents who have to put food on the table? What about parents who have to go to work?" asks Carly Smith, a mom of two in the Easton Area School District. It's just a short drive from Bethlehem.
EASD has been running the same schedule two days in, three days remote. But Smith is done with hybrid. She's calling for all grades to go back five days a week.
"We can do better as a district. Much, much, much better. Districts all around us are doing better," Smith says.
Easton plans to bring kindergarten through fifth-graders back four days a week. With kindergarten through second grade starting April 6.
The district says middle and high schoolers that want to get back in a classroom that much must demonstrate a need.
Bonnie McCarthy, Smith's neighbor, and a fellow Easton parent says struggling with academics is one thing. But remote school brings other consequences that can't be measured on paper.
"We have heard from parents whose second graders, third graders, don't ever want to leave the house again. Hate their lives. They have no friends. They have no socialization. All the way up to high school, where students are being hospitalized," McCarthy says.
Kids can't keep doing this Zoom-based system, she says, that it's not a replacement for school.
But not every district in the Lehigh Valley sent their kids to Zoom. Within the borderlines of the Catasauqua Area School District, the word "hybrid" still refers to cars, not schools.
Their high schoolers have been back for in-person learning, five days a week, since the fall.
Adam Schnug, principal at Catasauqua High School, says students who choose the remote option follow the same bell schedule as in-person students. They attend classes at the same time, learning the same lessons from the same teachers.
Unlike Bethlehem, their curriculum hasn't been pared down at all.
The school hasn't had a drop in attendance, according to Schnug. But when it comes to academics, "The in-person students, they are performing better."
Schnug has some ideas as to why remote students aren't doing as well as their in-person classmates.
"We are so much better at identifying when a student is off task just by how they look or their body language or I can tell if a student is bored based on how they're sitting in a classroom. When we bring in this virtual component, we've lost all capability to do that," Schnug says.
So, with such a wide variation in how kids in the U.S. are learning this year,.what does this all add up to?
"It means large equity gaps and educational outcome gaps. Large gaps," says Brian Perkins, director of the Urban Education Leadership Program at Columbia University Teachers College.
He says it will take some time to see the harm to students' educational careers.
"When we start to look at the cumulative effect of being out of school, not having those in-person experiences, we will see a big gap in academic performance," Perkins says.
While there are always exceptions, Perkins says, in places where kids do better than expected, history has already taught us a lesson.
"In places where they don't have the same resources, they already started out with resource gaps, opportunity gaps. Where those have been exacerbated further, you're going to see performance gaps widen," Perkins says.
As this strange school year comes to a close, addressing the gaps may have to wait, at least until every school is fully open again.
Sign up for our WLVR weekly newsletter to stay up to date with the latest news from the Lehigh Valley and across Pennsylvania.
---