A Day in the Life: Allentown mayoral candidates make final push of campaigns
Written by Jim Deegan on November 1, 2021
A Day in the Life: Allentown mayoral candidates make final push of campaigns
By Genesis Ortega
November 1, 2021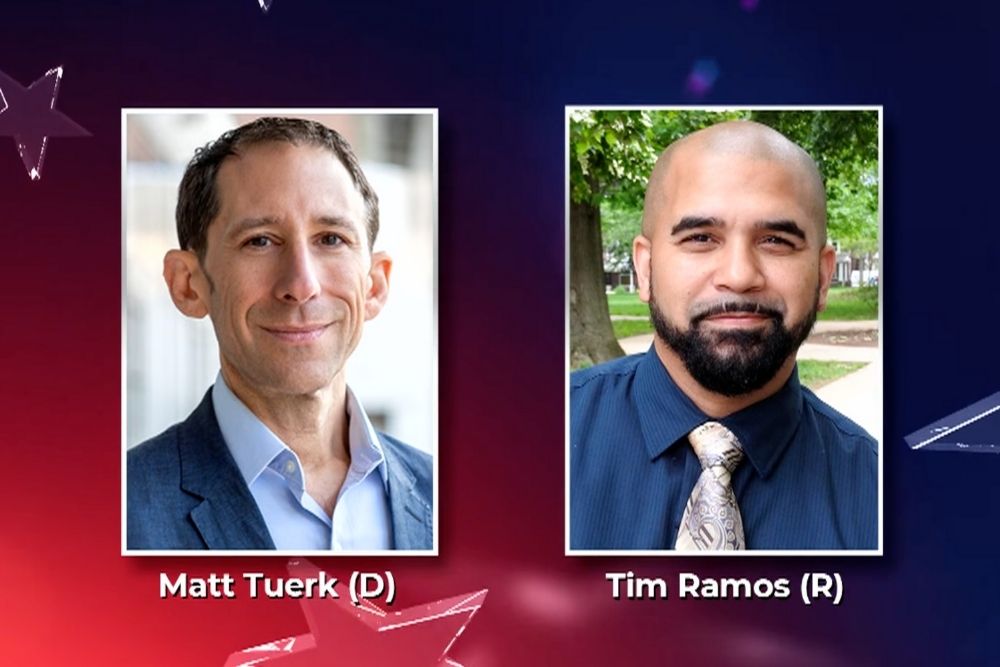 Allentown will elect a new mayor on Tuesday.
No matter who wins, the election marks a fresh start for the city. Neither candidate is directly tied to a pay-to-play scandal that rocked city hall just a few years ago. Observers say a new voice could help Allentown leave its troubled legacy in the past.
It was just over three years ago that former mayor Ed Pawlowski resigned after being convicted on federal corruption charges for selling city contracts in exchange for political donations. 
The news coverage was extensive, and it put Allentown on the map for all the wrong reasons.
"It's exciting that there's going to be a new mayor with a four-year term and a fresh perspective [who] has not been directly part of the city administration. I think that's critical right now. That's what Allentown needs," said Don Cunningham, president and CEO of the Lehigh Valley Economic Development Corporation. 
The campaign for mayor started a little over a year ago, when Democratic candidate Matt Tuerk announced his bid. He surprised just about everyone when he won a four-way primary with very little name recognition and competing against three well-known politicians.
His opponent is Republican Tim Ramos, who ran for mayor two years ago but wasn't elected.
Cunningham says the next mayor will inherit a city at a crucial turning point.
"The city already has a good base, but with the right type of leadership and investment, it's got really unlimited potential in all sectors of the economy," he said.
But opportunity comes with challenges, such as finances, policing and public safety, and community engagement.
Going door-to-door with Tim Ramos
Tim Ramos' days consist of knocking on doors and asking neighbors what they want to see happen in the city. It was a Friday afternoon when he knocked on the door of Allentown resident Ebony Weeks to introduce himself.
Moments after she opened her door, she questioned Ramos on his plan to address neglected properties.
"One of things that bothers me about Allentown is that you have half of the property owners from Jersey, half [who] are from New York, and none of [them] care," Weeks told Ramos.
"Throughout this campaign I've taken a hard position against absentee landlords and slumlords," Ramos responded. "If you're not going to respect our community and take care of your property, we're going to hold you accountable."
Ramos positions himself as a grassroots leader who grew up in the city. Allentown is his hometown. He had fond memories of his childhood as he stood at the intersection of 7th and Greenleaf streets.
As he walked to the next door, he pointed to an empty space across the street. "There used to be a tree right there. We used to climb up that tree as kids," he said with a chuckle and a smile.
This hometown narrative resonates with voters. Ramos has a young family and is Puerto Rican. The city has a growing Hispanic community that makes up about 54% of the population.
He was able to connect with a Spanish-speaker unloading groceries from her car with her kids.
"Permiso. Mi nombre es Timothy Ramos y soy candidato para alcalde. El dos de Noviembre salga a votar. Gracias," he said to her. This translates to: "Excuse me. My name is Timothy Ramos and I am a candidate for mayor. Please come out to vote on November 2nd. Thank you."
Party registration in Allentown leans to the left, which means Republican Ramos will need a significant number of Democratic voters to cross over for him. Allentown last elected a Republican mayor in 1997.
A listening session with Matt Tuerk
Ramos' opponent said he isn't taking that history for granted. It was a Friday night when Democrat Matt Tuerk met with community stakeholders to listen to their visions for the future of Allentown. At the meeting, he took notes.
"So one of the other things that I wrote about here is, with collaboration, it's making sure we have a civic engagement pipeline to make people feel like they're part of this city and that they're prepared to serve on authorities, boards and commissions," he summarized during the roundtable discussion.
The conversation included leaders in the African-American community among whom were business owners, church pastors and nonprofit directors.
Education was a key issue for the members of this group, including Allentown School Board Director Phoebe Harris. 
"We have to get our kids on a third-grade reading level. They have to be proficient. This is something we're working on in the district," she told Tuerk.
He agreed with her. "That is something I've spoken with folks at the United Way about. That's an absolute goal for our city. We should state that as a goal not just for the school district but for our city. We can do that," he replied. 
There was even a student present that night. She told Tuerk that none of her friends knows who the current mayor is. She said they just don't see him.
This student and her friends are likely to see Tuerk more frequently if he's elected since he's the parent of an Allen High School freshman.  
During the conversation, he took a chance to update the group on the football game happening that evening over at J. Birney Crum Stadium.
"My wife texted me that Allen is up 40 to nothing over East Stroudsburg," he said to the group. The news was received with cheers. Later that night, Allen's team went on to secure its first victory of the season.
LVEDC's Cunningham said new leadership will be a good thing for Allentown, regardless of who wins.
He sees the election as a shifting back to a young, energetic movement and says that rebirth could create the right conditions for the city to thrive.
Polls are open from 7 a.m. to 8 p.m. Tuesday.
Sign up for our WLVR weekly newsletter to stay up to date with the latest news from the Lehigh Valley and across Pennsylvania.
---