The day after: A look at some Bethlehem and Northampton County races
Written by Mariella Miller on November 3, 2021
The day after: A look at some Bethlehem and Northampton County races
By Brad Klein and Megan Frank
November 3, 2021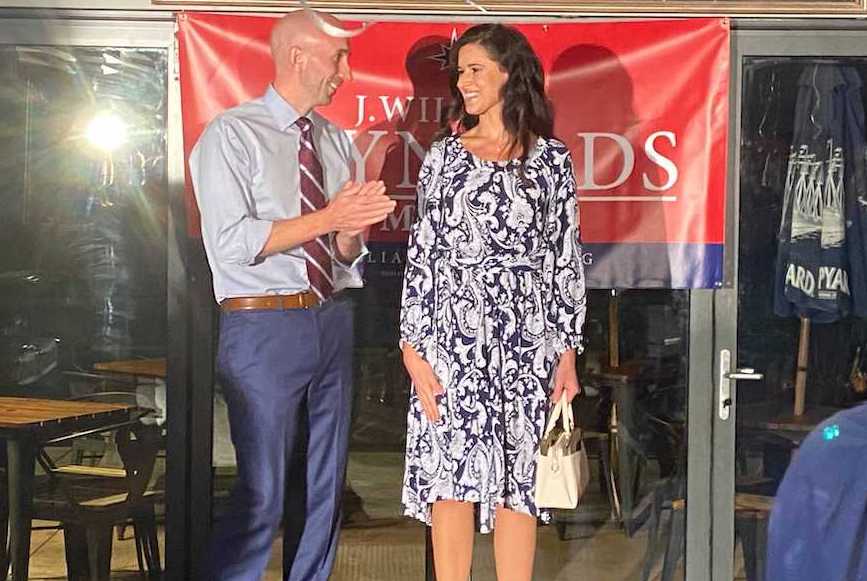 WLVR's Brad Klein and Megan Frank talk about yesterday's election: the Bethlehem mayoral race; women a majority now in the Bethlehem City Council; and the Magisterial District Justice race. 
All results are still unofficial.
To keep up with WLVR's news coverage and more, sign up for our weekly newsletter at WLVR.org.
Brad Klein
"I'm joined now by WLVR's Megan Frank. Hi Megan."
Megan Frank
"Hi Brad."
Klein
"Good morning. You've been keeping an eye on the returns from Bethlehem. Let's review what we know as of early this morning.
"Bethlehem's mayor, Bob Donchez, is term limited. Democrat William Reynolds was up against Republican John Kachmar for the job."
Frank
"Yes. I was at Reynold's watch party last night. The mood was very happy. It really felt like though they were celebrating the win long before the final votes were tallied.
"Unofficial results with all precincts reporting in Northampton and Lehigh counties right now show Reynolds with over 8,000 votes to more than 4,000 votes for Kachmar just after midnight. 
"Bethlehem hasn't had a Republican mayor since the 1990s, that was Ken Smith. But still considering the Democratic registration advantage, Kachmar did alright with 37% of the vote."
Klein
"It seems like a pretty decisive win there by Reynolds. Now in the city council races, women swept the Bethlehem City council race in the primary election ".
Frank
"Yes. They were all Democratic women, there were no Republican challengers for four seats on Bethlehem City Council. So the victories last night were not a surprise but the election confirmed that for the first time in the city's history, women will hold a majority of seats on the panel that's six out of seven seats.
"Of the four women, Grace Crampsie-Smith is the incumbent and a school counselor at Easton Area High School. The newcomers are Kiera Willhelm, the director at Fig Bethlehem, Hillary Kwiatek, a Lehigh University communications specialist and Rachel Leon, a south side resident, veteran and a Northampton Community College student."
Klein
"So we have a little history being made there.
"In the Magisterial District Justice race, now there's a race that probably a lot of people are a little confused by going into the polls.
"Democrat Amy Zanelli was up against Republican Van Scott."
Frank
"Yes, Zanelli appears to have won that race. Unofficial results show Zanelli with 20,607 votes to 1,962 votes for Scott.
"Zanelli is a Democrat who's a Lehigh County commissioner and a Democratic State Party representative.
"Scott is a Republican who served more than 20 years as an officer with the Bethlehem Police Department.
"The district covers West Bethlehem and Fountain Hill and voters I spoke with at the Rose Garden polling site said that this was the race they were more interested in, even more so than mayor, and they were torn between both candidates.
"People told me they were both good picks and it was a tough choice."
Klein
"Wow. Well, since we have another moment, take me back to the William Reynolds watch Party last night. I've never been to a watch party myself. It must have been an exciting moment there."
Frank
"It was. "When Reynolds finally came to his watch party which was already very energetic, he got on stage with his wife who is a pediatric doctor in the area and he thanked her, he thanked his family, he thanked what he called coalitions of people throughout the city in the Lehigh Valley who support him.
"He has support from state Sen. Lisa Boscola (D-Lehigh/Northampton) and U.S. Rep. Susan Wild (D-Lehigh/Monroe)  and different members of council. And he said that he believed the reason that he was able to get where he is with his races is because of all of the connections and people that he's been able to bring together to support him."
Klein
"Well, thanks so much for joining us, Megan."
Frank
"Absolutely. Thanks, Brad."
Sign up for our WLVR weekly newsletter to stay up to date with the latest news from the Lehigh Valley and across Pennsylvania.
---