'What You Need to Know:' The school mask mandate and Northampton County vote-counting
Written by Mariella Miller on November 12, 2021
'What You Need to Know:' The school mask mandate and Northampton County vote-counting
By Brad Klein
November 12, 2021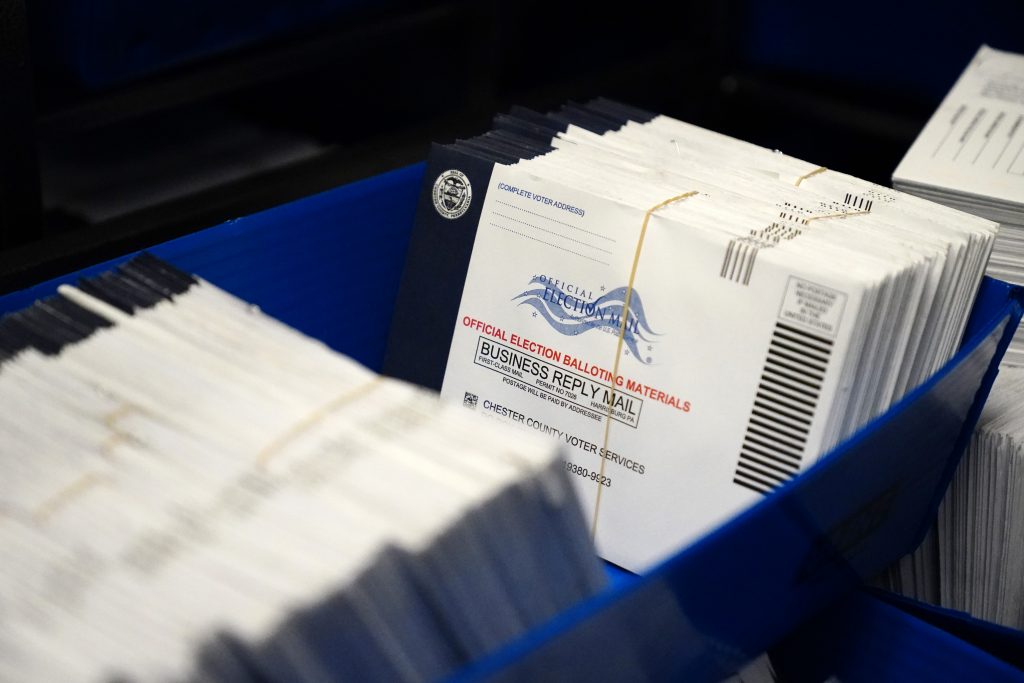 BETHELHEM, Pa. – In our regular Friday feature, "What You Need to Know," WLVR's Brad Klein speaks with WLVR News Director, Jen Rehill about the week's top local news. This week: The latest on the K-12 school mask mandate, an election recount of one election for the Commonwealth Court, and in the Northampton County Executive race, defeated Republican candidate, Steve Lynch making charges of fraud – so far, without evidence. For more of 'what you need to know', sign up for our weekly newsletter at WLVR.org.
Brad Klein
"Hi Jen."
Jen Rehill
"Hey Brad."
Klein
"The question of masks in K-12 schools has been shifting really since the summer when the state Department of Health mandated that masks would be worn in Pennsylvania's K-12 schools. Monday of this week, the governor said he'll return decisions to local districts next year but then things changed dramatically on Wednesday."
Rehill
"On Wednesday, Brad, the state's Commonwealth Court overturned the state mask mandate. In a vote of 4 to 1, the justices said the department of health, that's where that mandate came from, had exceeded its authority. However, the governor's office has now appealed the case to the state Supreme Court."
Klein
"So parents are naturally asking, where are we now?"
Rehill
"You know, Brad, it's this really confusing situation. But what parents need to know is that for now masking is staying in place in K-12 schools and childcare facilities. Until the state Supreme Court rules on the issue, the mask mandate is going to remain in place and nothing's going to change. It's not going to go back to the school boards or the school districts at this point. What may happen in January again remains in question and there are other health experts who are questioning changing anything right now as we head into the holiday season and case counts are high."
Klein
"So last week's municipal election is pretty much tied up but there's still a couple of cases to think about. One is on the commonwealth court, there will be a mandatory recount because one result was just that close."
Rehill
"That's right. There were two open seats on the ballot on Nov. 2, and it's the results of the second seat that are really a question. So there's Democrat and Philly Common Pleas Court Judge Lori Dumas, and she holds a 17,000 vote lead over former state Senate Republican Aid Drew Crompton who was appointed to the seat and is actually sitting on Commonwealth Court right now. But that's a less than half a percentage point of difference in the race and that triggered an automatic recount under state law and every county is going to have to do a recount across Pennsylvania."
Klein
"And I've seen estimates that the total cost will be something like $1.3 million and results have to be in in about two weeks."
Rehill
"Now, one thing that's not going to change based on this recount is the majority of Republicans or Democrats on this bench. Republicans hold the majority of seats and the results in this race won't change that."
Klein
"Another race which actually is settled is in the Northampton County executive race. Incumbent Democrat Lamont McClure won handily by some 8,000 votes but his Republican opponent Steve Lynch has not yet conceded and in fact is charging fraud."
Rehill
"He has been all over Facebook this week. He has been in person while Northampton County is doing what they call canvassing the votes which is the process of certifying the election and looking at any ballots that are disputed. We have reached out to him for interviews. He has not responded to our request for that. He has been posting videos alleging fraud, railing against the election process and what he calls the "progressive communist Democrat liberal machine in Northampton County." Reporter Hayden Mitman reached out to the county to find out what was going on and spoke with the head of elections Amy Cozze on Wednesday and she said that Lynch's allegations are absolutely false."
Amy Cozze, Northampton County chief registrar of elections
"It was run of the mill process just like it always is, slow and steady. I guess what I'm saying is administratively we had no problems with this election."
Rehill
"Cozze also noted that this canvassing process is done by bipartisan teams. It's open to the public and it's actually streamed in video online. She argued it's designed to be transparent and it was carried out that way. Some experts that we've talked to have looked at what's happening around this race and Steve Lynch's tactics as a kind of nationalization of this race, employing language and tactics that were used by the Trump campaign and his surrogates to sew chaos around the election process and undermine confidence in the results."
Klein
"It does seem that two years ago, this would have just been almost inexplicable and now having been through the 2020 election, it feels all too familiar."
Rehill
"I think we're continuing to see the repercussions of what happened in 2020 unfold in elections across Pennsylvania. And I don't think the 2022 midterms, which are coming up right around the corner, are going to be any exception to that."
Klein
"Well, thanks for joining us, Jen."
Rehill
"Thank you, Brad."
Klein
"That's Jen Rehill, news director here at WLVR. For more of 'What You Need to Know' sign up for our weekly newsletter at WLVR.org."
Sign up for our WLVR weekly newsletter to stay up to date with the latest news from the Lehigh Valley and across Pennsylvania.
---