Wolf pushes worker safety and improved wages in Allentown visit
Written by Jim Deegan on November 5, 2021
Wolf pushes worker safety and improved wages in Allentown visit
By Hayden Mitman
November 5, 2021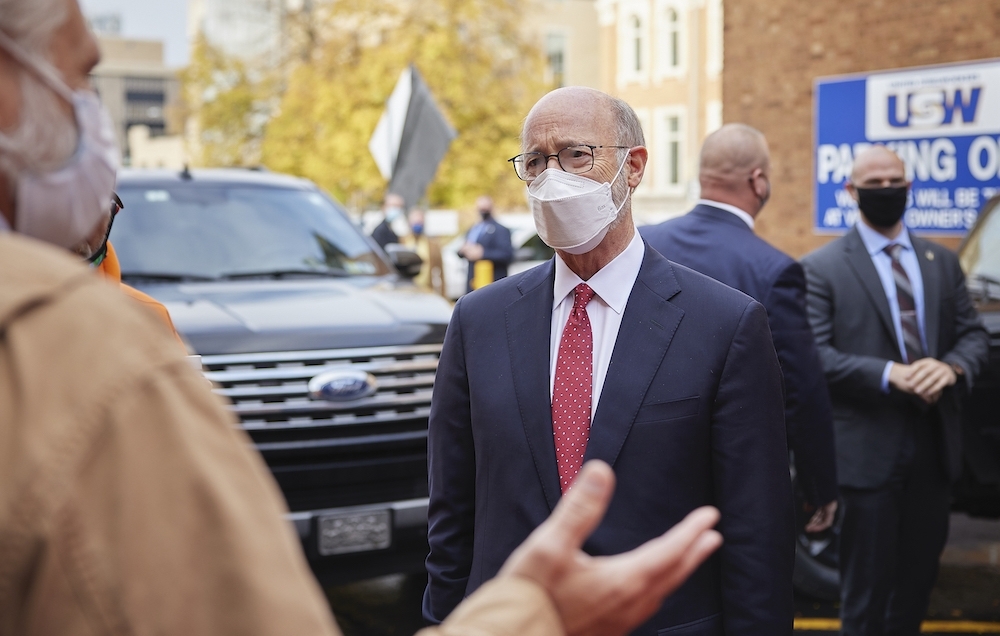 ALLENTOWN, Pa. – Gov. Tom Wolf was in Allentown for a visit to the local electrical workers union as part of a statewide tour to promote his plan for higher wages and worker safety.
He stopped by IBEW Local 375 in downtown Allentown, to discuss a plan he says will provide better pay, safe working conditions and paid time off.
Earlier in the day he also stopped in Erie at the United Steelworkers headquarters.
"There's been a lot of hand wringing over worker shortages, you know, what can we do about this worker shortage. Well, I've got a suggestion, how about if we make the workplace a little more attractive? Wouldn't that be a good thing?" asked Wolf.
He also noted that, in August, more than 4 million Americans quit their jobs.
"Workers are making it clear, right now, to all of their employers that they deserve a better deal and we need to listen to those workers," he said.
In October, Wolf issued an executive order requiring all offices under his jurisdiction to follow safer workspace standards. And all businesses that receive assistance through the Governor's Action Team, a financial support program, must provide paid sick leave.
The governor also once again urged the General Assembly to raise Pennsylvania's minimum wage to $12 an hour with a path to $15 by 2024.
Raising the minimum wage has been an issue Wolf has championed for the past seven years.
With a wage of $7.25 an hour, Pennsylvania still has the lowest minimum wage of any state that borders the commonwealth.
Sign up for our WLVR weekly newsletter to stay up to date with the latest news from the Lehigh Valley and across Pennsylvania.
---