Proposed redistricting of Pa. legislative seats has Lehigh Valley lawmaker fuming
Written by Jim Deegan on December 16, 2021
Proposed redistricting of Pa. legislative seats has Lehigh Valley lawmaker fuming
By Jim Deegan
December 16, 2021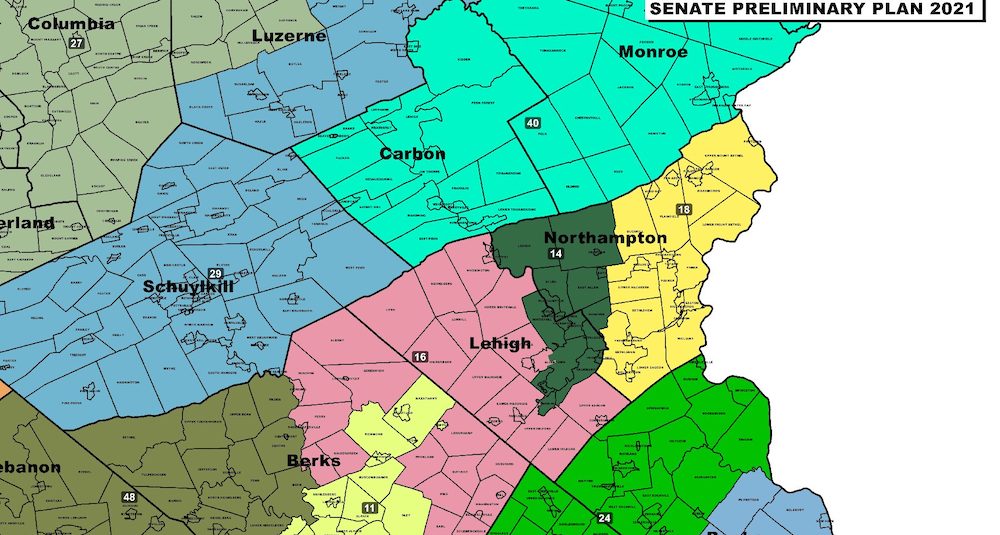 ALLENTOWN, Pa. – The state Legislative Reapportionment Commission preliminarily approved new House and Senate legislative maps Thursday, but they're not sitting well with at least one Lehigh Valley lawmaker.
State Sen. Lisa Boscola, (D-Lehigh/Northampton), assailed the proposed maps because they split parts of Allentown and parts of Bethlehem into different Senate districts.
The maps add a third state senator in the Lehigh Valley other than the current two — Boscola and state Sen. Pat Browne, (R-Lehigh). But they also have Allentown in two different Senate districts — the 16th and new 14th — and Bethlehem in two districts as well — the new 14th and 18th.
Right now, Bethlehem is entirely in Boscola's 18th District and Allentown is entirely in Browne's 16th District.
Boscola said she will fight the proposed changes.
"These maps are unconstitutional and a direct assault on the communities of interest in the Lehigh Valley in the name of political gamesmanship," she said in a statement. "The people of the Lehigh Valley should stand up and take notice that Harrisburg leaders are trying to water down our communities. It is embarrassing and the people who drew these maps owe us an explanation."
The five-member Legislative Reapportionment Commission voted 5-0 for the Senate map and 3-2 for the House map released Thursday. A vote on the final maps is likely a month or more away.
The approval on Thursday is a key step in the once-in-a-decade process that will reverberate politically for years to come. There are about two months left before candidates are scheduled to begin circulating nominating petitions to get on the May 17 primary ballot.
Growing population in the Lehigh Valley was a reason for an additional Senate seat.
Boscola said she intends to challenge the maps and is prepared to take her case to the state Supreme Court.
"Breaking up the two largest cities and two largest school districts is indefensible," said Boscola, who is in her fifth term in the Senate. "The Constitution says we don't break up municipalities unless absolutely necessary."
She said the maps provide evidence of the need for an independent commission to redraw political boundary lines instead of political party leaders.
"No independent commission would propose this map," Boscola said. "In typical Harrisburg fashion, behind closed doors with no transparency, leaders in Harrisburg put forth new maps that put their own political self-interests ahead of our commonwealth's constitution."
The commission has 30 days after filing the preliminary plan to make corrections. Boscola's office said any person aggrieved by the preliminary plan has the same 30-day period to file exceptions with the commission, in which case the commission has 30 days after the date the exceptions were filed to prepare and file a revised reapportionment plan.
The Associated Press contributed to this report.
Sign up for our WLVR weekly newsletter to stay up to date with the latest news from the Lehigh Valley and across Pennsylvania.
---