Congressional redistricting plan passes Pa. House, but there's still a long way to go
Written by Mariella Miller on January 13, 2022
Congressional redistricting plan passes Pa. House, but there's still a long way to go
By Sam Dunklau / WITF
January 13, 2022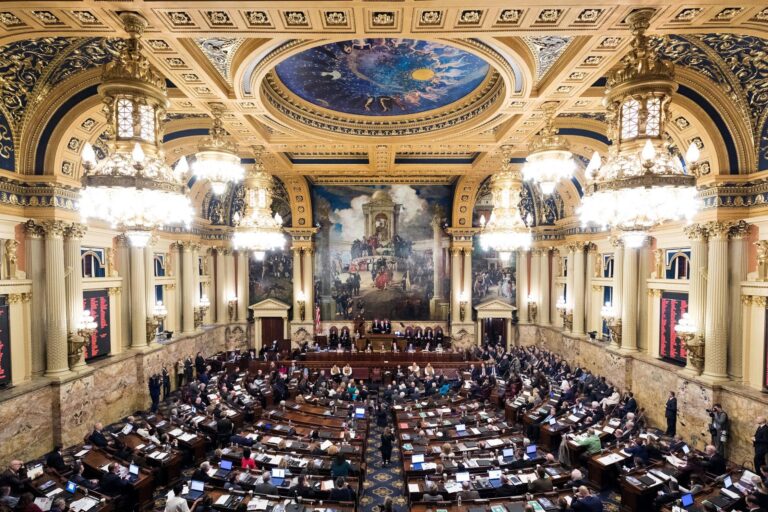 A proposal to redraw Congressional boundaries in Pennsylvania is one step closer to going to Gov. Tom Wolf's desk. The House approved the boundary lines almost along party lines Wednesday.
But the finish line still appears a long way off: Wolf is not happy with the proposed map and state courts are poised to intervene in the process.
Analysis shows the way the 17 districts were drawn may structurally favor Republicans. Wolf cited that in a letter to House GOP leadership outlining his opposition last month, in which he called the process that produced the map "disgraceful." 
Wolf has not changed his mind since then, even though Republicans have tried in vain to get him to talk about it. That signals he may veto the proposal if it reaches his desk.
The state Supreme Court has also left the door open for the courts to approve a map — but only if Wolf actually vetoes it. If that panel doesn't weigh in, Commonwealth Court judges have said they'd pick a map if state lawmakers can't come to an agreement by month's end.
David Thornburgh, a redistricting advocate and Senior Advisor to the Committee of Seventy, said it would be a shame to go that route.
"I think people would have more confidence in a process where the legislature did its job and the governor did his job," Thornburgh said. "I think we're better off for all concerned if we can get this done…[and] if the governor can sign a bill that shows evidence of bipartisan cooperation."
Sen. Dave Argall (R-Berks) chairs a committee that will weigh in on the Congressional map and said he is working with and Sen. Sharif Street (D-Philadelphia) on changes that could get Wolf's signature.
"It's not a pro-Republican map," Argall said. "It's not a pro-Democratic map. It's a bipartisan compromise that respects as many local government and county municipal boundary lines as is humanly possible."
One version leaked to the public last month creates a GOP-leaning district around Pittsburgh while eliminating Philadelphia Congressman Brendan Boyle's (D, PA-2) district.
Argall said the changes aren't quite completed and could be publicly discussed as early as Friday. Any plan would also have to gain Senate approval.
"We're not quite there yet, but I hope to be there soon," Argall added.
The biggest factor in all of this is time.
If a final map isn't produced soon, the primary election date set for May may have to be pushed back. Beyond that, state Supreme Court Justice David Wecht alluded to the possibility that voters would have to elect members of Congress to at-large districts if mapmaking ends up deadlocked.
Federal law spells that out as a last-resort option for states that can't agree on a map but have to change the number of districts they host. Pennsylvania is losing one Congressional district because the state's population didn't grow fast enough in the last decade.
The courts and the Department of State have said they'd like a final map in place by next month so candidates can begin filing nomination petitions.
Sign up for our WLVR weekly newsletter to stay up to date with the latest news from the Lehigh Valley and across Pennsylvania.
---