Pa. hospitals to get millions in federal relief to help hire, keep nurses
Written by Mariella Miller on January 27, 2022
Pa. hospitals to get millions in federal relief to help hire, keep nurses
By Brett Sholtis
January 27, 2022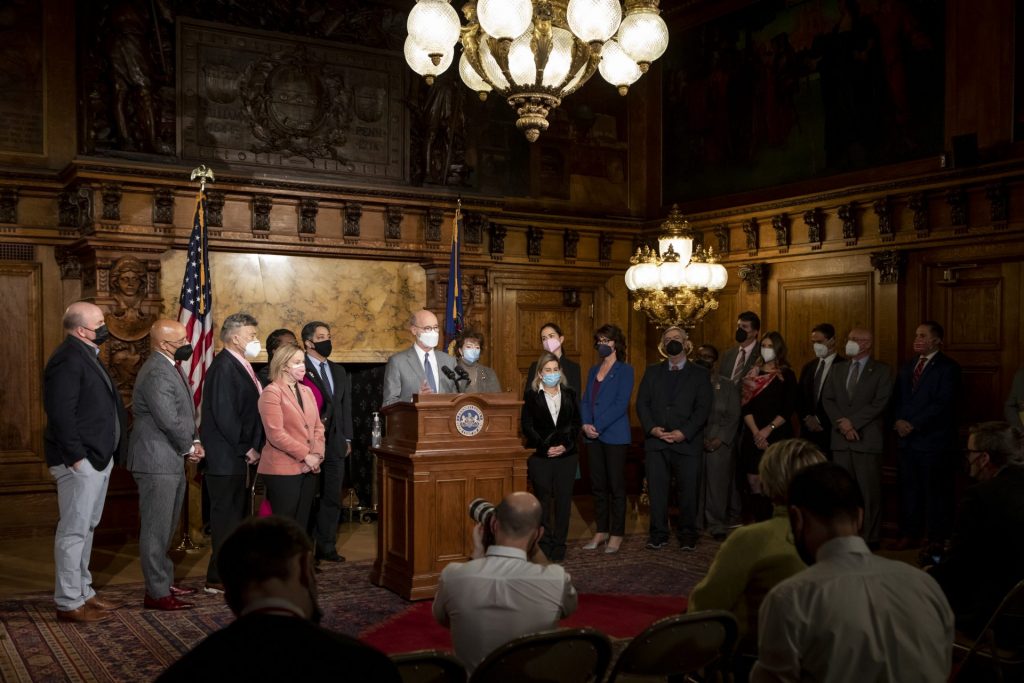 HARRISBURG, Pa. – Nurses and other health care workers soon may see retention bonuses, more new coworkers, and more chances to have student debt paid off as a result of a $225 million relief package. 
State lawmakers swiftly passed the initiative, which draws from federal American Rescue Plan funds that Pennsylvania got last March.
It passed the state House and Senate in just days, but Democratic Gov. Wolf said the bipartisan effort began three weeks ago, when groups from both chambers gathered to find ways to help hospitals struggling to hire and keep workers.
"This is a major, direct investment in supporting our health care workers, who have done so much for the Commonwealth over the past two years," Wolf said.
More than 325 hospitals and inpatient psychiatric facilities are on the list to get relief, according to an estimate of the planned funding distribution provided by the Republican House Committee on Appropriations.
In Dauphin County, that includes $4.4 million to Penn State Milton S. Hershey Medical Center, $3 million to UPMC Harrisburg and $1.3 million to UPMC Community Osteopathic. Behavioral health providers Merakey, Gaudenzia, KHS and Pa. Psychiatric Institute are also on the list.
A survey of surrounding counties showed similar trends. For example, in Lancaster County, $3.8 is earmarked for Penn Medicine Lancaster General, $420,000 for UPMC Pinnacle Lititz and $480,000 for WellSpan Ephrata Memorial Hospital, with additional allocations to behavioral health providers.
CLICK HERE TO SEE ALL HOSPITALS
Republicans and Democrats emphasized that the funding has strings attached. The money must go to retention and recruitment programs for nurses and other critically in-demand workers and cannot go to physicians or hospital executives.
The relief also includes a $15 million infusion into a state program to pay off student loan debt for nurses.
Republican Senate Pro Tempore Jake Corman said there's an urgent need to help hospitals that have seen thousands of exhausted nurses abandon the profession.
"Living this for two years, a lot of mandatory overtime, even though they're being compensated, it's a very stressful life, and people are choosing to go do other professions," Corman said.
Across Pennsylvania, hospitals are missing about 27% of the registered nurses needed to provide direct patient care, according to a recent survey of more than 240 hospitals by the Hospital and Health System Association of Pennsylvania.
The association, which lobbies for its member hospitals, applauded the funding allocation.
"After two years on the front lines, health care professionals are exhausted," said HAP President and Chief Executive Officer Andy Carter. "Many are leaving their jobs due to burnout. There was an industry-wide health care staffing shortage before the pandemic, which has now become a crisis that threatens to affect patient care."
One of the state's prominent nurses' unions said the funding is "a step forward" toward urgently needed reforms.
"The legislatures' responsiveness, and the bipartisan leadership from Gov. Tom Wolf shows that our state government can act quickly and forcefully to address this public health crisis and choose to protect workers by including strong language that will hold hospitals accountable to directing 100% of these resources to bedside care," said SEIU Healthcare PA President Matt Yarnell.
Yarnell called on lawmakers to pass the "Patient Safety Act," a proposal that would set rules to how many nurses must be present to care for a given number of patients. The bill has been stalled in the Republican-controlled House Health Committee since last February.
Another large nurses' union, PASNAP, said it welcomes "anything that will help hospitals to recruit and retain frontline caregivers," but wants to see more "minimum staffing standards in hospitals."
Sign up for our WLVR weekly newsletter to stay up to date with the latest news from the Lehigh Valley and across Pennsylvania.
---