Reynolds focused on equity, diversity as he takes oath as Bethlehem mayor
Written by Jim Deegan on January 3, 2022
Reynolds focused on equity, diversity as he takes oath as Bethlehem mayor
By Tyler Pratt
January 3, 2022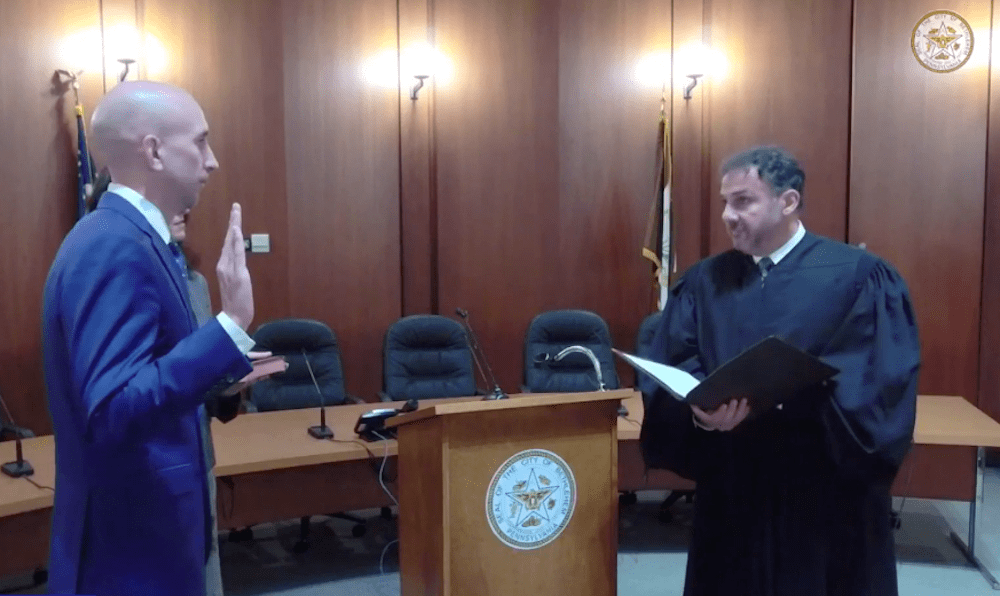 BETHLEHEM, Pa. – New Bethlehem Mayor J. William Reynolds promised Monday to get right to work on focusing on racial inequality as part of his pandemic recovery plan. 
"The pandemic has broken wide open things that people in this room have known existed for a long time: inequities, systems that were broken and opportunities for some of us and not for everybody," Reynolds said moments after being sworn in at city hall.
About 30 people in masks attended the ceremony that included local lawmakers, university leaders, and city department heads. The former city councilman and Allentown teacher took the oath on a family Bible.
In his speech afterward, the Democrat thanked former mayors for years of boosting economic recovery in the city that was home to Bethlehem Steel. But he said now there's more work to do.
Reynolds campaigned on increasing equity in Bethlehem. After winning office in November, he said he would appoint the city's first director of equity and inclusion, Janine Santoro.
"How do we recover from our pandemic? How do we tell the stories of those who have played an integral role in Bethlehem's history but maybe aren't the stories we've told in the past?" Reynolds said.
Reynolds pledged to work with Bethlehem area schools, businesses and local organizations on those issues.
"How are we going to talk about equity? How are we going to make that a reality in the city? How are we going to build a more sustainable Bethlehem?" he said.
Reynolds says he will release new diversity initiatives along with plans to bolster economic recovery efforts in the coming weeks.
Also sworn in Monday were new city council members Hillary Kwiatek, Rachel Leon and Kiera Wilhelm — all Democrats. They join Councilwoman Grace Crampsie-Smith, who is beginning a new term, Councilwoman Dr. Paige Van Wirt and Councilman Michael Colon.
Sign up for our WLVR weekly newsletter to stay up to date with the latest news from the Lehigh Valley and across Pennsylvania.
---