Sen. Doug Mastriano joins crowded GOP field in race for Pa. governor
Written by Jim Deegan on January 9, 2022
Sen. Doug Mastriano joins crowded GOP field in race for Pa. governor
By Sam Dunklau
January 9, 2022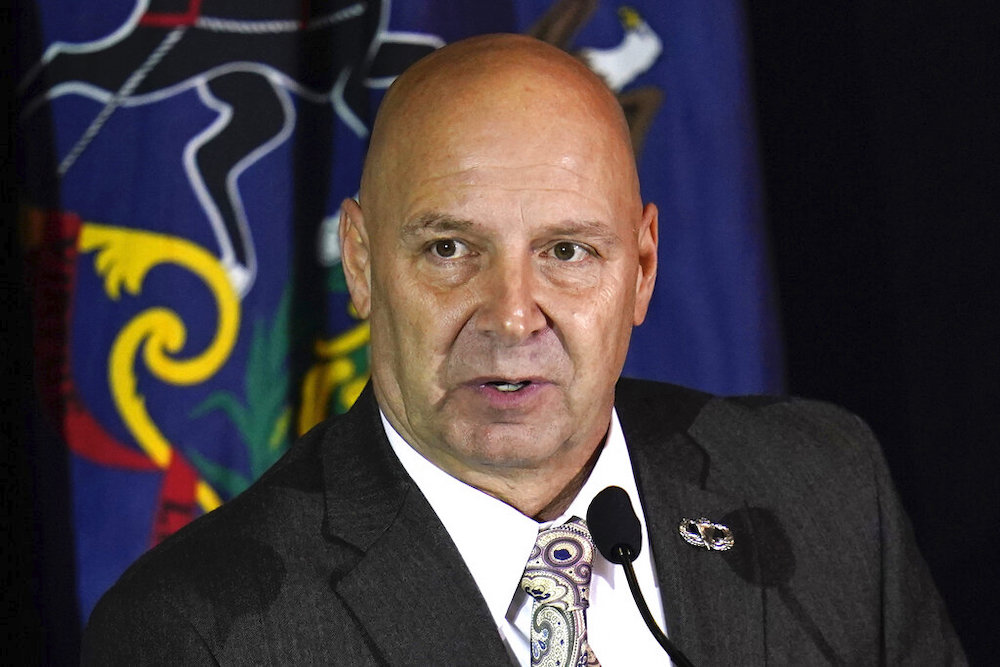 HARRISBURG, Pa. – State Sen. Doug Mastriano, R-Franklin, has built his reputation with far-right conservatives by opposing Pennsylvania's state's COVID-19 protocols and spreading false claims that the 2020 election was rife with fraud and malfeasance.
Now, he's hoping his views can propel him to the GOP nomination for governor.
The retired U.S. Army colonel and junior state lawmaker kicked off his campaign at an hours-long event in a Gettysburg hotel ballroom Saturday, where a cavalcade of conservative figures touted his far-right bonafides to supporters.
Former Trump administration national security adviser Michael Flynn pointed to Mastriano as an ideal Republican candidate.
"He is a leader," Flynn said. "He's not your classic politician. We need leadership in this country. We need warriors, we need fighters!"
Mastriano was filmed walking past police barricades with protestors at the U.S. Capitol on Jan. 6, 2021, but has said he did not participate in any violence.
The Republican is also one of 10 state senators who signed a letter asking Congress to delay certifying Pennsylvania's 2020 electoral college vote – despite no evidence that would call it into question.
As he laid out his vision in a speech filled with jabs at state leaders like Democratic Gov. Tom Wolf and former state Department of Health secretary Rachel Levine, Mastriano also criticized his fellow Republicans vying for the governor's mansion.
Like them, he supports ideas like school choice and reducing the number of state regulations. But Mastriano argued many of his opponents, who include state Senate President Pro Tempore Jake Corman, R-Centre, would be ineffective Republican "establishment" figures.
Mastriano and Corman had a public row last summer over who would lead the chamber's election investigation. Corman stripped Mastriano of his Harrisburg staff and committee leadership position. That investigation has been embroiled for months in legal challenges.
"They want you to settle for some loser, some guy who's not gonna fight for you," Mastriano told supporters. [They'll] say all kinds of things that some focus groups told them to say. But in office, will they do anything for you?"
Former President Donald Trump has not made an endorsement in the race yet. But Mastriano gained favor with Trump nearly two years ago by holding a Senate Majority policy hearing filled with false and misleading claims about the 2020 election.
The lawmaker is now one of 15 candidates for the party's gubernatorial nomination. Not including Sen. Corman, they are:
Lou Barletta, a former U.S. congressman from Luzerne County
State Sen. Scott Martin, R-Lancaster
Charlie Gerow of Cumberland County, a conservative activist and former lobbyist
Jason Richey, an Allegheny County attorney
Bill McSwain of Chester County, a veteran and former federal prosecutor
Guy Ciarrocchi of Chester County, a business advocate and former legislative staffer
Dave White, a former Delaware County council member
Joe Gale, a Montgomery County commissioner
Jason Monn, a former mayor in Erie County
Nche Zama, a Monroe County heart surgeon
Melissa Hart, a former U.S. representative from Allegheny County
John Ventre, former UPS executive from Westmoreland County
-Shawn Berger, a Carbon County business owner
Sign up for our WLVR weekly newsletter to stay up to date with the latest news from the Lehigh Valley and across Pennsylvania.
---