Ted Cruz, stumping in the Lehigh Valley for candidate Dave McCormick, calls Pa. a 'battleground'
Written by Mariella Miller on January 25, 2022
Ted Cruz, stumping in the Lehigh Valley for candidate Dave McCormick, calls Pa. a 'battleground'
By Tyler Pratt
January 25, 2022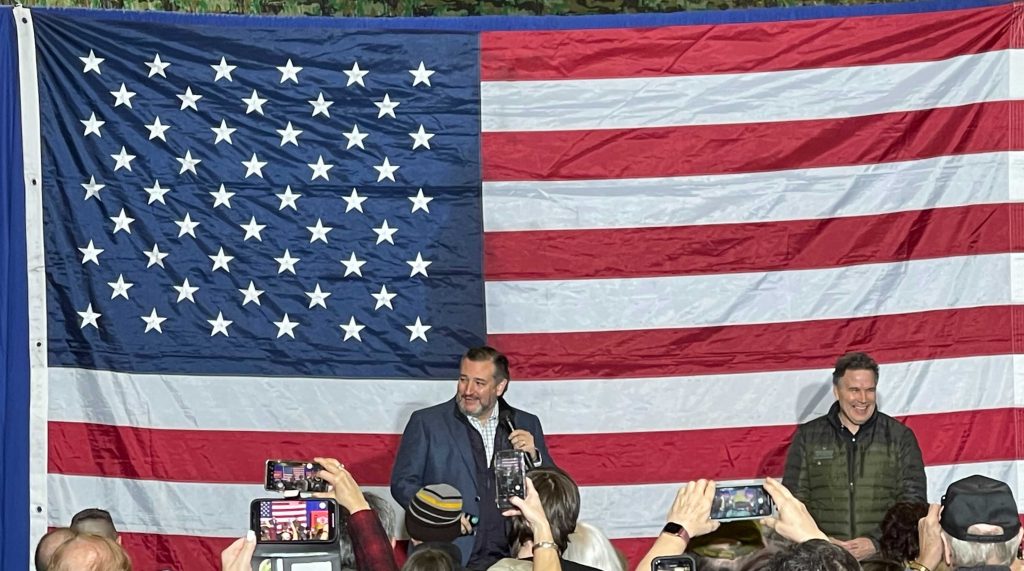 Pennsylvania's newest Republican candidate for U.S. Senate, Dave McCormick, held a rally in the Lehigh Valley Tuesday featuring GOP Texas Sen. Ted Cruz.
Both said the commonwealth will play a pivotal role in this year's midterm election.
Cruz sought to overturn Pennsylvania's election results in 2020 and has continued to spread misinformation and unsubstantiated claims of fraud.
But during Tuesday's event at Lehigh Valley Sporting Clays outside Coplay, the political firebrand told the hundreds of people gathered he thinks Republicans will still vote in high numbers this year.
Cruz is backing Dave McCormick, an Army veteran who recently stepped down from running one of the largest hedge funds, Connecticut-based Bridgewater Associates, to run for Senate. 
"If we don't win, if we don't nominate a Republican, a great conservative, a great America-first conservative for this seat, who then wins the general election? We're going to have bad representation in Washington and we're going to have a Democratic Senate," McCormick said.
McCormick is calling the 2022 election "the most important we've ever had."
Sandy Underwood of Quakertown said she would vote for McCormick.
"His values: growing up in Pennsylvania, family-oriented, responsible, veteran," Underwood said. "My late husband was a veteran in the Navy and it's all about individual responsibility. I feel very strongly about that."
But Lehigh County Republican Committee member Ed White said McCormick, a Pennsylvania native who hasn't been living in the state until recently, hasn't convinced him.
"I want to hear people ask questions," White said. "He's been under fire in combat. Let's see how he does with the questions about his connection to Donald Trump, his connection to Wall Street, his connection to Pennsylvania."
The race is for Pennsylvania's open Senate seat now held by Sen. Pat Toomey, the Republican from Lehigh County who has decided not to seek re-election. It is expected to be one of the most closely watched and expensive races in the country. 
Sign up for our WLVR weekly newsletter to stay up to date with the latest news from the Lehigh Valley and across Pennsylvania.
---