At Ukrainian church in Allentown, calls for the U.S. to do more amid Russian invasion
Written by Jim Deegan on February 28, 2022
At Ukrainian church in Allentown, calls for the U.S. to do more amid Russian invasion
By Emma Illick-Frank
February 28, 2022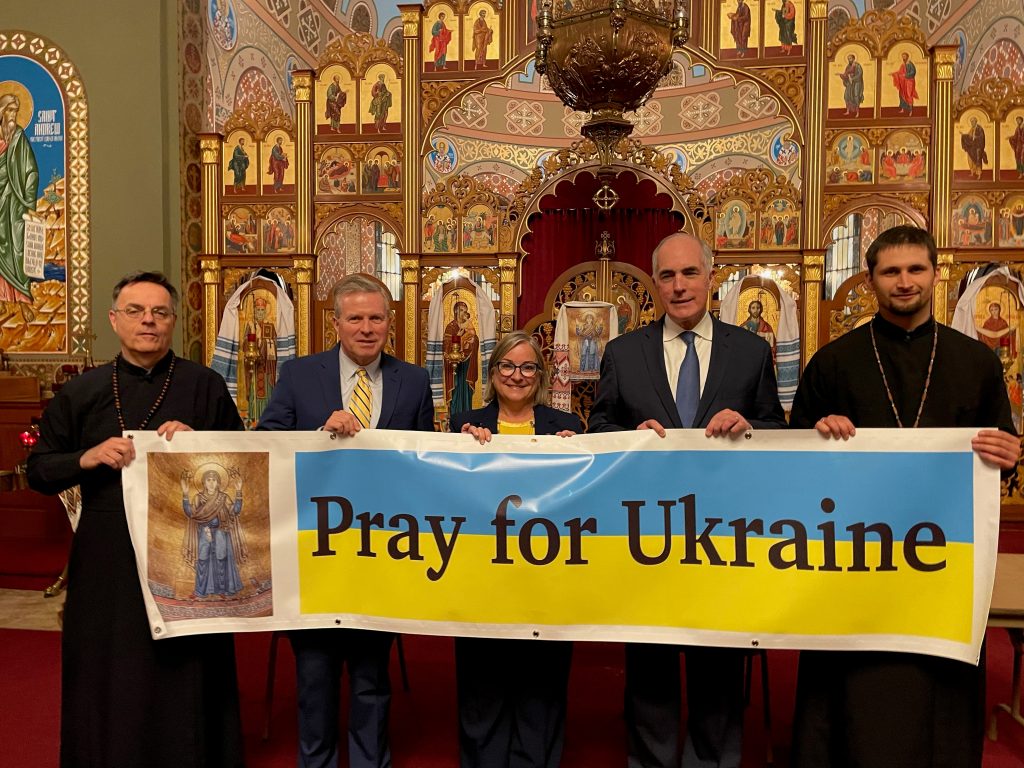 ALLENTOWN, Pa. – Lehigh Valley residents are telling their political leaders they want the U.S. to go beyond sanctioning Russia. But elected officials say they are worried about escalating the situation in Ukraine.
A crowd filled St. Mary's Ukrainian Orthodox Church in Allentown Sunday afternoon. U.S. Rep. Susan Wild was there, joined by U.S. Sen. Bob Casey and former U.S. Rep. Charlie Dent.
Father Richard Jendras implored the leaders for more immediate support, in the form of weapons, airlifts, and designating Ukraine as a no-fly zone.
"The sanctions, they're all needed. We appreciate the support," Jendras said. "But Ukraine needs the help now."
All three politicians seemed to agree the U.S. needs to be careful at every step. But Casey said it is likely the U.S. will spend more money on aid.
"The administration wants to add billions of dollars more of support, either of military support, humanitarian support, or otherwise," said Casey, D-Pa. "We have to continue down that path. So that doesn't give anyone I don't think a sense of a long-term."
Wild said the stakes are high. And It keeps her up at night.
"I do believe that the potential for World War III is there," said Wild, D-Lehigh Valley.
Matthew Koziak, a veteran, says Ukrainians must get the weapons they need to defend themselves.
"People need to understand that Putin is a bully," Koziak said. "And you don't negotiate with a bully."
Casey and Wild said they will take resident's concerns back to Washington.
Said Casey: "This congregation and community more broadly are concerned about what next steps we can take when it comes to military support, when it comes to additional sanctions — other measures to help the Ukrainian people."
Wild is working to have Allentown's PPL building — it was illuminated Sunday night — and Bethlehem's SteelStacks lit up in the colors of the Ukrainian flag to show support.
Sign up for our WLVR weekly newsletter to stay up to date with the latest news from the Lehigh Valley and across Pennsylvania.  
---