'What a difference': Infectious disease expert says worst of omicron surge is behind us
Written by Jim Deegan on February 16, 2022
'What a difference': Infectious disease expert says worst of omicron surge is behind us
By Jim Deegan
February 16, 2022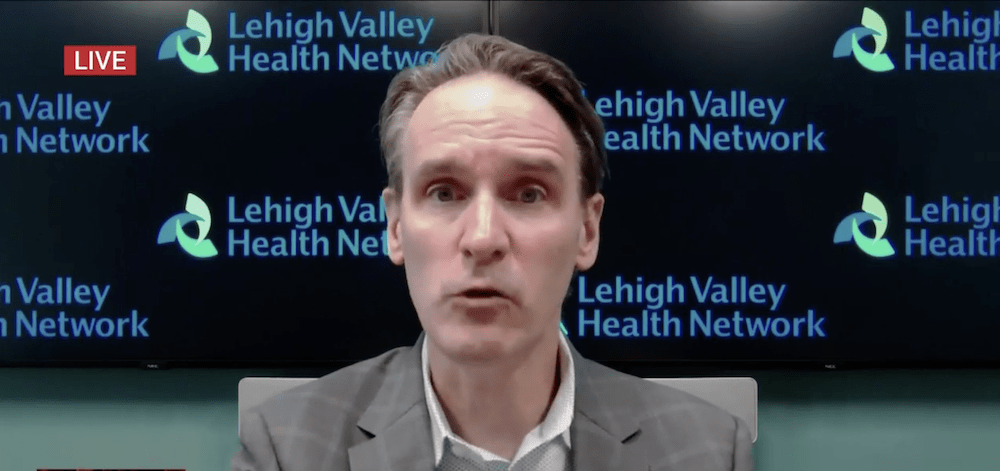 ALLENTOWN, Pa. – Optimistic. Enthusiastic.
Those are words not normally associated with folks on the front lines battling the coronavirus pandemic.
But they were words used by Dr. Timothy Friel, chair of the Department of Medicine at Lehigh Valley Health Network, in a recent interview with WLVR's Brittany Sweeney.
Friel says the Lehigh Valley has experienced a rapid decline in COVID-19 cases and hospitalizations. And there are fewer people in intensive care and on ventilators than there were a month ago at the height of the omicron variant surge.
Health care workers, he said, are in a better place than they were to start the new year.
"We are still busy. I don't want to make it seem like we're just sitting around waiting for something to happen," he said. "Hospitals still remain very busy and still plagued by challenges."
Generally, he said, staffing in health care remains at an all-time low.
"There are many scars the health care field is bearing because of the COVID-19 pandemic," Friel said. "We're still trying to navigate that but it does not feel like we're in the constant state of crisis that it felt like we were in for four or five weeks."
Here is the full transcript, and you can listen by clicking the player above:
Brittany Sweeney: You weren't feeling very hopeful in the beginning of the year, so how are you feeling now?
Dr. Timothy Friel: What a difference a few weeks can make and I think certainly from my perspective and the perspective of my colleagues, I think folks are in a little bit of a better place. From a health system standpoint, from a community standpoint, we believe that the worst of omicron is certainly behind us and what we have seen just as quickly and dramatically as cases, flooded into our health system, you know, starting before the holidays, so two, we're seeing a rapid, rapid decrease in decline in the number of patients who are impacted. So how that's bearing out is bearing out in many, many different ways. We are seeing less activity in our hospitals, less number of hospitalized individuals, number of people coming to our testing sites, our Express care sites, our emergency room sites, all of those declining, and that's been phenomenal.
Brittany: That sounds really optimistic and so what do the numbers look like right now in the network?
Dr. Friel: So network numbers have decreased, so we are now for the last few days, we've fallen below 200 patients across our system. So really, really dramatic change from where we were over a month ago, when we were were atop the 500 mark, we were in the mid mid five-hundreds. So dramatic decline. Not only are the hospital numbers down, but the number of folks in our ICUs are down and the number of folks on ventilators are down. So really, really great. And again, this is very consistent with what we're seeing across the nation. lower number of cases rapid, ongoing decline. We've also now you know, maybe delayed by about two weeks behind cases, a decline in hospitalizations and we know hospitalizations always lag behind cases. We're seeing that play out as well. Nationally though death rates still has been fairly plateaued. Deaths are the lagging indicator even behind hospitalizations by one to two weeks.
Brittany: How's your team?
Dr. Friel: We are still busy and I don't want to, you know, make it seem like we're just sitting around waiting for something to happen. Hospitals still remain very, very busy and we are still plagued with the challenges that COVID has caused over the last two years. Staffing is at an all time low in health care, not only here in our region, not only in the state of Pennsylvania, but across the country. There are many scars that the healthcare system is bearing because of the COVID 19 pandemic. And we're still trying to navigate that. But it does not feel that we are in the constant state of crisis that we really felt like we were in for almost a period of four to five weeks. So much better place, I think everyone's a little bit better rested. I think folks are both mentally and physically in a better spot."
Brittany: It seems state by state mask mandates, and it's going away in school districts, they're making new decisions to not mask — to not contact trace. Is this the time to do that? Is there light at the end of the tunnel? Can we start to go back to pre-pandemic life and regular protocols?
Dr. Friel: So it's a really great question. It's the thing that everyone is wrestling with. We are craving a return to normality. We want normalcy in our lives and we just want things to go back to where they are. That is human nature. I'm feeling it. I'm feeling it every single day. So I recognize and these are really important conversations that we're having right now. We are enthusiastic about the number of declining numbers that we are seeing and with that, these conversations about when we move away from masking, in public, in schools, in workplaces, all of those are incredibly important. I think we need now need to relook at data relook and really understand or reevaluate, I should say, our understanding of omicron and how that compares to other respiratory viruses that we have combated over the years, whether it's influenza, RSV, or, you know, other entities that can get people really, really sick. So I think recalibrating where we are in our approaches is where we need to be."
Sign up for our WLVR weekly newsletter to stay up to date with the latest news from the Lehigh Valley and across Pennsylvania.
---