Allentown Police Department welcomes 11 new officers, promotes 11 others
Written by Jim Deegan on March 11, 2022
Allentown Police Department welcomes 11 new officers, promotes 11 others
By WLVR Staff
March 11, 2022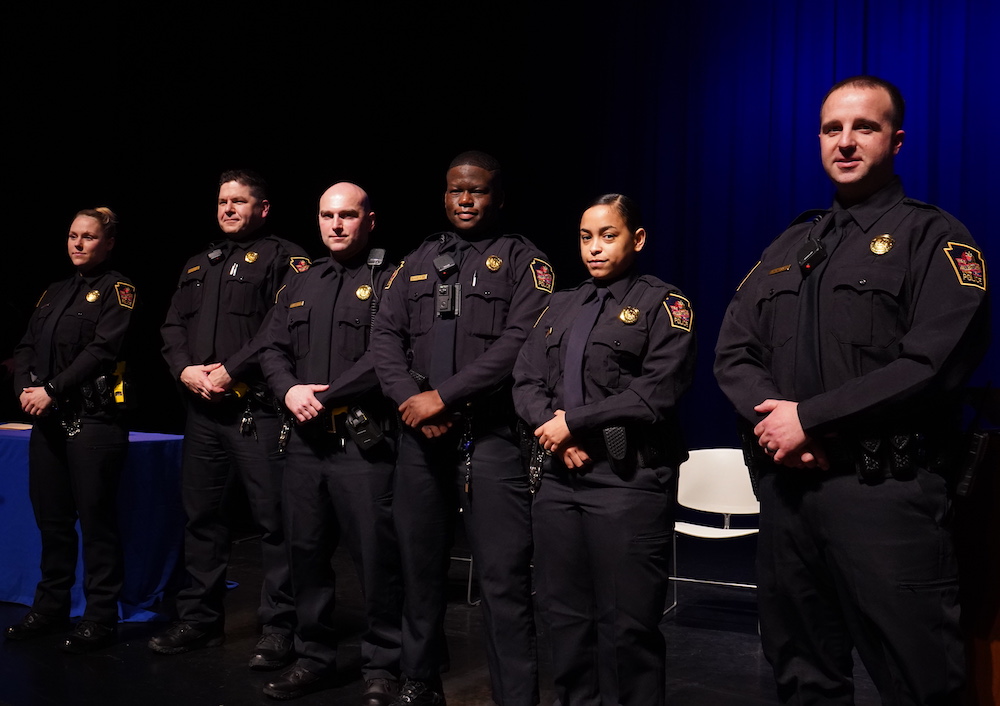 Allentown is beefing up the ranks of its police department.
The city swore in 11 new officers Thursday at the Scottish Rite Cathedral. It also awarded badges to six newly certified officers and recognized the promotions of 11 others.
Mayor Matt Tuerk and Police Chief Charles Roca presided over the ceremony.
Taking the oath of office were new officers  Samantha Carman, Paul D'Onofrio, Zachary Molinario, Anderson Glaude, Yisleidy Minaya, Pablo Vasquez, Chandler Wilson, Dalton DeRosa, Keegan Connelly, Allen Strohl and Elias Roman.
Of that group, Carman, D'Onofrio, Molinario, Glaude, Minaya and Strohl received their department badges because they have completed training and are now state-certified to hit the streets.
A number of officers also received promotions.
Thomas Anderson, Kyle Pammer, Daniel Gross, Christopher Diehl were promoted to the rank of captain; Andrew Moll to the rank of lieutenant; Christopher Stephenson, and Melissa Gogel, Jorge Medero, David Layton, Stephen James and Adam Sinton rose to the rank of sergeant.
Said Roca, who became chief last year: "I have worked closely with many of these professionals and look forward to the positive impact that they will have in their respective assignments. Additionally, I welcome our new officers to the department and am excited to see them become a part of the fabric of our community."
Sign up for our WLVR weekly newsletter to stay up to date with the latest news from the Lehigh Valley and across Pennsylvania.
---