Frances Wolf joins students, legislators to end hunger on campus
Frances Wolf joins students, legislators to end hunger on campus
By Emma Illick-Frank
March 30, 2022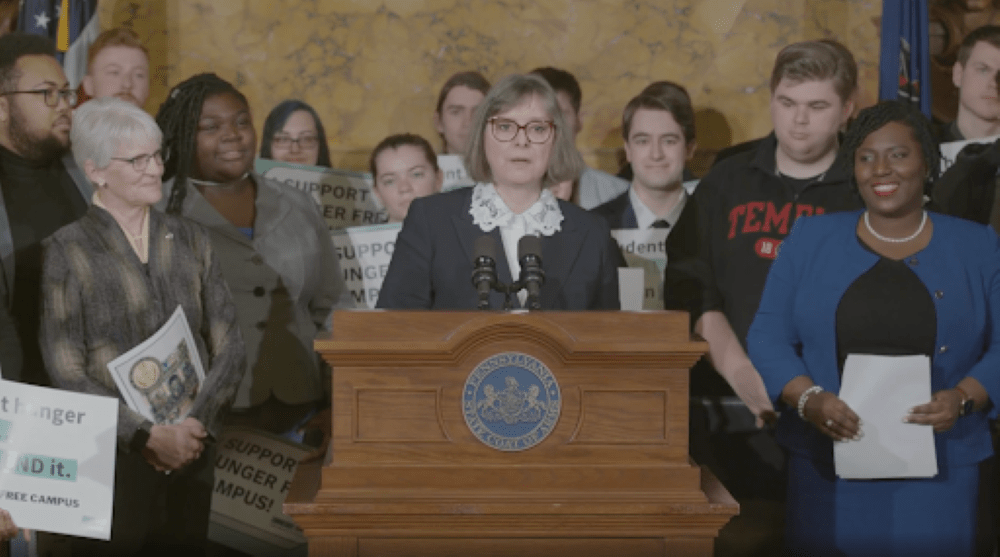 Pennsylvania First Lady Frances Wolf joined students and lawmakers Monday calling to end campus hunger. Studies show that more than a third of college students are food insecure, meaning they don't have access to food that is affordable and nutritious. 
"College should not be a privilege reserved for individuals with disposable incomes," Wolf said. "And hunger should never be what holds someone back from succeeding in higher education."
Her husband, Gov. Tom Wolf, wants to allocate $1 million of his proposed state budget to help colleges address food insecurity this year.
Non-traditional college students –– folks who might be older, financially independent, enrolled part-time, and work on the side –– are the most likely to experience food insecurity. 
They also comprise 71% of the U.S. college population.
Frances Wolf said this can be too much to juggle.
"They have to choose between going to class, going to work, to afford food or housing, transportation, child care, even health care," she said.
The first lady was joined at the podium by several student speakers, including Frederick Shegog. Once afflicted by addiction and homelessness, Shegog now is on track to graduate summa cum laude from West Chester University. He emphasized that this kind of legislation is what made the difference in his life.
"People in positions of power signed legislation for things like SNAP, things like medical services, things that put me in a position, when I entered the classroom, to succeed," Shegog said. "It wasn't that I wasn't as smart. It was that I wasn't as supported."
The $1 million from the budget would be used to expand campus food pantries, increase outreach, hire social workers, and create entities to gather data on this issue.
Many schools across the state – including Northampton and Lehigh Carbon community colleges, and all Penn State's campuses – operate food pantries; the state would allocate more money to programs like these.
Sign up for our WLVR weekly newsletter to stay up to date with the latest news from the Lehigh Valley and across Pennsylvania.
---