Studio 11 proves libraries are not just books
Studio 11 proves libraries are not just books
By Emma Illick-Frank
March 21, 2022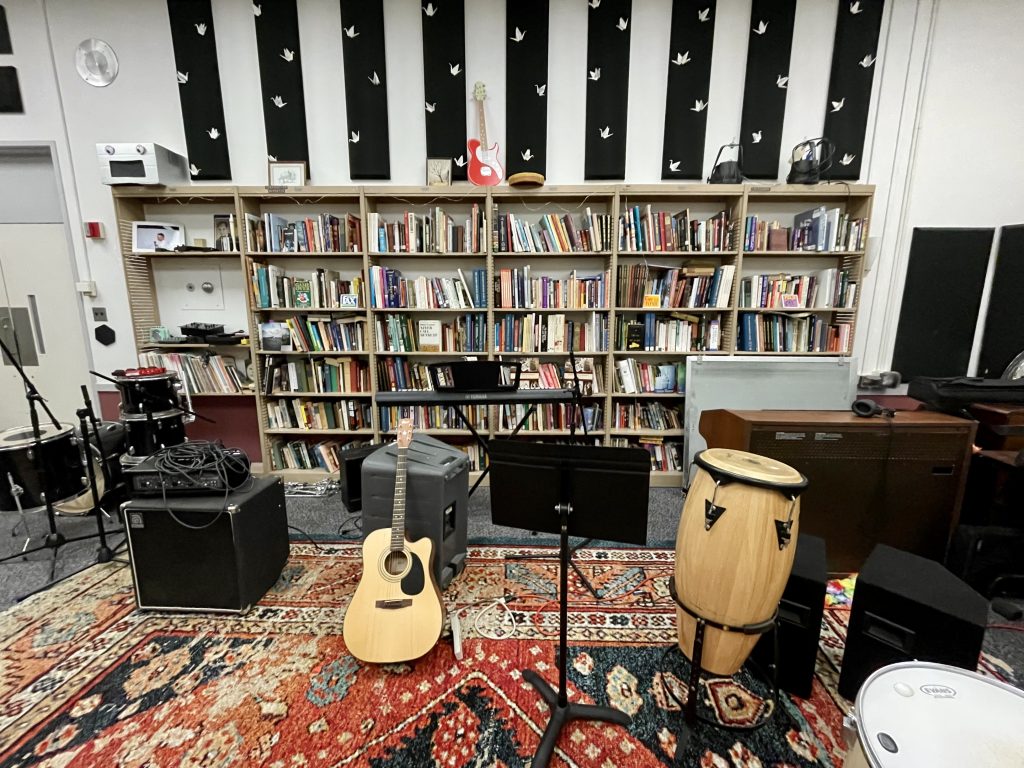 This month, musicians in Bethlehem are celebrating three years of being loud in the library. Though most parts of the building are quiet zones, there's a special room in the basement designed for noise.
"Studio 11" is named after the library's 11 Church street address, as well as the Rock mockumentary, "This Is Spinal Tap."
The space used to be a meeting room. Now, it's outfitted with professional equipment including microphones and a 32-channel mixing board. Crowded bookshelves improve the acoustics, and it's brimming with instruments–.
Library Director Josh Berk says those weren't part of the plan.
"When we first imagined the space, it was like we're gonna provide the recording equipment, you'd bring your stuff and record," he said.
But then, a local producer and musician he was working with, Matt Mulchaney, put out a call for donations on social media. Berk said people were dropping off instruments 15 minutes later.
"I was like, are these people driving around with snare drums in their cars?" Berk said, "We got two full drum sets, we got pianos, we got an organ. Some drum machines, guitars, basses."
Since the studio opened in March 2019, there have been more than 500 sessions, even with COVID-19 closing the space for more than a year. Now that it's back open, Berk said it's used for something different almost every day.
Recent projects have included opera rehearsal, podcasting and album recording.
"There was a full musical, written and performed by high school students," he said. "And that was fantastic."
Producer Walter Bynum and vocalist Devin Haily have been using the space for a hip-hop collaboration.
"When I stepped in here, my eyes just lit up because this is pretty much what every musician dreams of," Bynum said. "The freedom is the best, because you would expect to come into a library and only be able to make certain music, you know?"
The two are originally from New York and have been making music for years. But they've never come across something like Studio 11.
"In a lot of places across the country, across the world, music programs are being shut down," Haily said. "Studios are few and far between, or they're so expensive that it's unfathomable for regular, everyday artists to get in there."
Catasauqua-based musician Keith Adams wishes the studio had been around when he was younger, precisely for this reason.
"There were so many bands around here that I experienced during my teens that were very good bands, but there's no record of them. It was very expensive to record back then," he said. "Maybe nothing would've come of them, but we would at least have some kind of historical record of them."
Adams has his own recording studio and uses the library's space to record things he can't at home. For the songs he's currently working on, this means bringing a live band into Studio 11.
"To be able to mic an entire room—a set up of three or four different musicians—and have all the different microphone inputs at your disposal is something most people don't have in their home studio," he said.
Halfway across the state, Christi Buker is the executive director of the Pennsylvania Library Association, an advocacy organization near Harrisburg. She says although recording studios are rare, libraries are constantly adapting to the communities they serve––some offer fishing poles, museum passes, and even 3-D printers.
"Libraries are not just books. I'll say that 100 times. They are education, they are leisure, and they are community," she said. "So a recording studio today, I'm not sure what it'll be tomorrow. But there will be a new technology. Libraries are continuing to evolve."
Buker worries, though, about libraries' ability to reinvent themselves on limited budgets.
Pennsylvania slashed library funding in 2008 and 2009 and never restored it. She said 47% of the state's libraries have either zero or one full-time librarian; everyone else is part time and not eligible for benefits. Because of this, Buker stresses the importance of investing in staff, not just technology.
"If you take the people out of the library, the library workers, the professional librarians," she said, "then you do become a warehouse of things."
Berk, Bethlehem's director, agrees.
He said Studio 11's equipment may be daunting for beginners, so he's using a grant from the Martin Guitar Foundation to hire a recording engineer. By having a professional on call to help people in the studio, Berk hopes the equipment gets more use.
Libraries, like other institutions, need innovation like this to stay afloat, he said.
"If you think about the history of libraries, why did libraries exist? Because books were expensive and people couldn't own them," he said. "Information is not expensive anymore. You can open your phone and find more free stuff to read than you could consume in a lifetime."
As a result, libraries in the Lehigh Valley and across the country are asking themselves: what do people want and need?
"In a way it's a scary time to be in libraries because you're like 'books aren't the center of the information world like they once were, what does that mean?'" Berk said. "But on the other hand it's really exciting because we can reinvent what a library can be. And one thing it can be is a shared community space where you come and make art together."
Studio 11 is free and open to the public. Reservations can be made on the library's website. 
Produced with assistance from the Public Media Journalists Association Editor Corps funded by the Corporation for Public Broadcasting, a private corporation funded by the American people.
Sign up for our WLVR weekly newsletter to stay up to date with the latest news from the Lehigh Valley and across Pennsylvania.
---