Rev. Daniel Gambet, DeSales University's president emeritus, dies at 92
Written by Jim Deegan on March 1, 2022
Rev. Daniel Gambet, DeSales University's president emeritus, dies at 92
By Jim Deegan
March 1, 2022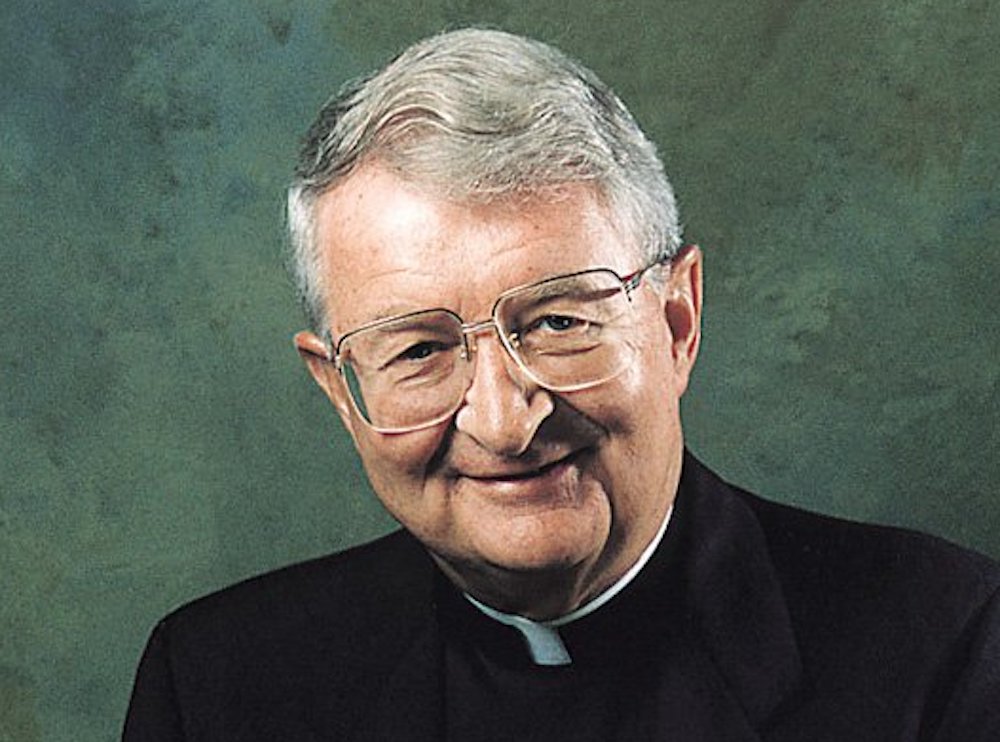 The Lehigh Valley has lost one of its longtime leaders and biggest cheerleaders.
The Rev. Daniel Gambet died Monday. He was 92.
Gambet led Allentown College of St. Francis de Sales – now DeSales University – for 21 years. He was academic dean when the school was founded in 1965, then became president in 1978.
DeSales announced his death Tuesday on the university website.
The Catholic priest became a force for philanthropy in parts of six decades, raising millions for the college in Center Valley and for numerous foundations and charities across the Valley.
Under his leadership, Allentown College's student body grew from 850 to 2,300, graduate education and programs were introduced, and the range of undergraduate majors blossomed, according to the university. The college became DeSales University in March 2000.
"He was an ordinary guy who became a giant among men — something we all would try to aspire to be in our own way," said the Rev. Michael Murray, assistant provincial of the Wilmington-Philadelphia Province of the Oblates of St. Francis de Sales — the order of priests to which Gambet belonged.
Murray, who graduated from Allentown College in 1980, described Gambet as someone comfortable in his own skin — someone who could connect with corporate leaders as easily as he could college students or speaking to a group of Boy Scouts.
"If I had any say in what would be on his tombstone it would be no half-measures," Murray said. "He was all in. Whatever he put his hand to he wasn't just going to do it, he was going to get it right.
"Father Gambet had a real clear sense as to who he was and what his God-given gifts were — and he was determined to see things through."
The Rev. Jim Greenfield, the current president of DeSales University, said Gambet grew the school "from the ground up."
Greenfield was also a student at Allentown College under Gambet's leadership.
"You can't think about DeSales University and, in the same sentence, not think about Father Dan Gambet — the two of them are inextricably linked together," he said.
Long after Gambet's retirement in 1999, he served on boards and as a trustee for organizations across the Lehigh Valley. They included the United Way, the Lehigh Valley Community Foundation, the Harry C. Trexler Trust and the Minsi Trails Council of Boy Scouts.
He also had deep roots with PBS39, the Lehigh Valley's public media television station. Gambet served on the board of PBS39 – part of Lehigh Valley Public Media – for nearly 40 years.
L. Charles Marcon, CEO of the Allentown-based Duggan & Marcon construction firm, worked with Gambet as trustees of the Trexler Trust and as founding board members of the National Museum of Industrial History.
"He was one of my favorite people," Marcon said. "He was so insightful. Intelligent.
"When people had capital campaigns, in particular with nonprofits, the goal was to get Father Dan on your campaign committee because he was so well-liked and greatly respected. He really cared about the Lehigh Valley and worked really hard to promote the quality of life in the Lehigh Valley."
Throughout his retirement, Gambet remained president emeritus of DeSales, active in guiding administrators and faculty and in community relations. In 2013, university leaders named the Gambet Center for Business and Healthcare in his honor. It houses the nursing, physician assistant, and business programs.
Mary Elizabeth Doyle-Tadduni, Division Head of Nursing at DeSales, credited Gambet for having the foresight to invest in the health care and business programs, which she says have grown exponentially over the years.
"He had vision. That's what I remember about Father Gambet," Doyle-Tadduni said in an interview prior to his passing.
A native of Toledo, Ohio, Gambet was ordained a priest in 1957, in the order of the Oblates of St. Francis de Sales.
Funeral arrangements have yet to be announced.
WLVR reporter Chloe Nouvelle contributed to this report.
Sign up for our WLVR weekly newsletter to stay up to date with the latest news from the Lehigh Valley and across Pennsylvania.  
---