Sunflower billboards rally support for Ukraine across the Lehigh Valley
Written by Jim Deegan on March 15, 2022
Sunflower billboards rally support for Ukraine across the Lehigh Valley
By Jim Deegan
March 15, 2022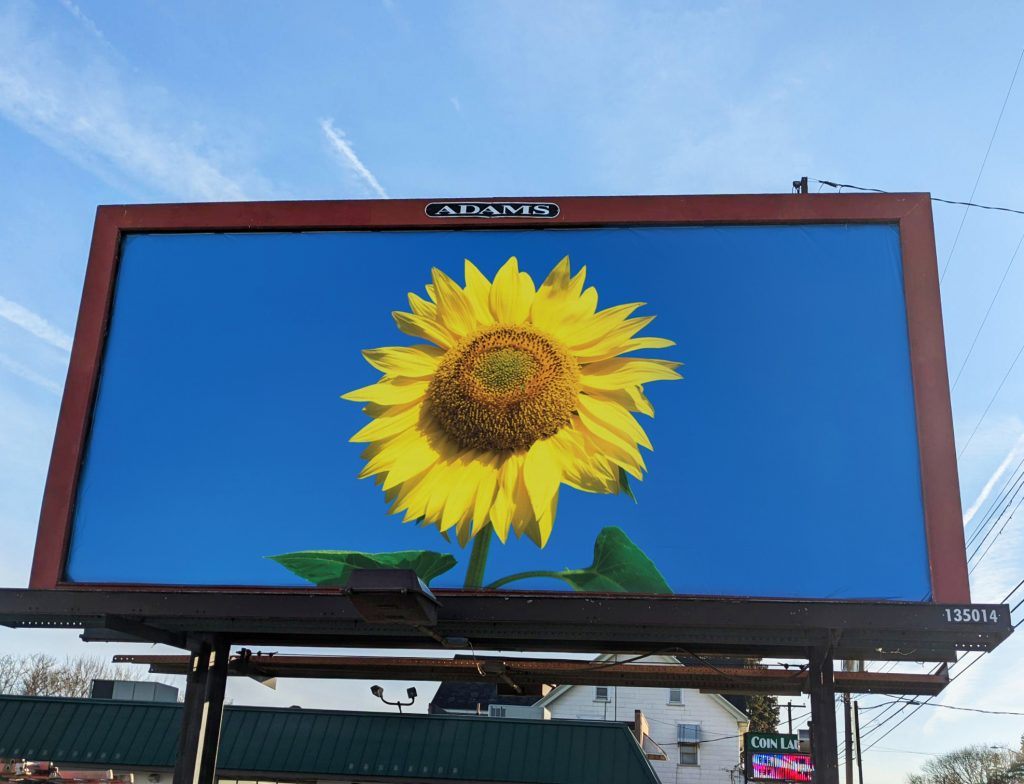 BETHLEHEM, Pa. – Notice those giant sunflowers springing from billboards across the Lehigh Valley?
The folks behind them say it's a show of support for war-devastated Ukraine and its courageous citizens.
Adams Outdoor launched the campaign Tuesday in the Lehigh Valley and 13 other markets across seven states, said Tony Cioffi, general manager for the Adams Eastern Pennsylvania market.
"The sunflower plays a rich role in Ukrainian history as a symbol of resistance, unity and hope," Cioffi said in a news release. "In 1996, when the country gave up its nuclear weapons, Ukrainians planted sunflowers at the Pervomaysk missile base. The bright yellow flower against the sky is also a nod to the iconic Ukrainian flag."
Cioffi said it's a campaign "of unbridled love and optimism at a time when the world desperately needs both."
He said the symbolism also was inspired by a recent viral video of a Ukrainian woman demanding that invading Russian soldiers put sunflower seeds in their pockets so the flowers could bloom where the troops fell in battle.
Fifty of the billboards are going up in Carbon, Monroe, Lehigh and Northampton counties, Cioffi said. Another 10 will be in Wayne and Pike counties in northeastern Pennsylvania.
While the company has used similar flash campaigns on its digital billboards, Cioffi said this one was different in that it would be a printed product on a static billboard.
"This one felt like more of a mainstay," he said, "and we're putting it on a static product for a reason."
The billboards will stay up for at least three to four weeks. Designers deliberately wanted the sunflower image against a deep blue sky with no words, according to Cioffi.
"There's nothing on the billboards but the sunflower," he said.
"People have been talking about them online and on social media and it's trending. I think people are recognizing the sunflower and Ukrainians as a symbol of peace. It represents integrity, humility, and that's what we need right now. It's a beautiful flower representing a country that needs everybody's support."
Sign up for our WLVR weekly newsletter to stay up to date with the latest news from the Lehigh Valley and across Pennsylvania.
---