Transgender community shares their experiences as part of local storytelling project
Transgender community shares their experiences as part of local storytelling project
By Megan Frank
March 23, 2022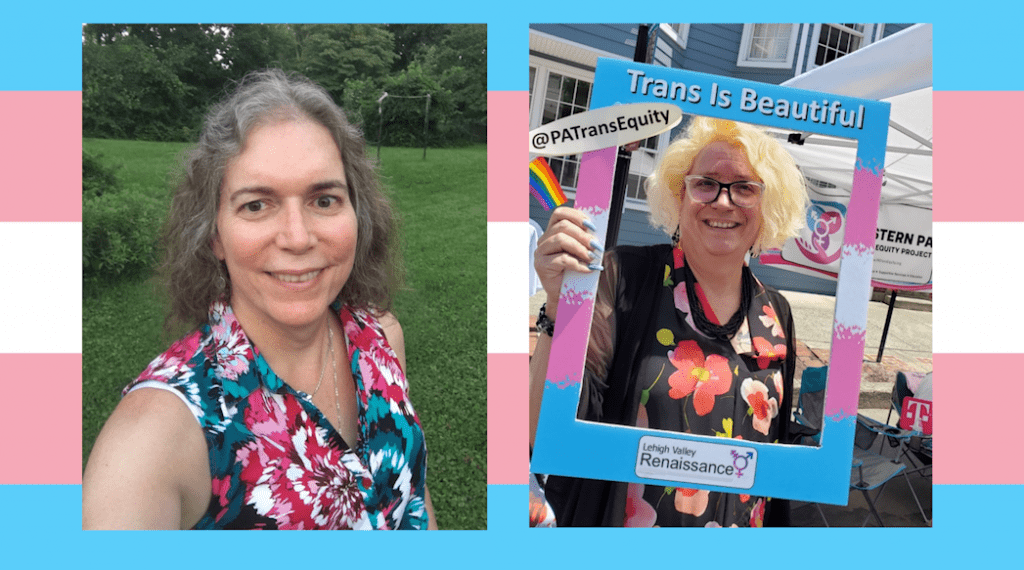 HARRISBURG, Pa. – A local initiative called the Trans Stories Project is giving transgender and nonbinary people a space to share their experiences.  
The traveling exhibit, which consists of more than 30 personal stories and photos, was curated by the Eastern PA Trans Equity Project, a nonprofit group that works to empower transgender Pennsylvanians and offer them support services.
WLVR's Megan Frank spoke with two participants, Lilia Weber and Thimothea "Thea" Reimel, about the project. Click on the audio player above to hear their conversation.
Reimel, 56, lives in Northampton County. She transitioned three years ago at the age of 53 and says she has experienced much hardship in her life due to her status as a trans woman.
"In my story, there's a lot of tragedy, as far as statistics," said Reimel. "A lot of transgender people wind up being raped, homeless and lose their families."
"I've experienced all of those things," said Reimel.
In the story she shared with the Trans Stories Project, Reimel said her generation did not find it acceptable for people to "display anything out of the ordinary."
"My childhood wasn't easy," said Reimel. "I was the kid that everybody called a sissy. When I think about young kids today, I know I want to be a voice for them."
Weber, 60, resides in Montgomery County. She has two adult daughters by an earlier marriage and two young adult stepsons.
She says she initially hesitated to share her story for the project.
"I didn't want to make it about me," said Weber, "But, I also felt that my story is unique. I use the term blessed when I talk about my story, but I've had some hardships, too. We want to say we're here and our stories are valid. We're real people, we pay our taxes, we work."
Weber transitioned publicly to female when she was 55 years old and says it was a gradual process. In her story for the project, she talked about experiencing gender dysphoria.
"Gender dysphoria is the common thread for all transgender people," said Weber. "I nicknamed it the buzz before I even knew the term gender dysphoria. For me, there's a lot of repression and denial. I finally found a therapist to help me work through it."
Both women say they hope that sharing their personal stories will help to humanize and destigmatize the transgender community.
"I think the Trans Stories Project is a good start," said Reimel. "It's so important for people to see us as people. I think finding out that there's different types of people in the world and seeing that they're just as valuable and important [as you], that's good too."
The exhibit was recently hosted by GoggleWorks in Reading and is on display at the Bradbury-Sullivan LGBT Community Center's fine art galleries in Allentown through Friday.
The next stop for the Trans Stories Project is the art galleries at Lehigh University in Bethlehem.
All of the stories are also available to read online.
Sign up for our WLVR weekly newsletter to stay up to date with the latest news from the Lehigh Valley and across Pennsylvania.
---