First 100 days: Mayors Reynolds, Tuerk discuss affordable housing, racism, COVID aid
Written by Jim Deegan on April 15, 2022
First 100 days: Mayors Reynolds, Tuerk discuss affordable housing, racism, COVID aid
By Megan Frank
April 15, 2022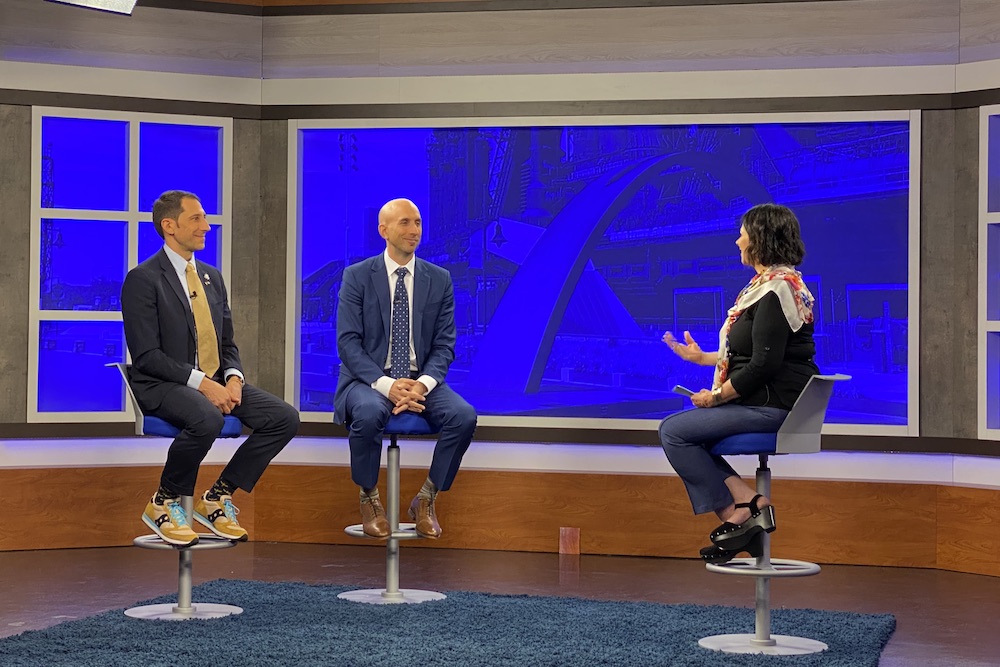 BETHLEHEM, Pa. – The mayors of Allentown and Bethlehem were part of a special presentation Thursday evening on PBS39 that was simulcast on WLVR.  
The program, called "First 100 Days: Mayors on the Move," gave Allentown Mayor Matt Tuerk and Bethlehem Mayor William Reynolds a chance to talk about what they've done in the early part of their tenures.
Tuerk says a big priority is making sure he's connecting with Allentown's growing Latino community. He says he's continued to offer news from his office in both Spanish and English. It's one reason he says he was disappointed that residents last year voted against removing English as the official language of Allentown.
"It's something that we need to continue to attack – we need to put that racist heritage behind us. I think it's a vestige of another era in Allentown, but we're well beyond that now," Tuerk said.
Both mayors addressed rising costs in the region. Reynolds said he's working on an affordable housing plan for Bethlehem – and says he's requested a study to figure out the best approach. He also says he's focused on addressing homelessness.
"This is really a regional issue. If you go to BES (Bethlehem Emergency Sheltering) in Bethlehem you will see people there from Lehighton, Northampton, Bath, Easton, from all over the place," Reynolds said. "We're going to build a shelter and we're going to work on continuity of services."
Tuesday marked 100 days for Tuerk and Reynolds, both Democrats, since being sworn in. A part of the conversation revolved around how both mayors plan to spend millions of dollars in pandemic-recovery money from the American Rescue Plan.
Tuerk says Allentown has already come up with a spending plan for some of the more than $57 million it's slated to receive.
"We're purchasing a couple of ambulances, fixing roofs, rebuilding a pool, rebuilding a data center, we've replaced some lost revenue," he said.
Additional plans for the money, Tuerk said, include boosting tourism and creating an affordable housing plan.
Reynolds also explained how Bethlehem will spend its $34 million in COVID relief funds.
"The first thing that some of that money goes to is lost revenue – that helps to pay police and other city services," he said.
As for how to spend the rest of that money, Reynolds says he wants to hear from residents. The city's new web portal, "We Build Bethlehem," allows residents to weigh-in on how they think the money should be invested.
Other topics of the event revolved around increasing public safety and community and economic development. Both mayors say they're interested in partnering on a number of issues, including creating a permanent shelter plan for the region.
The full conversation is available in English on PBS39's Facebook page and in Spanish on WLVR's Facebook page.
Sign up for our WLVR weekly newsletter to stay up to date with the latest news from the Lehigh Valley and across Pennsylvania.
---