GOP candidates for Lehigh Valley seat in Congress debate in front of packed house
Written by Jim Deegan on April 3, 2022
GOP candidates for Lehigh Valley seat in Congress debate in front of packed house
By Tyler Pratt
April 3, 2022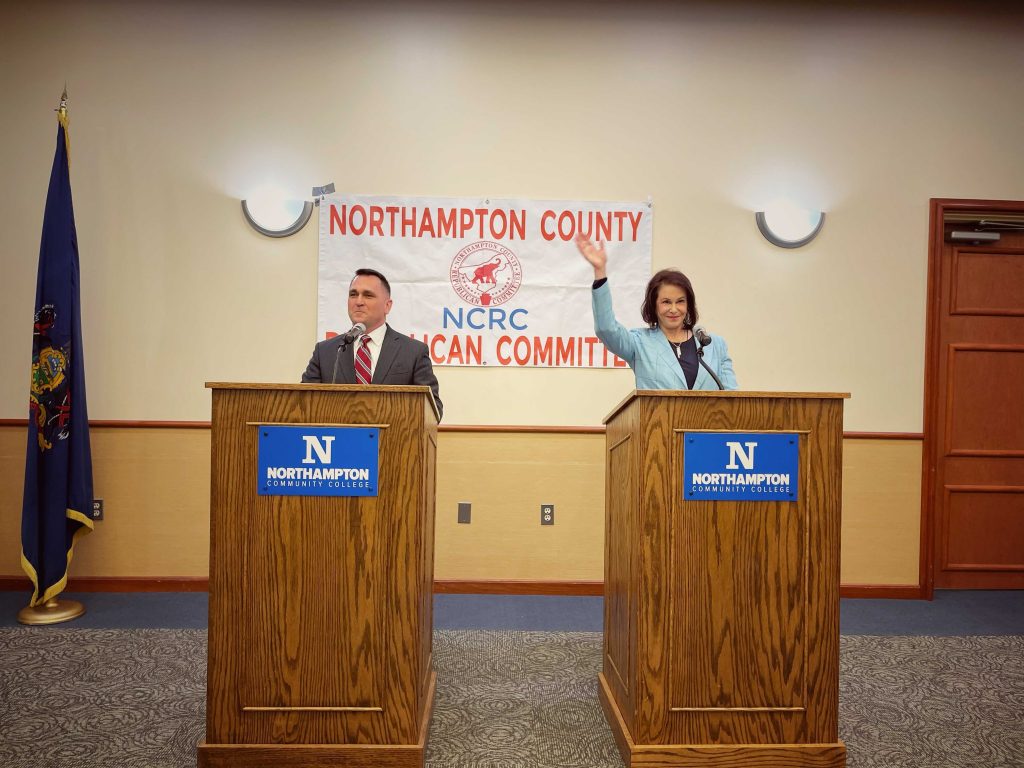 Hundreds of people turned out to hear the two Republicans running for the Lehigh Valley's congressional seat in their first debate Friday.
Candidates Lisa Scheller and Kevin Dellicker, and attendees, said it was imperative the winner in November be the GOP.
The debate room at Northampton Community College was filled to the max with people spilling into the hallways. Northampton County Republican Committee head Lee Snover said every seat was taken an hour before the debate started.
"And they are trying to tell us the Republican Party is not energized!!" Snover said at the start. "Hello! we're energized!"
The Northampton County Republican Committee organized the debate. Either Dellicker or Scheller will take on incumbent U.S. Rep. Susan Wild, a Democrat, in November. Scheller, who runs an international manufacturing company, lost to Wild two years ago.
She picked up Friday where she had left off when she last challenged Wild.
"Susan Wld is a radical," Scheller said. "She wants to be a member of the Squad and I know with your support that come November we will be able to give Susan Wild her walking papers and we will be able to knock the gavel out of Nancy Pelosi's hand."
Dellicker, a local business owner and former adviser to Gov. Tom Ridge, said he wanted to be part of a Republican shift in Congress.
"I'm out to defeat Susan Wild and restore the Republican majority in Congress," Deliicker said. "But I also want to prove a guy from New Tripoli who's authentic and a strong conservative can still win an election in the Lehigh Valley."
The debate ended up being more of a discussion with the candidates mostly agreeing on a wide array of national conservative issues, such as halting taxes, restricting abortion access, eliminating vaccine mandates and banning transgender student-athletes from competing in sports.
Both candidates also said they want to pull back on mail-in voting laws.
Dellicker and Scheller both said that Pennsylvania's mail-in voting law, approved in 2019 by a Republican-led Legislature, is unconstitutional.
"We have to elect Republicans to fix these laws in order to make permanent changes in our election laws," Dellicker said. "And during the upcoming election we have to watch, monitor and be very vigilant to make sure that we maintain the integrity of these elections until we can get more Republicans in power."
Scheller lost a tight race to Wild in 2020 for the 7th Congressional District seat.
"In 2020 on election night I was up by more than 30,000 votes in my race against Susan Wild, only to find myself three days later after mail-in ballots had been counted being told I had lost the election," Scheller said. "So I know personally what election integrity feels like."
The past two years of mail-in balloting in Pennsylvania show more Democrats than Republicans vote by mail. And multiple audits of the 2020 and 2021 elections did not find any fraud.
The primary election is set for Tuesday, May 17.
Sign up for our WLVR weekly newsletter to stay up to date with the latest news from the Lehigh Valley and across Pennsylvania.
---