NCC job training program aimed at developing manufacturing skills for entry-level jobs
Written by Jim Deegan on April 7, 2022
NCC job training program aimed at developing manufacturing skills for entry-level jobs
By Tyler Pratt
April 7, 2022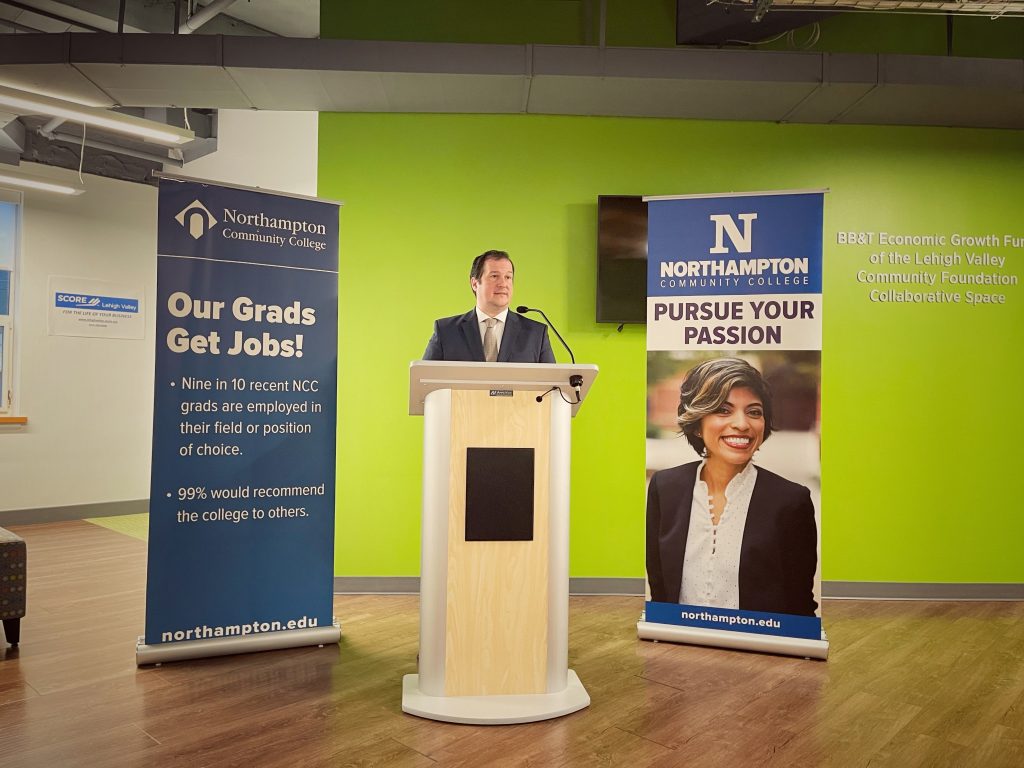 A $50,000 state grant will fund a job training program at Northampton Community College to teach manufacturing skills.
The new Precision Machining program will focus on the safe handling and operation of machining tools most used in the manufacturing industry. It will target those with low income, veterans and people who lost jobs during the pandemic, officials said.
Gov. Tom Wolf announced the funding Thursday through the state's Manufacturing PA Training-to-Career grant program. It will create an eight-week, 250-hour program at NCC's Fowler Family Southside Center in Bethlehem.
Classes are to begin in July and serve at least 10 students. Those who go on to complete a National Institute of Metalworking Skills credential are expected to obtain entry-level employment in manufacturing or continue their education at post-secondary institutions within a month of completion, organizers said.
Neil Weaver, acting secretary of the state Department of Community and Economic Development, toured the Fowler Family Southside Center on Thursday.
"[The program] addresses the local manufacturing industries and their critical need for workers that are skilled in machining,"Weaver said. "Those skills are needed for businesses to fill positions to grow and expand, and they are needed urgently and needed now."
This is not the first time NCC has received a Manufacturing PA grant.
"With the funding provided, we have been able to run several successful programs that address the needs of our citizens and local employers looking for well trained and vetted entry-level employees," Lauren Loeffler, NCC's vice president of workforce development and community education, said in a news release. "Many of our students are individuals that face barriers to employment, unskilled, under-skilled, unemployed, or career changers."
Weaver said the money and training will also help Lehigh Valley's booming manufacturing sector.
"Business in the trades have told me their biggest challenge has been getting talent," Weaver said. "I can't tell you how many times manufacturers and other businesses have told how their partnerships with the nearby community colleges have made all the difference."
The Wolf administration started the initiative in 2017 and says it has funded 67 projects statewide with nearly $15 million.
Officials said the grants support projects that result in short-term work-readiness, job placement, or the advancement of manufacturing. Candidates for the programs are entry-level applicants seeking manufacturing employment and youth with barriers to career opportunities in manufacturing, according to the state.
Sign up for our WLVR weekly newsletter to stay up to date with the latest news from the Lehigh Valley and across Pennsylvania.
---