Community Bike Works is so much more than building bicycles
Community Bike Works is so much more than building bicycles
By Tyler Pratt
June 1, 2022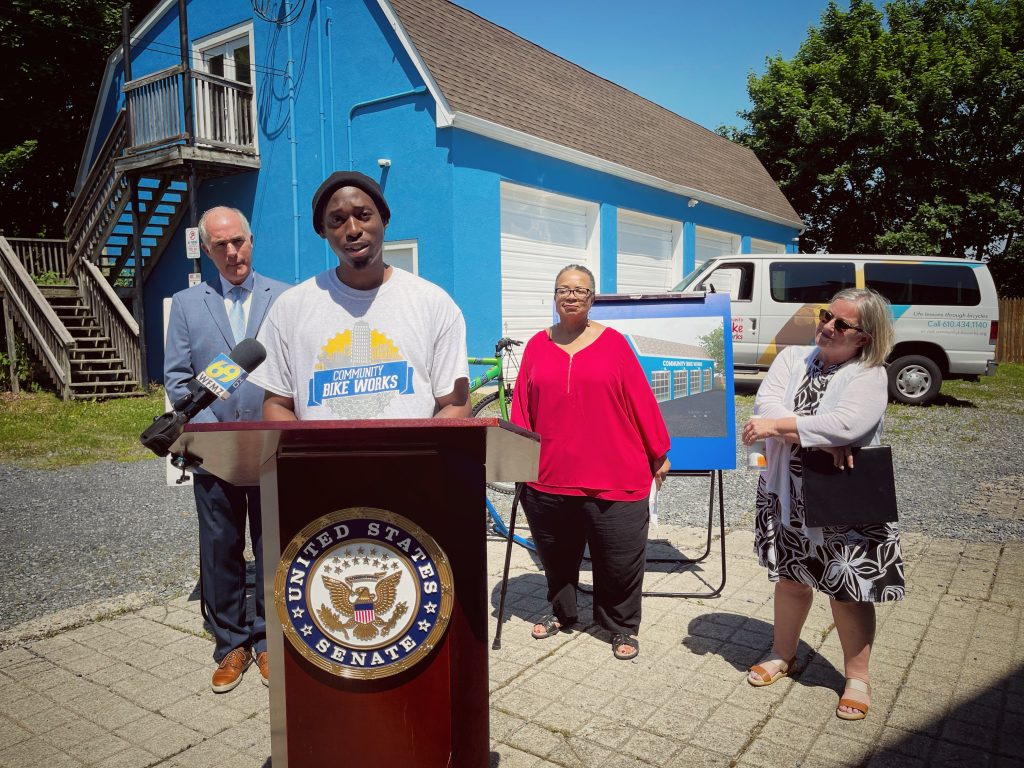 More kids in the valley will soon be able to build and keep their own bikes. Community Bike Works is getting nearly $1.5 million in new federal money. 
The earn-a-bike program began in a small store front in Allentown in 1995. Kids build them from scratch over a number of weeks. 
The operation has expanded throughout the Lehigh Valley, and now Community Bike Works will open a new shop and youth center in Easton.
Speaking outside a big blue building in the West Ward for the announcement, Program Director Kim Shaffer said the organization does more than just build bikes.
The program gives kids mentors and teaches them leadership skills plus the value of hard work.
And when students finish they can still take part in a variety of other activities at Bike Works like a poetry club or go on special field trips and can even become paid youth apprentices.
"We also offer Earn-a-Book, after school drop-ins, cycling and, as of this summer, a new youth advisory council that will help kids set the direction of their organization," Shafer said.
Shaffer read a letter from a 13-year-old named Leila.
"Bike Works helped me learn a lot about socializing, because I'm not the best at it," Leila wrote, "By the end of that first week I was comfortable speaking with the other kids in that group. We're friends now. I feel like I can talk to anyone now. It's easier for me to meet new people."
Josh Ortiz joined when he was 13. Now he's 26 and serves as Bike Works Youth Mentoring and Partnerships coordinator.
"Through the program, volunteering and later getting my first job, I learned the importance of a strong work ethic and what it means to lead by example," Ortiz said.
He made "lifelong friends," he said, through Bike Works and the mentors helped him get scholarships to attend college.

U.S. Rep. Susan Wild (D-Lehigh/Monroe) and U.S. Sen. Bob Casey (D-PA), were in attendance at Tuesday's announcement and were thanked by the Community Bike Works team for helping secure $1.4 million.
"While [kids] are figuring out what's wrong with their bike chain they are not only learning the mechanics, but how to deal with frustration, how to problem solve and how to think creatively and those are life skills," Wild said.
Speaking after the announcement, Casey said people from all over the country applied for the federal dollars that lawmakers then allocated.
"It's a pretty rigorous process and to be able to get through it all and to be awarded the funding is a great testament to the great work Community Bike Works is doing," Casey said.
With this new money, Shaffer said,Community Bike Works will now be able to help 600 kids a year to build their own bikes. 
Sign up for our WLVR weekly newsletter to stay up to date with the latest news from the Lehigh Valley and across Pennsylvania.
---