Hispanic Center mural honors Roberto Clemente, his career and his humanity
Written by Aliya Haddon on June 13, 2022
Hispanic Center mural honors Roberto Clemente, his career and his humanity
By Aliya Haddon
June 13, 2022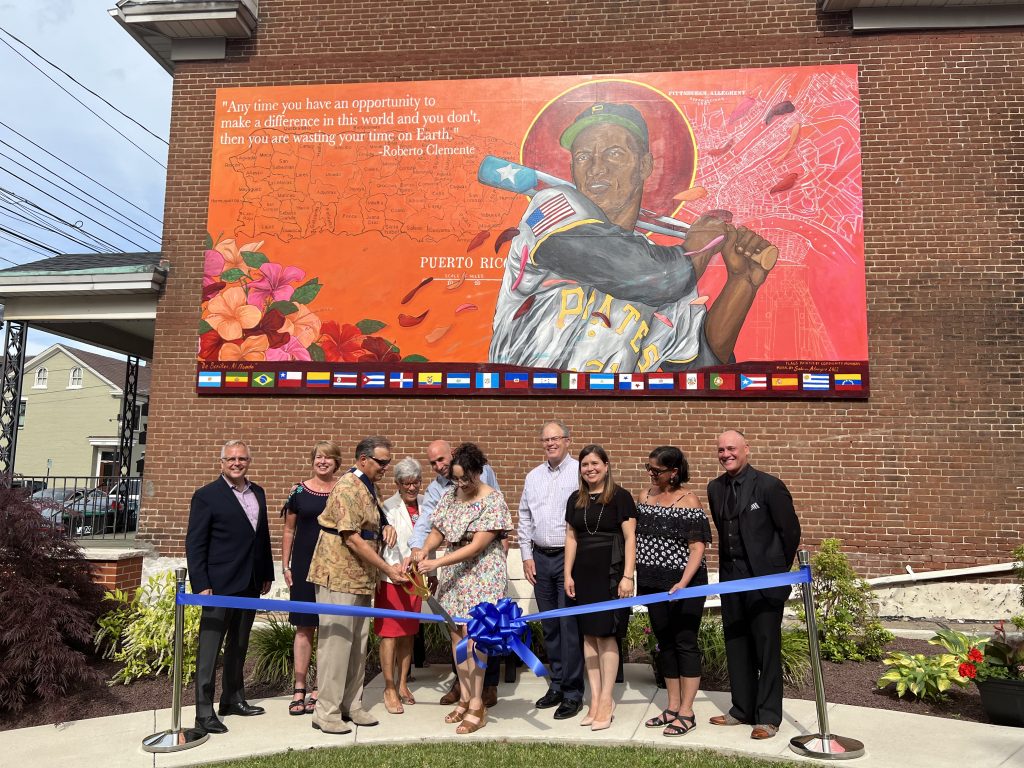 South Bethlehem recently welcomed a new pop of color and culture.
A mural outside the Hispanic Center Lehigh Valley by artist Salina Almanzar-Oree focuses on Puerto Rican baseball player Roberto Clemente.
"De Boriken al Mundo" was unveiled Friday on the East Fourth Street building.
Clemente, who died in a plane crash on New Year's Eve in 1972, is known for his successful 18-year baseball career, and also for his work as a humanitarian.
The mural celebrates both.
"Murals are like a billboard or like a signal of who's in your community," said Almanzar-Oree, Lancaster Pa native. She said this one celebrates the Latinx and BIPOC community here in the Lehigh Valley. Almanzar-Oree's portfolio includes several other large scale public art pieces as well as mixed media works, and smaller creations.
The mural includes a map of Puerto Rico in the top left corner and shows the borders of each town.
"It's really important for us to pinpoint where exactly we're from," Almanzar-Oree said.
On the right side of the mural is a map of Pittsburgh, where Clemente played for the Pirates during his Hall of Fame career. Clemente's bat is depicted swinging from one location to the other, pointed toward his hometown of Carolina.
Almanzar-Oree also used the piece to celebrate working-class communities in the Lehigh Valley and in Clemente's background. She wanted to highlight the connection between steel towns across Pennsylvania with a blueprint of a steel stack.
She used a mural cloth method to create this massive project, painting 5-foot square pieces at a time, then puzzling them all together.
Twenty-three flags painted by Lehigh Valley students, seniors and other community members decorate the base of the mural, representing different Latin American and Caribbean countries.
Diversity, equity and inclusion are priorities for the center, which has been operating to support Latino families and provide resources since 1968.
"People stop by the Hispanic Center and see this beautiful mural and they see themselves," said Executive Director Victoria Montero. "They see the little town from Puerto Rico where they're from. They can see their flag."
Almanzar-Oree said she always includes a halo in her work.
"I want to celebrate us for all of the things that we bring," she explained, "even including the messiness that we might bring to things."
Written across the painting is a famous quote from Clemente: "Any time you have an opportunity to make a difference in this world and you don't, then you are wasting your time on Earth."
One of the sponsors for the piece, Richard Anderson, president and chief executive officer of St. Luke's University Health Network, said he was drawn to the project "because it inspires people. Look how happy everybody is. Think about all the people that are going to come here and look at him and learn about him and what he did. Maybe he'll inspire them."
Anderson grew up in Pittsburgh and has always admired the ballplayer. "We all wanted to be like him," he said.
Clemente was an All-Star in 13 seasons and finished his career with 3,000 hits. He was 38 and on a mission to deliver aid to earthquake victims in Nicaragua when his plane went down on Dec. 31, 1972.
Sign up for our WLVR weekly newsletter to stay up to date with the latest news from the Lehigh Valley and across Pennsylvania.
---