Lafayette soccer player wins gold with U.S. Deaf Women's National Team
Lafayette soccer player wins gold with U.S. Deaf Women's National Team
By Stephanie Sigafoos
June 20, 2022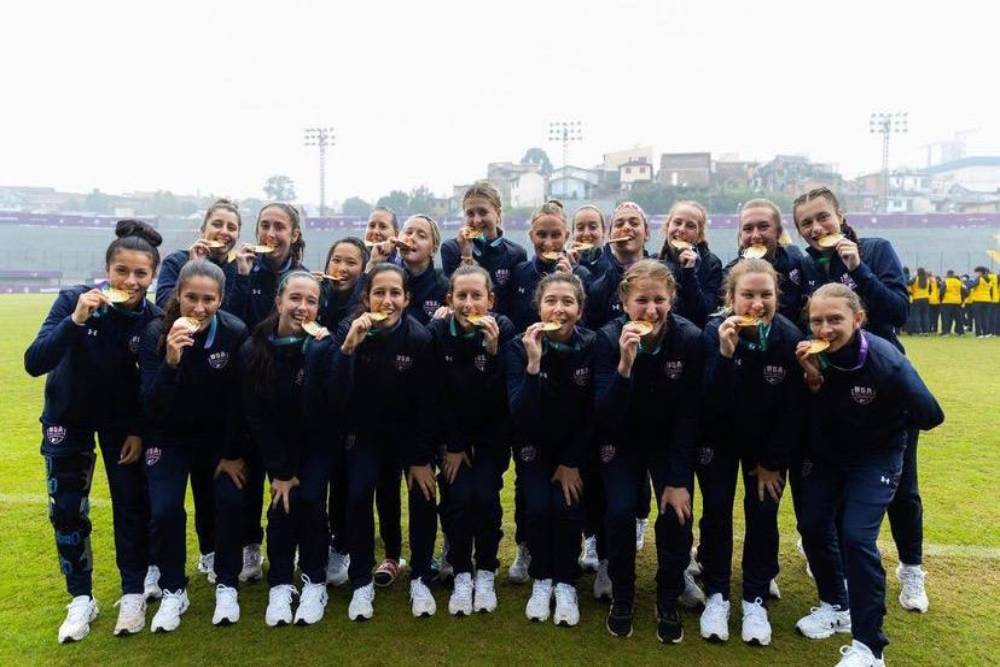 Ani Khachadourian is not your typical college athlete.
Born with a hearing impairment, the rising sophomore at Lafayette College has been on the go since she was a toddler and has never known a world without sound.
"I knew that I was hearing impaired, but I didn't really let that define me, which can kind of be seen as a divider in the deaf community," Khachadourian said.
Fit with hearing aids at just two months old, she threw herself into basketball, baseball — and eventually soccer.
"They started [me] off in like a little kiddie program when I was three years old, and ever since then I started playing competitively, I think at age nine. And it's just gone up from there," she said.
Now, the Lafayette women's midfielder and Cary, North Carolina, native has some serious hardware to bring back to Easton to add to her maroon and white soccer kit — a gold medal.
Khachadourian headed to Brazil last month to compete in the Deaflympics, where the U.S. Deaf Women's National Team defeated Poland in overtime to win the tournament.
The women are now four-time gold medal winners at the games.
It was Khachadourian's first time representing the United States and the deaf and hard of hearing community on both a national and international stage. Joining the team also marked her first time playing competitively in an all-deaf environment.
All players competing in deaf matches must remove their hearing aids before playing, putting everyone on a level playing field.
"It's definitely kind of frustrating the first few times being with the team, but you learn that that's what makes the team what the team is," Khachadourian said. "The biggest part is communicating and being able to play at your best [while] not being able to hear each other."
After helping her team win gold in Brazil, Khachadourian is looking ahead to the Deaf World Cup in South Korea next year. She also has a message she hopes will encourage and empower other young athletes in the deaf community.
"It is the best experience, it is the best team, the best memories that I have created. And it's given me a sense of purpose, too," Khachadourian said.
"What I would say to these athletes is, go for it. You're able to represent yourself and represent what you're going to overcome and represent that you can succeed in sports and elsewhere in life. Being hearing impaired or being deaf … doesn't limit what you can or can't accomplish."
Sign up for our WLVR weekly newsletter to stay up to date with the latest news from the Lehigh Valley and across Pennsylvania.
---