Lehigh Valley in jeopardy of losing IronPigs as costs for stadium upgrades skyrocket
Lehigh Valley in jeopardy of losing IronPigs as costs for stadium upgrades skyrocket
By Stephanie Sigafoos
June 23, 2022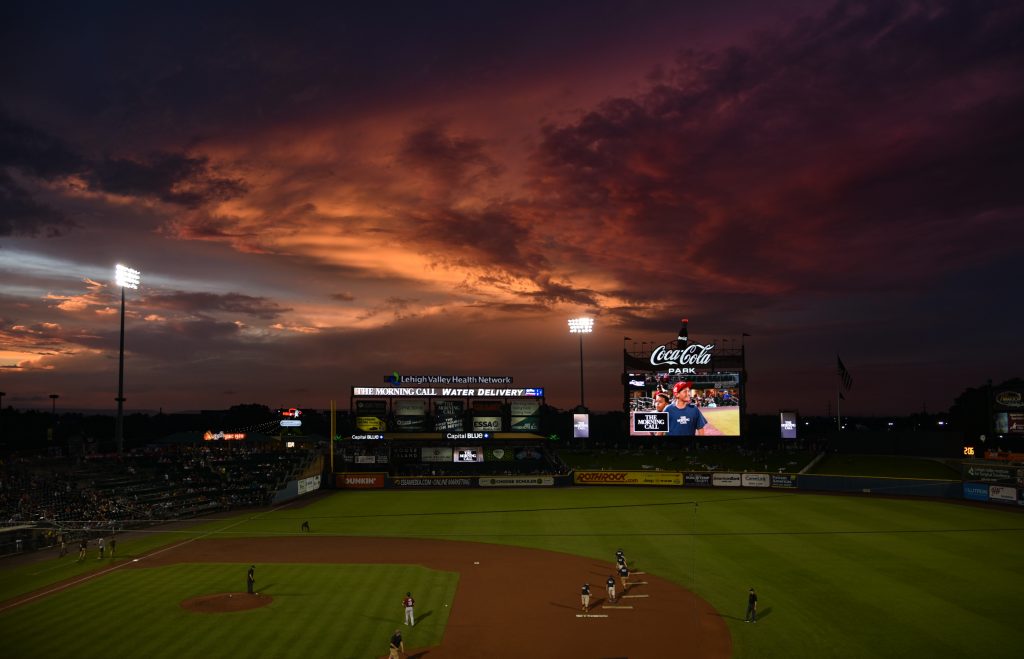 A plan to enhance amenities at Coca-Cola Park to meet Major League Baseball's new facilities standards is coming down to the wire in Allentown. In a worst-case scenario, it could end with the IronPigs leaving the Lehigh Valley.
The total price tag for the upgrades is now around $9.5 million, and the organization is well short on funding, General Manager Kurt Landes said in an interview Thursday.
The original budget for the project was around $6 million in 2020, but has increased due to spiraling costs and inflation, Landes said.
The IronPigs have until April 2023 to complete the upgrades and remain in compliance with Major League Baseball. If they don't, Landes believes they could lose their affiliation with the Philadelphia Phillies.
Since 2019, more than 40 minor league teams have lost their MLB affiliations.
"Selfishly, we have a concern because if we don't have the project completed by April, Major League Baseball has the ability to essentially take our franchise and do what they want with it. So that's scary," Landes said.
Planned upgrades to the ballpark include an expanded clubhouse, male and female locker rooms, training facilities, hydro space, and a new centerfield entrance. The team also plans to enhance fan offerings by expanding the entry plaza.
The problem is how to pay for it, and the ever-shrinking time frame to get the work done.
On Wednesday, the team received a $500,000 financial boost from the state thanks to a grant acquired by state Reps. Mike Schlossberg and Peter Schweyer and state Sen. Pat Browne. But that funding will only go so far.
"The state's at $2.5 million, the county's at $1.5 million committed, and we've requested $1.5 million from the city. And we're hopeful for positive progress when it comes to that process. Northampton County has [also] committed to $200,000," Landes said. "So all told, we are at $5.7 million in either committed funds, or funds that have been requested."
Landes said the IronPigs have also committed $1.5 million, but that still leaves a more than $2 million funding gap.
Earlier this month, a slim majority of Allentown City Council tabled a proposal on giving $1.5 million of American Rescue Plan money to the IronPigs, with some members saying they wanted to wait until more public meetings were held.
"We respect the city's process, and I know they want to do things appropriately and in a visible manner, but we're nervous," Landes said. "We want to be able to start the project, and more importantly want to be able to end the project in this timeline. With the availability of supplies, materials, let alone the funding … just trying to get it completed by April 2023 is going to be a significant issue for us."
The mayor's office weighed in Thursday afternoon, saying it had shared multiple proposed spending plans with council members, but they've indicated that they still want to hear more testimony.
"In general, we do have concerns about council delaying this process," Mayor Matt Tuerk said in a prepared statement. "Our concerns include escalating costs, especially in this inflation environment. We also recognize that these are recovery dollars that should be allocated as quickly as possible to help stimulate economic growth. And lastly, we want to avoid taking any chances in the event that Congress decides to potentially take back any unspent dollars."
State Rep. Schlossberg (D-Lehigh) said it was imperative city council "get it together and push this forward and get it across the finish line."
"Those folks at Cola-Cola Park employ hundreds of people directly or indirectly and we need to do everything we can to make sure they have the funds necessary to make these improvements," he said in a phone interview.
Coca-Cola Park has been a fixture in the Lehigh Valley since 2008, but is now one of 120 minor league baseball stadiums required to make improvements.
"Quite honestly, there are a lot of markets that would be quickly in line that would love to have an affiliate," Landes said.
Sign up for our WLVR weekly newsletter to stay up to date with the latest news from the Lehigh Valley and across Pennsylvania.
---