Padraig Harrington wins 2022 U.S. Senior Open at Saucon Valley Country Club
Written by Jim Deegan on June 26, 2022
Padraig Harrington wins 2022 U.S. Senior Open at Saucon Valley Country Club
By WLVR Staff
June 26, 2022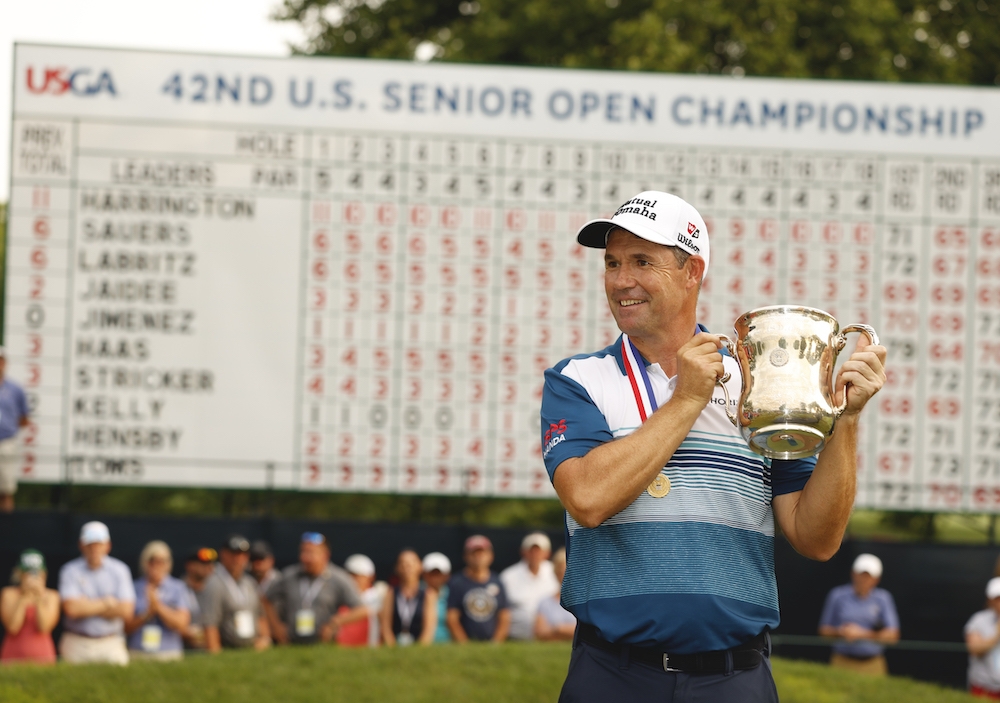 Padraig Harrington started the day Sunday with a six-shot lead at Saucon Valley Country Club.
What looked like it might be an easy day, however, turned into a nail-biter.
Harrington, of Ireland, held on to win the 2022 U.S. Senior Open, finishing at 10-under par and winning by one shot over American Steve Stricker at Saucon Valley's Old Course.
Thousands visited the club for the four-day tournament, which was held at Saucon Valley for a record third time.
It was the 50-year-old Harrington's first victory as a PGA Tour Champions member and capped months if not years of planning to bring the nationally-televised golf tournament back to the Lehigh Valley.
Saucon also hosted the U.S. Senior Open in 2000 and 1992.
Harrington was delighted to claim victory, having finished second to Stricker in May in the season's first senior major, the Regions Tradition.
With the win, he earned a $720,000 first-place prize, the Francis D. Ouimet Memorial Trophy and exemptions into the next 10 U.S. Senior Opens.
"I think it's special for me to win this one just because I've never won a USGA event," said Harrington, winner of three prior majors on the main circuit.
"I think that adds more than if you could turn around and win a different senior major. But because I was never a U.S. Open champion or a junior champion, it's great to come and win the senior one. It adds something that I never had in my career."
Stricker trailed by eight shots entering Sunday, but made a charge in the middle of the final round that gave Harrington just about all he could take.
Mark Hensby, of Australia, finished third with a final-round 69.
Stricker captained the USA team to victory over the European side, led by Harrington, in last September's Ryder Cup. On Sunday he earned $432,000 as runner-up, and was gracious in defeat.
"Hats off to him," he said of Harrington. "He played great. It was close, but he was the better player this week."
Harrington said he was impressed by the course and the competition.
"I really appreciated the type of week it was," he said. "The USGA set up a fabulous course, much tougher than I had expected. I knew that would play into my hands, but it was a tough golf course.
"Saucon Valley is excellent. Obviously, there's a lot of pressure on this type of style of golf course when you're leading. You don't want to make a mistake. It was definitely a tension-filled day."
Sign up for our WLVR weekly newsletter to stay up to date with the latest news from the Lehigh Valley and across Pennsylvania.
---