Zachary Cohen wins Lehigh County judicial race by 5 votes
Zachary Cohen wins Lehigh County judicial race by 5 votes
By Hayden Mitman
June 16, 2022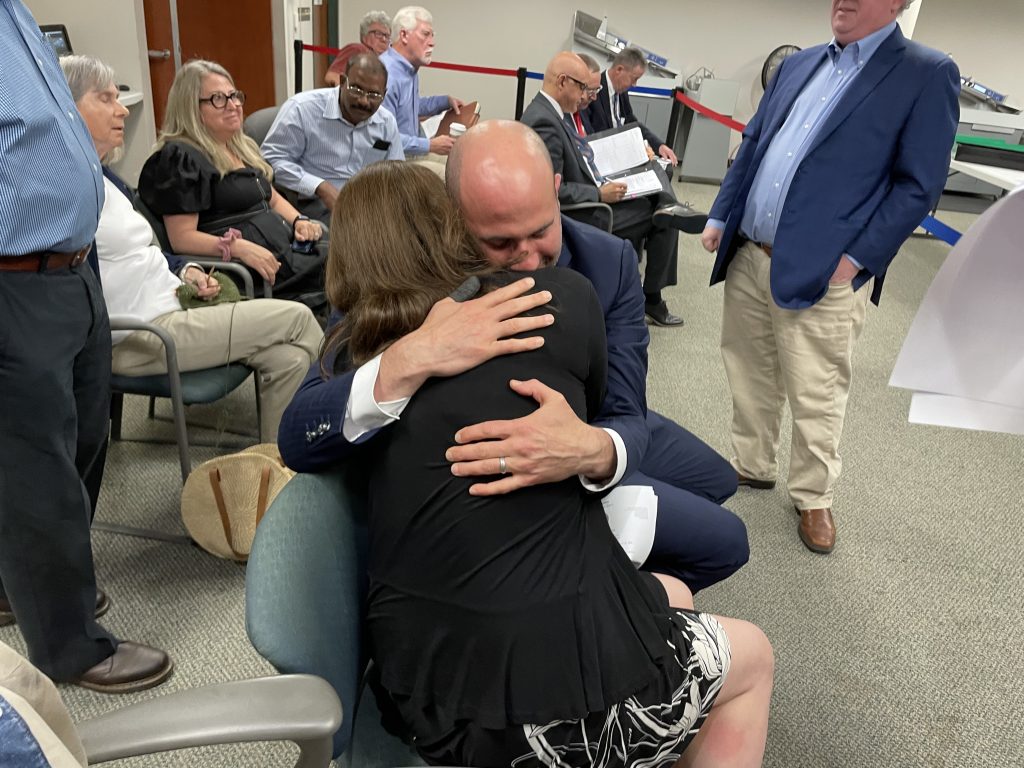 By a margin of just five votes out of more than 65,000 cast, Democrat Zachary Cohen has preliminarily been declared the winner of a seat on the Lehigh County Court of Common Pleas.
It was an outcome more than seven months in the making.
After months of legal wrangling and appeals, a U.S. Supreme Court opinion filed last week allowed 257 mail-in ballots – ballots that had been delivered on time but missing a handwritten date on an outer envelope — to be included in the final tally.
Republican David Ritter held a 71-vote lead without the mail-in ballots being counted.
But after including the set-aside ballots in the final count and accounting for all other ballots Thursday at the Lehigh County Government Center, Cohen finished with a total of 32,669 votes to Ritter's 32,664.
"For people who ever think that their vote doesn't count, you look at Lehigh County over the last couple of elections, how important is that vote that everybody is in demand," said Lehigh County Executive Phillips Armstrong.
Cohen immediately turned to embrace his wife, Virginia, following the announcement.
"It's been a very challenging seven-and-a-half months, I think," Cohen said. "First and foremost, today is my 21st wedding anniversary, so I'm excited most about that. But, this comes in a close second."
Ritter said the results were "disappointing."
"I was in the lead since election night, and of course it's disappointing to have this turn of events occur, but I'm going to keep my head high," Ritter said.
He said he plans to review the day's decision and discuss options with his legal team.
The results will still be considered preliminary until June 22. County Deputy Solicitor Sarah Murray said officials still need time to process write-ins to tally up all votes in all the races before the county can officially certify the county's 2021 general election results.
As Thursday's count got underway, Cohen and Ritter waited patiently as officials opened the outstanding ballots. Most were immediately fed through scanning machines.
When the machine count was complete, Chief Clerk of Elections Tim Benyo read the results: 132 votes for Cohen and 58 for Ritter.
But, there were another 34 votes that remained.
Sixteen naked ballots, which are mail-in ballots returned without secrecy envelopes, were immediately excised. They are not permitted to be counted under state law.
Five more were removed because the voters had cast provisional ballots.
The remaining 13 ballots had to be separately examined for other reasons – one was stuck to its envelope, nine weren't properly sealed, another had an identifying mark and two had been resealed after being opened.
The county Board of Elections determined 12 of those ballots could be counted, excluding the one with an identifying mark.
Cohen said he will need to wait to find out when he can step into the county judgeship. But, he said he's excited to serve the county.
Sign up for our WLVR weekly newsletter to stay up to date with the latest news from the Lehigh Valley and across Pennsylvania.
---