Home prices hit another record in Lehigh Valley — but rising costs rapidly cool demand
Home prices hit another record in Lehigh Valley — but rising costs rapidly cool demand
By Stephanie Sigafoos
July 13, 2022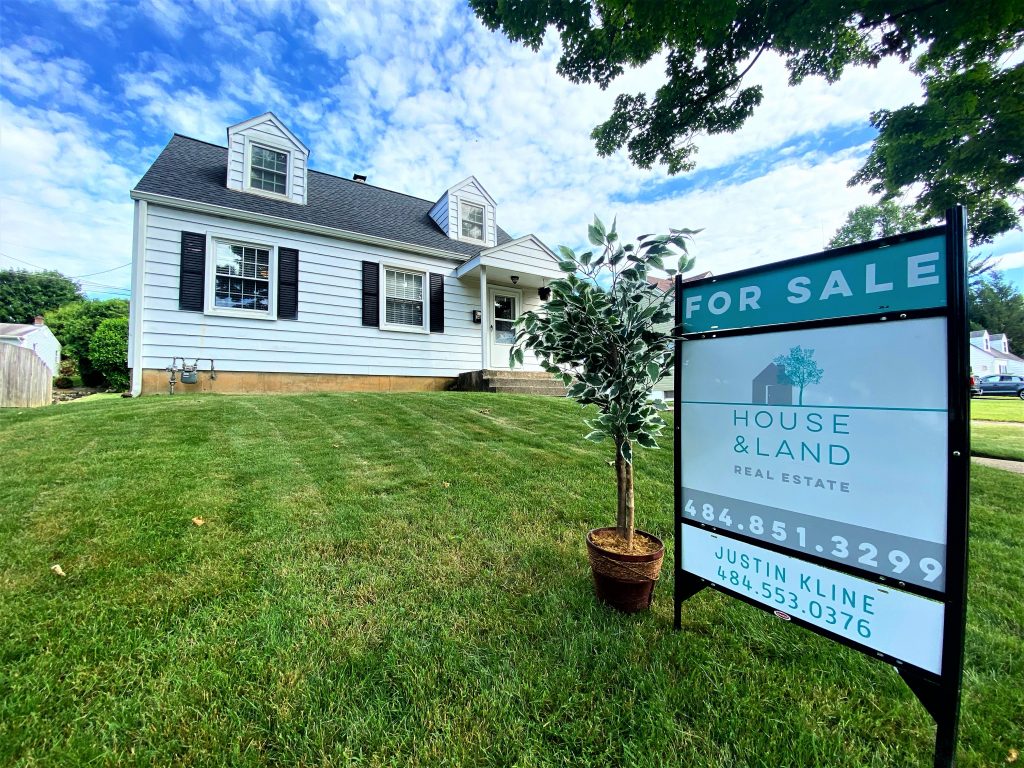 Record-setting prices and low inventory continue to impact Pennsylvanians trying to buy homes, and nowhere is that more pronounced than in the Lehigh Valley.
A $26,000 gain month-to-month pushed the median sales price in the area to $316,000 in June — another new record. Nationally, that price exceeded $400,000 for the first time ever.
Homes in the Lehigh Valley also went under contract, on average, in just 12 days.
But now, the market finds itself at a pivotal moment where Realtors say the frantic environment of bidding wars has slowed thanks to increased mortgage rates and surging inflation, changing the idea of affordability for even the most qualified buyers.
"We had people that were looking at interest rates around 3%, and so a monthly payment for a house for $275,000 was around $1,800," said Justin Kline, broker/owner of House & Land Real Estate in Hellertown. "Then you up the interest rate to 5.75% and that goes to $2,250. Most people don't have that extra $400 a month."
The big question now is what the market might look like going forward.
"I don't think we're going to see a price decrease here. Really, I don't," said Howard Schaeffer, a Realtor with RE/MAX Real Estate in Allentown and president of the Greater Lehigh Valley Realtors.
"Will a house at $350,000 maybe go to $340,000? Yeah, maybe," Schaeffer said. "But you aren't going to see that $350,000 home that sold six months ago going for $290,000. That's not going to happen."
Some buyers sidelined, others undeterred
Jen Diaz is originally from the area, but a few years ago threw caution to the wind and moved to California.
"I lived in LA, and it was great," Diaz said. "Then I started realizing, you know what, maybe I want to put down some roots and buy a house, and buying a house in LA is ridiculous. So, I ended up back here."
Diaz envisioned buying a home in a nice neighborhood "with the tree line, the picket fence, that fantasy." But skyrocketing prices quickly dashed those dreams.
"I made offers on three different [houses], and they were going for prices that were far more than what I was able to offer," she said. "The big thing was these houses were going for more than I would have expected them to appraise for."
Then, the Federal Reserve raised interest rates by three-quarters of a percentage point, the largest interest rate hike since 1994.
It was a one-two punch Diaz was unable to overcome.
"I gave up after I was looking for about six months," she said. "The last house I think they were asking $290,000 and I offered $316,000. When I saw that it sold for $360,000 I just said, 'You know what, I'm done. I'm done. I'm absolutely done.'"
Other local buyers, like Sean and Krystal Rimmer, had their "eyes wide open from the beginning" when they approached Kline about buying, even when they realized they would feel the squeeze of the market all around.
"Initially we were just like, 'Oh my God, what are we getting ourselves into?'" Sean Rimmer said. "And we had tried getting a pre-approval and because of the pandemic and with how unemployment was working at the time — because we both had to go on it for a little bit — we didn't get approved."
What the Rimmers did next was move back in with family, pay off debt and save money for a down payment. When they were finally ready to start looking at homes, they also tempered their expectations.
"There was some ups and downs, for sure," Sean Rimmer said. "I think we [initially] went 0-for-5 on houses we put bids on it. But it was one of those things where we told Justin from the get-go, 'Look, we're not picky in the way of like … as long as it works for us, we're good.' And he was like, 'That will very much work in your favor.'"
In the end, while the Rimmers struggled to get comfortable with the idea of higher payments, they're set to close on their first home in the coming days.
"Your perception of a one-point [jump] as far as your interest rate doesn't correlate to what it actually means, as far as a price difference," Sean Rimmer said. "Because that price point that you can afford just keeps dropping … it's terrifying."
Educated buyers will hold the cards
As existing home sales continue to soften nationwide, Schaeffer is adamant that no one really has the upper hand in the market.
"I don't like [saying] buyers' and sellers' markets. I think that just sends the wrong message. If I'm representing the seller, I always want to protect it, if I'm representing a buyer, I always want to protect it. And at the end of the day … a good transaction is when both parties win," he said.
As for other trends taking shape, Schaeffer said buyers are once again keeping rather than waiving home inspections and other contingencies — something he says real estate agents have never pushed and would never advise — bringing a sense of normalcy back to the process.
"I'm back in business where I can actually sit and [a few days ago while working through an offer] the sellers gave so much, the buyers gave so much. This went back and forth, that went back and forth. We negotiated the closing date, we negotiated how much money down. It was nice … it was a better pace. And I think that's going to serve the public in a better way," he said.
He also stressed buyer education as mortgage rates and other factors continue to exacerbate affordability challenges.
"When somebody's just entering the market, I think it is so important that they interview several people … to find a Realtor that you can relate with, that you feel comfortable with, that you divulge all your secrets to, because it's got to be a very open [relationship]."
The GLVR also recommends classes and seminars to educate prospective first-time homebuyers and enable them to make informed decisions regarding home ownership.
"I think the number one piece of advice I do give to buyers who are struggling in this environment is to get educated," Kline added. "You might have come to us thinking, 'Oh, I can buy a house in three months.' But really, it's three years, or maybe you thought three years and really, it's three months. I've seen both sides happen. So, it really is just an education."
Sign up for our WLVR weekly newsletter to stay up to date with the latest news from the Lehigh Valley and across Pennsylvania.
---
Continue reading