Protesters pour into downtown Easton to rally for abortion rights after Supreme Court ruling
Written by Jim Deegan on July 2, 2022
Protesters pour into downtown Easton to rally for abortion rights after Supreme Court ruling
By Tyler Pratt
July 2, 2022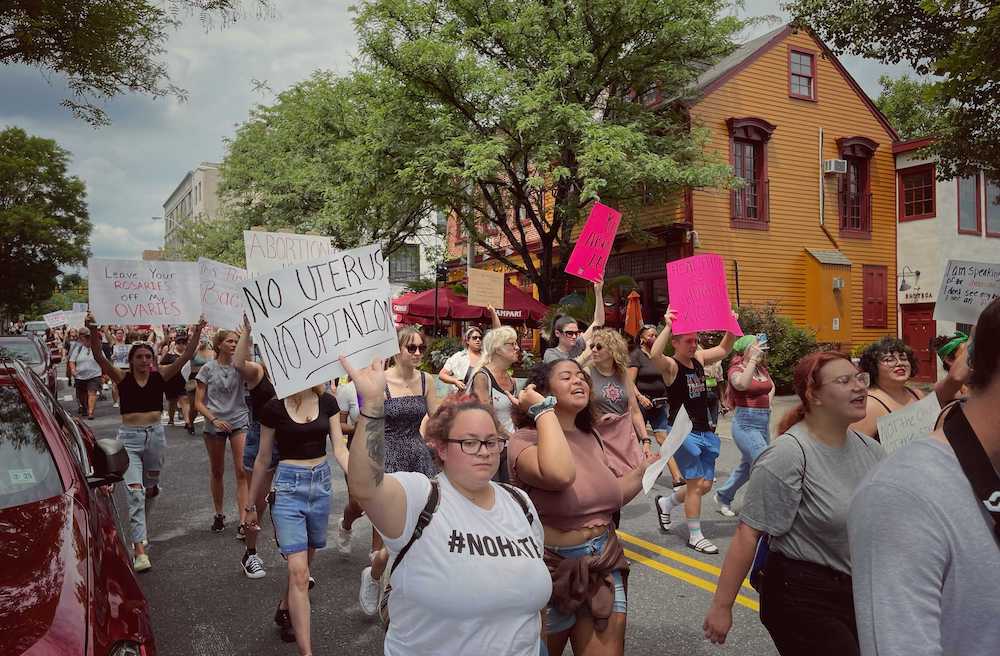 About 1,000 people gathered in Easton late Saturday morning to rally for abortion rights.
Six women spoke to the crowd that filled Third Street downtown. Easton City Councilwoman Taiba Sultana delivered a passionate speech.
"Yes we are angry, yes we are frustrated," Sultana said. "But I want you to take your anger and frustration and turn it into a movement that actually moves us together."
Protests and vigils across the region last weekend centered around sadness and grief, following the recent U.S. Supreme Court ruling that overturned Roe v. Wade.
But a week later in front of Easton City Hall, anger was a major theme.
"Abortion is not an easy decision to be made," Sultana said. "But still it's my decision."
Sultana called on the crowd to reach out to their elected officials both locally and statewide.
"I put my anger and frustration on paper and prepared a resolution to support women's rights," Sultana said. "Call and email your council members to tell them you support this resolution. It is imperative our leaders understand that abortion care is healthier. And is a personal matter that should be left to their patient and health care provider."
Sultana encouraged women in the crowd to vote in the coming election and to run for office, noting she is the only woman on Easton City Council.
Sultana and others called on men to stand with women. Easton Mayor Sal Panto Jr. and state Rep. Robert Freeman (D-Northampton) joined her on city hall's front steps.
"We are a progressive city," Sultana yelled as the crowd cheered.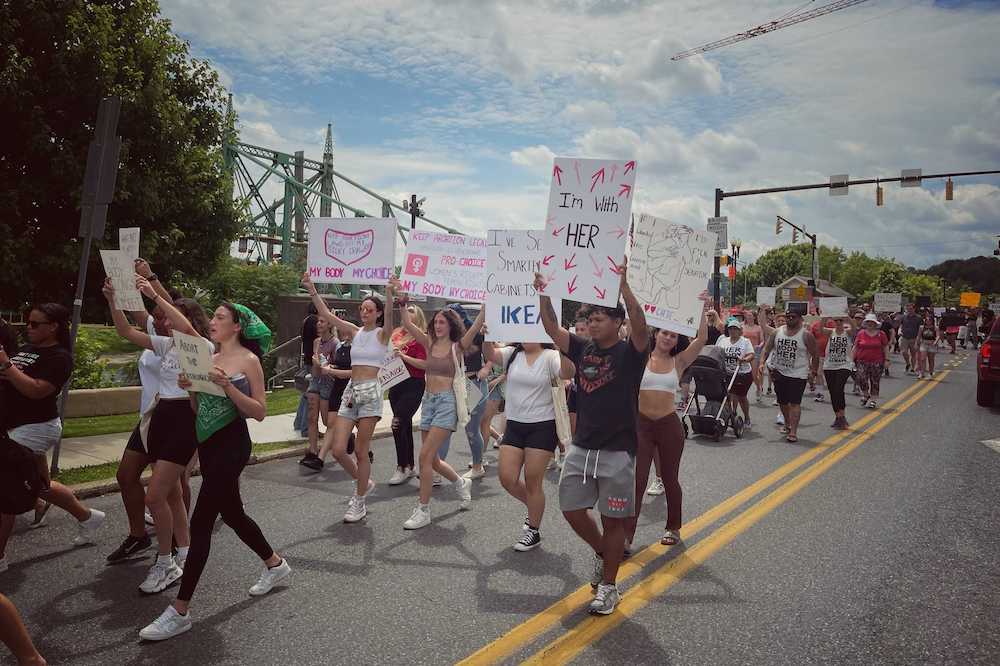 Many spoke directly to leaders in government about a lack of social services to those who have children.
"You deny affordable health care," organizer Lexi Clark said. "You deny programs that feed children and you try to regulate women's bodies. It's awfully hard to call yourselves pro-life when today there have been over 250 mass shootings [this year] in the USA, taking innocent lives every day."
In tears, Clark continued.
"The people in power won't do anything to fix gun laws," Clark said. "My body is more regulated than a gun."
Organizer Lucila Lampertti spoke about issues she said impact many people in the Lehigh Valley.
"Housing waiting lists are 10-plus years and access to affordable health care without being put on a months-long waiting list is nearly impossible," Lampertti said. "Why does this matter? Because pro-life means accessible housing, accessible food, health care and more. We do not have that."
Lampertti and others said they were angry and worried about how future Supreme Court rulings could impact marginalized communities.
"This country is not pro-life," Lampertti said. "It's pro-white men and their equally ignorant partners. We must stand together to fight for the rights of all members of our community. This means Black lives matter, trans lives matter, indigenous and immigrants."
The crowd marched from city hall to Riverside Park, with the assistance of local law enforcement, blocking traffic and several points while chanting, "Abort the court," and "My body my choice."
Not everyone was in agreement. During the march a few residents peered out of doors and windows and verbally sparred with protesters, with one person saying they, "need to find Jesus."
But many other residents and people in cars cheered the protesters along. And when the march disbanded, participants hugged one another and gave high-fives.
Ivalis Cruz said she felt accomplished.
"I feel like my voice has been heard," Cruz said. "It's not a lot, but it's something."
Sign up for our WLVR weekly newsletter to stay up to date with the latest news from the Lehigh Valley and across Pennsylvania.
---