'Happy to get back': After first IronPigs game, Bryce Harper says it's good to be playing again
Written by John Moser on August 24, 2022
'Happy to get back': After first IronPigs game, Bryce Harper says it's good to be playing again
By Jay Bradley
August 24, 2022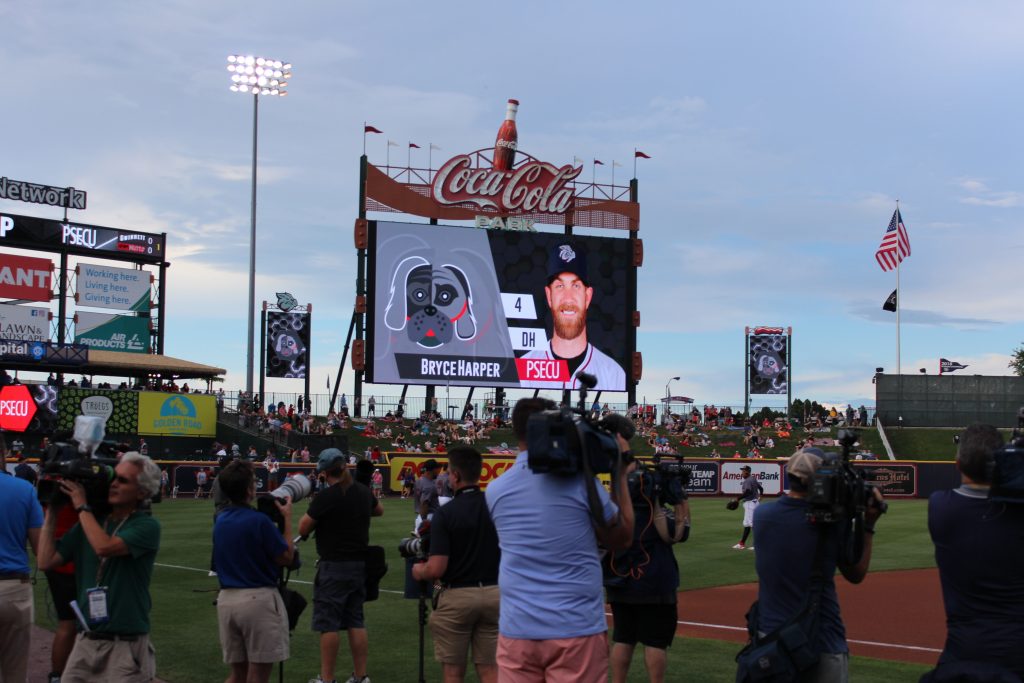 ALLENTOWN, Pa. – After treating the sold-out crowd of more than 10,100 at Allentown's Coca-Cola Park on Tuesday night to two "Bryce Bomb" homers, Philadelphia Phillies star Bryce Harper said he was happy to be back in the game.
"It feels good," Harper said after the game he played as designated hitter for the Lehigh Valley IronPigs, with whom he is rehabbing after breaking his left thumb in late June.
"Just happy to get back out on the field and be around baseball again. Run the bases, see pitches, and attack when I need to."
Harper is set to continue his stay with the Ironpigs through Saturday, as the team plays a six-day home stand against the Gwinnett Stripers from Georgia.
The second game in the series starts at 7:05 p.m. Wednesday.
Harper has not played in the major leagues since being hit by a pitch that fractured his thumb in San Diego.
He said he wants to take the time to see different pitches and how his body reacts to them, and being able to run the bases and face both left and right-handed pitchers at Coca-Cola Park as designated hitter was a good re-entry.
"Coming back is always kind of tough for anybody," Harper said. "It's a stepping stone into each day, so I'm gonna take it one day at a time and see how I feel each day.
"I need to be able to see pitches, see different guys, different angles, understanding how my body is going react, what my thoughts are going to be like, and just try to go from there."
The Phillies star's first outing with the 'Pigs ended with a 10-5 victory, but their opponent, Georgia's Gwinnett Stripers, took it as a good sport.
Harper said that, aside from the bit of nerves that came with making his way back onto the field again, working with the 'Pigs and being greeted by the fans in the Lehigh Valley has been great so far.
"The fans are great, the ballpark is awesome, the atmosphere was great, so a lot of fun," Harper said. "I know a lot of these guys in here from camp and spring training and whatnot. So just fun to kind of be back in and ready to go."
Harper last played at Coca Cola Park when he was in the minor leagues back in 2012 while playing for the Syracuse Chiefs (now the Syracuse Mets).
When asked if he thought he would be able to play right field again by September, Harper said no.
"Every day is going to be a stepping stone into that next day," Harper said. "So we are where we are right now, and hopefully, where I need to be to get back."
Sign up for our WLVR weekly newsletter to stay up to date with the latest news from the Lehigh Valley and across Pennsylvania.
---