'Feels like it's back': Musikfest 2022 kicks off amid eager crowds and torrid heat
Written by Jim Deegan on August 5, 2022
'Feels like it's back': Musikfest 2022 kicks off amid eager crowds and torrid heat
By Jay Bradley
August 5, 2022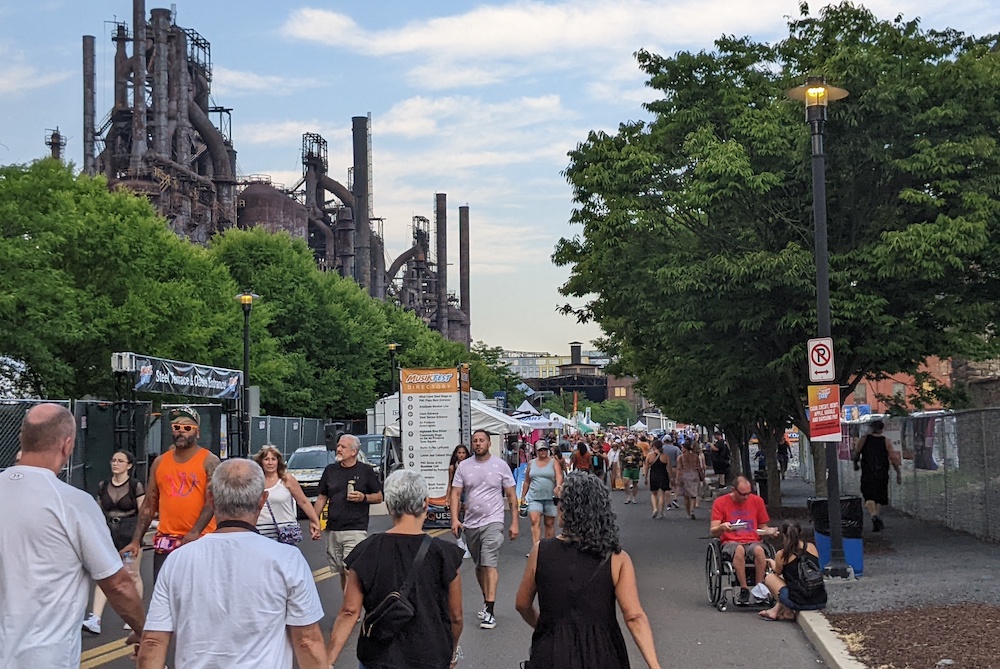 Musikfest is back in full swing.
Preview night started the festivities Thursday with crowds pouring into Bethlehem's SteelStacks campus despite temperatures that reached into the upper 90s just a short time earlier.
Local musician Maxamilly and his band brought a funky kickoff to the festival. For him and his group, playing at Air Products Americaplatz at Levitt Pavilion was a big step up after playing in town for tips in years past.
"The fact that I was hit up this year and they emailed me to come through …," he said. "It was like a dream come true, kind of, because it was really crazy. I've been out here for five years just busting it out in the tunnel. Now I'm out here on the main stage."
Attendees came from across the Lehigh Valley and nearby states to experience the music, like the year's first headliner, Philadelphia's legendary R&B group Boyz II Men.
Jacqueline Nemeth brought mugs from this and years past. Musikfest is in its 39th year — the third since the start of the pandemic. She said it feels like a return to normalcy.
"Musikfest feels like it's back to Musikfest," she said. "After the pandemic and everything like that, I'm excited to feel like it's back to normal and everything, so that's what I'm really excited about."
While COVID-19 protocols like masking and social distancing are no longer in place, both visitors and vendors may have to deal with some increased costs this year.
Freddie Taylor is one of the workers at the Flying V food truck. He says this is a huge week for business.
"Just the cost of operating a business right now is absurd, and it's difficult, but you know, events like this where people come out, hopefully make it all worth it," Taylor said.
Either way, both free and headliner acts are back in Bethlehem. The festival officially opens Friday and runs each day through Sunday, Aug. 14, covering hundreds of music acts, performers and headliners.
Lori Weidner said she came Thursday night from Lansdale.
"I've been coming every year, at least one day, every year for a very long time," she said. "I'm excited about the different styles of music that are represented. Willie Nelson is going to be here, Kelsea Ballerini is going to be here."
For William Andrews, one way to beat the heat is to make sure he carries around a Musikfest staple.
"I mean I brought the mug; you know what that means," he said. "Hey I'm here to listen to some music and party, let's have a good time."
Sign up for our WLVR weekly newsletter to stay up to date with the latest news from the Lehigh Valley and across Pennsylvania.
---