For some, traditions of Musikfest mugs mean as much as the concerts
Written by Jim Deegan on August 11, 2022
For some, traditions of Musikfest mugs mean as much as the concerts
By Jay Bradley
August 11, 2022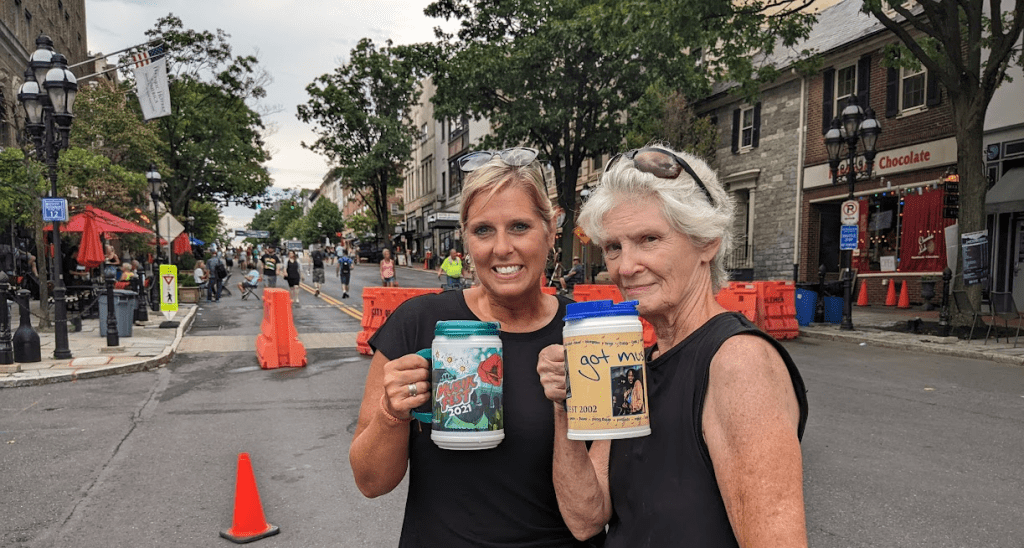 BETHLEHEM, Pa. – Many of the concert-goers at the Lehigh Valley's biggest music festival are carrying the same thing – the annual Musikfest mug. 
Billy Beck, of Whitehall, came to Bethlehem on Tuesday night with his grandson. He says he has been attending regularly for 15 years.
The mug is something that lets him feel like he's a part of the city and the festival, he said.
"I've got history in my hand," he said. "…You've got to hang on to these because you can lose them. I lost several!"
Starting originally in 1984 as a cup and pitcher with a Musikfest design, the mug has since become an icon of the event.
For people with a mug, no matter what year it was purchased, they can pay to fill up at the festival stands as well as many local bars and restaurants.
"It's awesome," said Beck, who carried one he brought from a past festival. "I'll go in anywhere. I filled it up just now in a Thai restaurant up here."
"The mugs are just kind of what fest is," said concert-goer Michelle Arnholt.
Arnholt and her husband Jim have been trekking to Musikfest from Sellersville for years. For them, like many others , collecting, bringing, and seeing old mugs means more than simply what you put into them.
Arnholt says after years of her mother-in-law seeing the festival on local news and wanting to attend, the couple brought her with them to see it all.
"She wanted a mug every year," Arnholt said. "She's passed, but we still have these mugs. So the mugs kind of remind us of mom a little bit."
Ellen Przyuski, of Ottsville, brought along a two-decade old mug from 2002.
"This is actually my husband's," said Przyuski. "He died about eight years ago. He was a big fan of Musikfest and picked up a different one of these every year."
For the local taverns and businesses that participate, the mugs have been a boon to business.
"We already had to reload," said Jason Brown, banquet manager at Historic Hotel Bethlehem, who was manning the vendor station outside the Main Street landmark. "We sold everything we bought from the beginning of the week, so we just bought another 10 cases (of mugs) today. We'll probably blow through them before the weekend, too."
That enthusiasm is just as true when it comes to filling them up.
"It's crazy, honestly, especially on the weekends," said Jean Jimenez, bar manager at Lost Tavern Brewing in Bethlehem. "All the way until like midnight, the whole 12 hours, everyone's just busy lines out the door."
Jimenez says it has been fun seeing the older mugs and being able to chat with people from other states and countries who have traveled to the festival.
"I think it's really cool because it shows like Musikfest is a really big cultural thing for Bethlehem," he said.
Organizers say this year they're selling 40,000 of the special drink containers in total between the standard and light-up iterations, working with local businesses and organizations. New mugs cost $12; $15 for the illuminated variety.
"We're excited to have such great relationships with our local business community and other organizations like Discover Lehigh Valley enabling the famed mug to be available not just on our festival grounds, but throughout the area," said Shannon Keith, communications director for ArtsQuest, the nonprofit organization that puts on Musikfest.
"Each patron purchase and fill-up [ensures] that we're able to meet our mission of not just offering such a large variety of free performances across the entire run of the festival for patrons, but also providing the funds so that those taking the stages are paid," Keith said.
Musikfest volunteer John Muscler started collecting back in 1987, on the fourth iteration of the festival.
He says for the first few years, the to-go drinks were not anything that garnered much attention.
"They just, you know, just sold them that was it," he said. "And then all of a sudden it's like, you know, the phenomenon of everybody wanting to have a mug collection started to grow. "
As beer supervisor, Muscler was working with a group of new volunteers and got to see their excitement when a new (old) one arrived for fill-up.
"Every time somebody else came in with a new mug, they just went 'Oh, I gotta see that one, I gotta see that one,'" Muscler said. "Eventually somebody came in with a clear mug and they're like, 'Oh my God, look at that. I've never seen that before'. Everybody just loves the different types."
Muscler said the old German beer steins, which the festival used to offer and of which he owns many, may have been a catalyst for the collector fever. He says folks have written to him asking if he wants to sell his collection. Of course, he said, he shuts down the thought.
"I said no, it's not for sale," Muscler said.
In 2017, Muscler worked with Musikfest organizers to document the mug's history with a slideshow of his collection, displayed on the festival's website.
Rick Freed, who was carrying a "Spirit of Music" mug from 2005, drank from it as he listened Tuesday night to music on Main Street.
"I'm sure everybody who has come here has come away with something really positive, and that they really liked about it, and the mugs sort of represent it," Freed said. "They come back every year, and their mug means they had a good time."
Sign up for our WLVR weekly newsletter to stay up to date with the latest news from the Lehigh Valley and across Pennsylvania.
---