Harper's here! Baseball's MVP, rehabbing with IronPigs, packs Allentown's Coca-Cola Park
Written by John Moser on August 23, 2022
Harper's here! Baseball's MVP, rehabbing with IronPigs, packs Allentown's Coca-Cola Park, pays back with homers
By Jay Bradley
August 23, 2022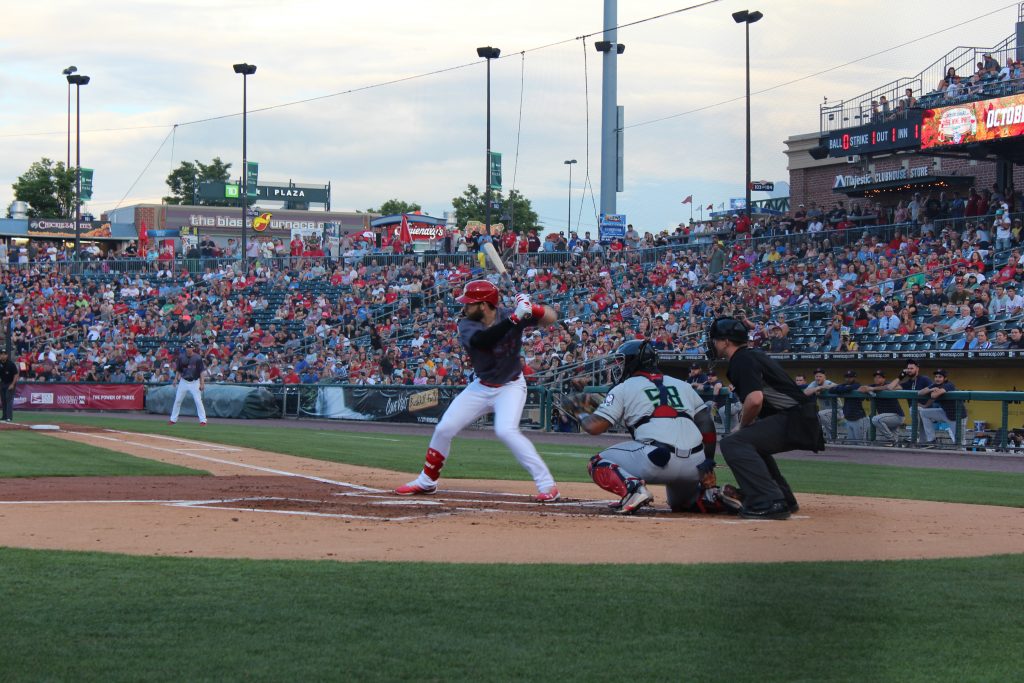 Philadelphia Phillies' star slugger Bryce Harper kicked off his stay with the Lehigh Valley Ironpigs on Tuesday with a home run in his first at-bat.
Fans in a sellout crowd of 10,100 clambered to see the reigning National League MVP as he stepped onto the field to serve as designated hitter in Allentown's Coca-Cola Park as he started rehab for a broken thumb.
After the 'Pigs went down 3-0 in the top of the first inning, those fans were rewarded with a 375-foot homer as a taste of what could be to come during his stay — with explosive cheers of the large crowd returning the favor.
Before the game, the team tweeted that ticket sales were blowing up — and the crowds were there to show it, with many in attendance donning Harper's Phillies jersey.
Zachary Alderfer came right up to the wall to see Harper as he warmed up.
"It feels amazing, he's the best player ever," said Alderfer. "He just has a lot of power and he loves to just, you know, hit the ball and he has so much passion for everyone. He's a beast."
Conner Cramer came up to the second row with a sign to greet Harper to the Lehigh Valley as he walked in — and with a dream to meet the baseball great.
"I put my 2022 goals," Cramer said. "Graduating because I graduated [Crestwood] high school, meet Bryson Stott, because I met Bryson Stott up in Scranton this year, and I put meet Bryce Harper to try meeting him today."
Some even bought special 'Pigs jerseys with Harper's name on them to celebrate the occasion.
Harper is one of Major League Baseball's biggest stars. He was hit by a pitch in late June in San Diego after putting up impressive numbers through the early part of the season.
He's scheduled to play with the IronPigs at least through Saturday, as the IronPigs play a six-day home stand against the Gwinnett Stripers from Georgia. The second game in the series starts at 7:05 p.m. Wednesday.
Harper could rejoin the Phillies on Monday for their series opener at Arizona, Phillies Manager Rob Thomson said. The Phillies are 28-20 without Harper. He is batting .318 with 15 homers and 48 RBIs in 64 games.
Tuesday's game was also "Ironmutt underdogs" day at Coca-Cola Park. Dog adoptions took place and canine friends were welcome in a designated "Dog Zone" past the outfield.
Officials said 195 dogs attended, 44 of which were adopted.
Harper's second at-bat brought a walk — and boos from the crowd towards the pitcher, having denied them another "Bryce Bomb," as the scoreboard referred to his first-inning blast.
However, fans did not have to wait too long. In the eighth inning, Harper hit another home run, bringing in three runs followed by another by Dustin Peterson.
Fans have the whole rest of the week to see the star, unless the Phillies change plans and bring him back to the big league club sooner.
"We're excited for this game, and coming the whole rest of the week," Cramer said. "Go Pigs, go Bryce, go Phillies."
Sign up for our WLVR weekly newsletter to stay up to date with the latest news from the Lehigh Valley and across Pennsylvania.
---