LV Pride fest returning for 'loud, proud' weekend
Written by John Moser on August 16, 2022
Lehigh Valley Pride returning for 'loud, proud' weekend
By Jay Bradley
August 16, 2022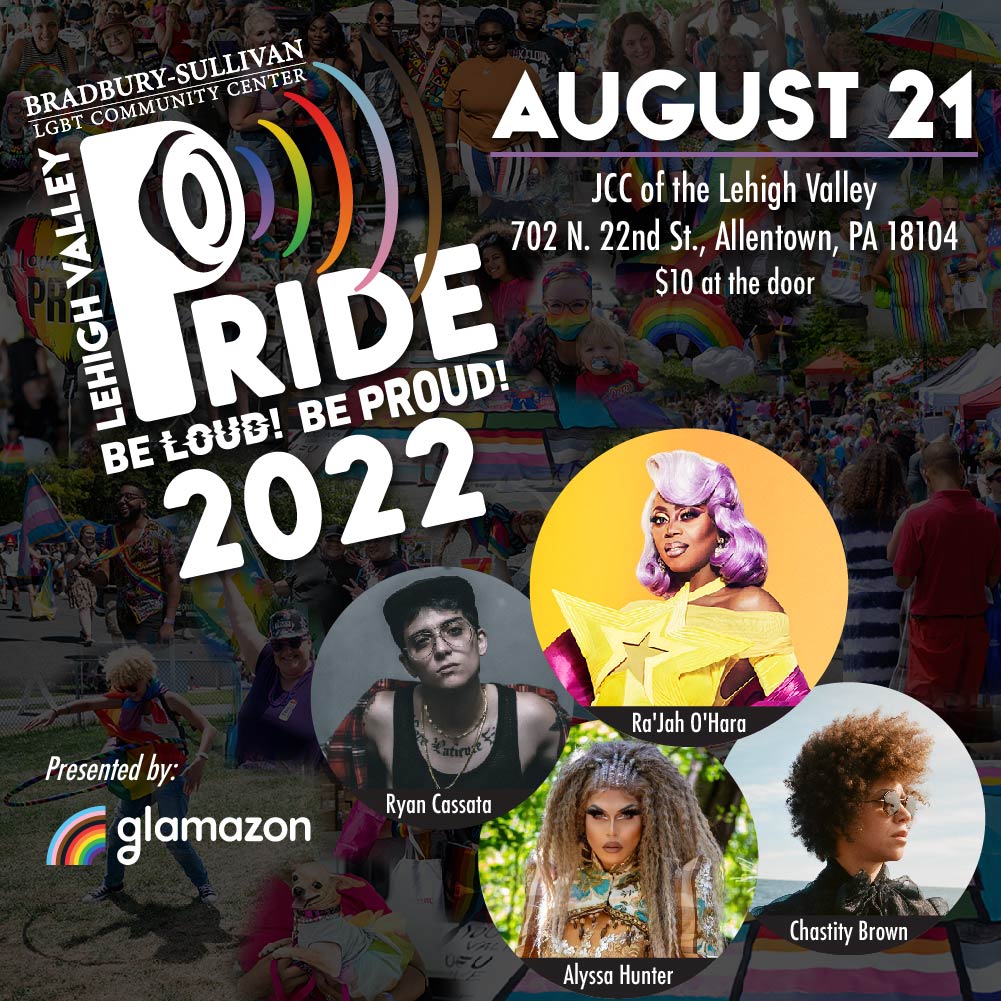 ALLENTOWN, Pa. – The 2022 Lehigh Valley Pride event is on its way this weekend, celebrating queer artists and culture in the region.
On Sunday, the event will bring LGBTQ+ artists and performers, arts and crafts, yard games, and food and drink to the Jewish Community Center of the Lehigh Valley in Allentown.
The host is the Bradbury-Sullivan LGBT Community Center, which provides LGBTQ+ cultural and health care services.
The theme this year is "Be Loud! Be Proud!"
Headliners include "RuPaul's Drag Race" featured drag queens Ra'Jah O'Hara and Alyssa Hunter, and transgender musician and youtuber Ryan Cassata. Limited tickets will be sold for meet-and-greets with the headliner acts for $20.
Local singer-songwriter D'Neah Allen and local drag queens also will perform.
Organizers say American Sign Language interpreters will be on stage throughout the day.
Events throughout the event will include a live art-making contest using recycled refrigerators.
Organizers say that because of scheduling conflicts, the annual pre-Pride interfaith service will not take place. However, faith-based vendors will be at the festival.
"We want to be clear that faith and spirituality are important elements of Pride, and we encourage you to worship in your own way," Matt Easterwood, director of development for Bradbury-Sullivan LGBT Community Center, said in an email.
In the spirit of being a tobacco-free event, the official event has removed itself from scheduled parties at Maingate Nightclub and Vogue Lounge Allentown. Pride had made a commitment to exclusively partner with organizations and businesses that do not market, sell, or distribute tobacco products.
"We know the dangerous impact Big Tobacco has had on LGBTQ+ folks, and our commitment to smoke-free Pride experiences is part of promoting health equity in our community," Easterwood stated.
A "Sober Social Space" will be designated for alcohol-free activities for all ages.
Pets are welcome to the event, which features a designated pet park.
The event also will hold health care opportunities such as STI testing, COVID-19 vaccinations, tobacco cessation services and health care enrollment assistance.
The program for the event can be viewed here.
When:
Sunday, August 21
12 p.m. – 6 p.m.
Where:
Jewish Community Center of the Lehigh Valley
702 N. 22nd St., Allentown, PA 18104
Cost:
$10 at the door (no pre-sale)
Free for kids 13 and younger
Sign up for our WLVR weekly newsletter to stay up to date with the latest news from the Lehigh Valley and across Pennsylvania.
---