Transportation Secretary Pete Buttigieg tours LVIA, LCCC training program for veterans
Transportation Secretary Pete Buttigieg tours LVIA, LCCC training program for veterans
By Stephanie Sigafoos and Jay Bradley
August 2, 2022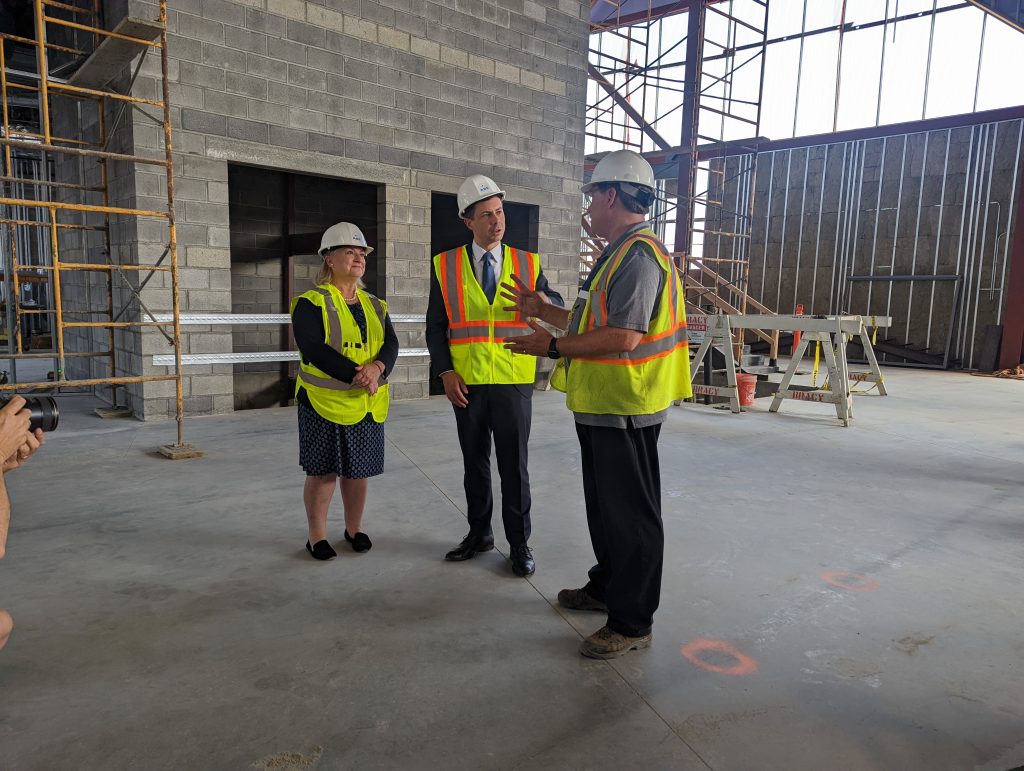 Amid a summer of flight delays and cancellations across the country, U.S. Secretary of Transportation Pete Buttigieg visited the area Tuesday to highlight significant funding being used to upgrade Lehigh Valley International Airport.
Buttigieg, the 40-year-old former presidential candidate and mayor of South Bend, Indiana, endured heavy criticism as chaos unfolded during the unofficial start of the summer travel season and continues — to some degree — to plague the airline industry.
More than 7,000 flights were cancelled worldwide over Memorial Day weekend, including nearly 3,000 in the U.S., according to the tracking service FlightAware.
But on Tuesday, alongside U.S. Rep. Susan Wild (D-Lehigh Valley), Buttigieg said numbers were moving in the right direction as he toured the ongoing construction of a $29 million terminal connection and security checkpoint expansion at LVIA.
"Those cancellation rates that we saw as high as 4% might not sound like a lot, but that's enough to wreak havoc," Buttigieg said. "They're now settling into the 1% to 2% range. It's never going to be zero because of weather and other issues. But we really need to keep pushing it down."
The funding for the terminal connector is part of the $1.2 trillion infrastructure package approved by Congress and signed into law by President Joe Biden last year. Nearly $1 billion will be tapped to improve 85 airports across the country.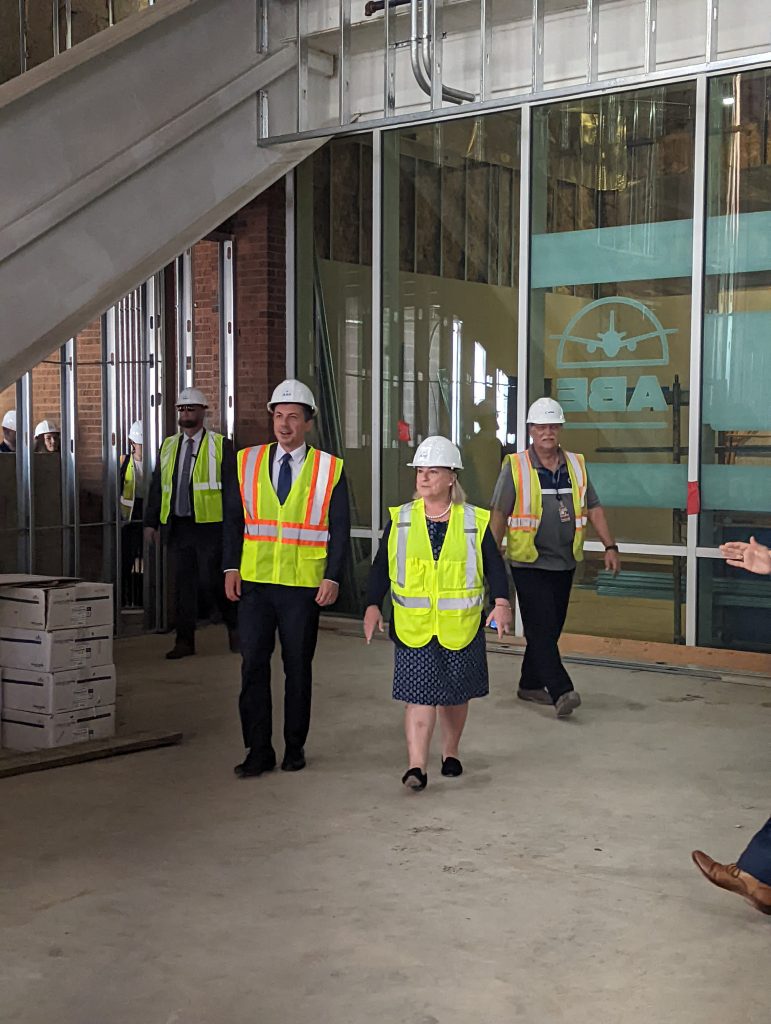 "You saw the commitment that was here, and we saw a very sound project with a very strong case to be made for it — and part of a bigger vision of how to modernize and upgrade this airport," Buttigieg said.
When the connector is complete, the airport's TSA checkpoints will all move to a new above-ground walkway, with two additional areas to screen passengers.
Buttigieg said it's imperative airports and airlines have the ability to meet passenger demand, but noted the "major economic engine" of LVIA is also the cargo side "that is just as important."
"A good sign of whether the economy is working is whether it's working for communities like this with a lot of growth potential," Buttigieg added.
Passenger traffic is recovering at LVIA since its early-pandemic doldrums. The airport said nearly 93,000 passengers traveled through LVIA in June — the highest total for the month since June 2001.
Buttigieg said LVIA wouldn't have had this level of funding if it weren't for the infrastructure package that Wild — who's running for re-election — and others voted for.
"Whenever she sees me in Washington, she's talking about the district, she's talking about the Lehigh Valley, she's been encouraging me to come," Buttigieg said. "In particular, she's emphasized the economic growth potential of this region. And we see that right here at the airport."
Buttigieg also visited Lehigh Carbon Community College on Tuesday to discuss investments that will help veterans get trained and find employment in the trucking industry.
A $3.1 million grant from the Department of Transportation is being used at LCCC and 18 other commercial driver's license programs nationwide. The idea is to give veterans as well as people from underserved communities tuition-free training toward a CDL.
"Before the infrastructure law, even if a school got one of these grants, students still had to cover a portion of the tuition," said Buttigieg. "And here, at LCCC, that comes out to a little over $5,500. That's a pretty good deal when you consider the job waiting for you, but that can be a barrier."
Buttigieg told stories about the willingness and bravery of those he knew in the armed services to take risky drives during missions, and says that this is another rewarding way to serve the country by taking part in a key aspect of the economy.
"America needed people to take that drive over there in Afghanistan, and America really, really needs people to make those drives across America's highways and get goods to where they need to be," Buttigieg said.
The Lehigh Valley is a major supply chain hub for the Northeast. The program will give free tuition locally to 30 veterans and an additional five people from underserved communities, organizers said.
Andrea Grannum-Mosley, dean of the School of Workforce, Community Engagement and Technical Education at LCCC, is an Army veteran herself who said being able to offer the CDL training program without cost to veterans is tremendous.
"Saying, well, it's $5,000 versus, you know, an associate's degree or something like that, when you don't have it, it's a lot — period," Mosley said. "It's a win-win for them."
Matthew Mercano, a grant recipient and Navy veteran who just completed the program, spoke at the event. 
"It helped give me an opportunity to take care of my family and, you know, get a decent-paying job," Mercano said. "Definitely not a lot of times you have $5,500 to just fork out then, you know, not work for a month or two depending on the training."
Sign up for our WLVR weekly newsletter to stay up to date with the latest news from the Lehigh Valley and across Pennsylvania.
---