Wheels of Time motors back into Macungie this weekend; police to increase patrols
Written by John Moser on August 25, 2022
Wheels of Time motors back into Macungie this weekend; police to increase patrols
By Jay Bradley
August 25, 2022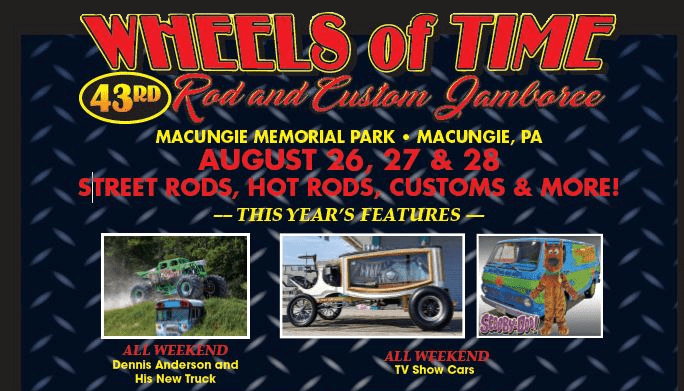 MACUNGIE, Pa. – The Wheels of Time jamboree will be back this weekend in Macungie, bringing about 1,500 classic hot rods and more to Macungie Memorial Park.
This year's features include the former driver of the monster truck Grave Digger and his new truck, as well as TV show-themed cars.
Gates open at the park from 7 a.m. to 7 p.m., Friday, August 26 through Sunday, August 28.
In the face of concerns from past years of speeding and vehicles not legal for the road causing problems for other drivers in the area, state police have announced an increased patrol in the Macungie area throughout the event.
The event is run by the Wheels of Time Street Rod Association of the Lehigh Valley, a nonprofit that holds classic car events throughout the year and supports local vocational technical school scholarships.
The jamboree is the club's premier event each year and helps raise money for local charities and those scholarship initiatives, according to the club's website.
Rich Barral, registration manager for the event, has three of his own hot rods that keep him busy. He said he and his wife have been part of the club for seven years to share their love of classic cars with friends and other members.
"We have three of our own that keep us busy that we have a lot of fun with," Barral said. "The cars are just awesome that come here, and you can see anything from just an inexpensive, basic vehicle all the way up to $150,000 custom builds."
Music acts including Flamin' Dick and the Hot Rods and the Allentown Hobo Band will play at the event. There also will be a flea market and arts and crafts vendors featuring car parts and other hot rod-themed items.
Barral said there also will be a large aluminum teeter-totter for cars, and anyone who gets his or hers to balance on it will get a T-shirt that says, "You Survived the Teeter-Totter".
Those wishing to display their hot rod over the weekend (which must be a make from or before 1992), still can register online for a weekend cost of $45 until spots fill, Barral said.
"You can see anything from a 1915 street rod up into something from the early 90s or late 80s," Barral said. "We have street rods, we have Chevelles, Novas, we have stock and modified cars, we have trucks, we have just about any kind of car you can imagine."
Admission is $10, with free entry to those under age 16 and active military with I.D. Organizers will also accept donations of food items for local food banks.
Sign up for our WLVR weekly newsletter to stay up to date with the latest news from the Lehigh Valley and across Pennsylvania.
---