West African food vendor, with help from Bethlehem nonprofit, to make debut at Allentown Fair
Written by John Moser on August 26, 2022
West African food vendor, with help from Bethlehem nonprofit, to make debut at Allentown Fair
By Ryan Kneller
August 26, 2022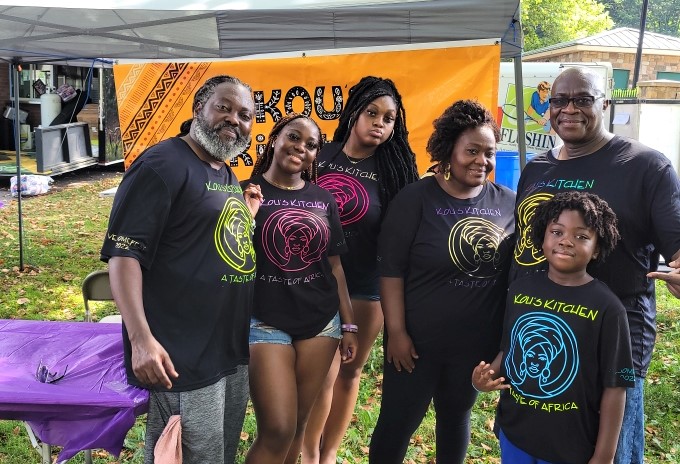 ALLENTOWN, Pa. – Foodies have less than a week to dig into funnel cake, sausage sandwiches and other mouthwatering eats at the 170th edition of the Great Allentown Fair.
For famished folks looking to savor a taste of Africa, a newly established business will serve up Liberian fried rice, peanut butter barbecue pork ribs and other made-from-scratch specialties throughout the fair, Aug. 31 through Sept. 5.
Kou Kitchen, which offers authentic West African cuisine for private and public events, will make its debut alongside perennial fair favorites such as John The Greek, Danny's Fine Foods, Take A Taco and Vince's Cheesesteaks.
"We're excited to launch and share our food with the Lehigh Valley," co-owner Myles Taylor said. "My wife has been catering for friends and private parties unofficially for the last few years, and everyone always comments how the food is unique, fresh and delicious."
Kou Kitchen is opening thanks to help from Bethlehem's Rising Tide Community Loan Fund, a nonprofit subsidiary of Community Action Lehigh Valley.
Established in 2001, Rising Tide provides one-on-one business counseling, mirco-loans, technical resources and other assistance to business owners where resources and opportunity for growth are limited.
Last year, Rising Tide served more than 351 individuals in a variety of industries, including retail, restaurant, brewery, salon, child care, construction and transportation, according to Rachel Batchelor, Rising Tide's marketing and communications coordinator.
The nonprofit, which is funded through loans, grants, and private contributions, has provided $10.1 million in loans since its inception, with 58% of loans going to minority-owned businesses and 34% of loans going to women-owned businesses.
"People who might get denied at a bank can come to the Rising Tide and have more of an opportunity to apply for a loan," Batchelor said. "Business advisors are available to work with individuals on that. So it gives them a little bit more hope when they're looking to start their business."
Rising Tide helped Kou Kitchen form its limited liability company, or LLC, status, establish a bank account and grow its social media presence, among other services, Taylor said. It's also helping the business get a loan.
"I wish I would've known about [Rising Tide] years ago," Taylor said. "It's a great organization that's helped us navigate stuff that I personally wouldn't have been able to do on my own."
Kou Kitchen is named after Taylor's wife and the business' co-owner, Kou Taylor.
The couple has Liberian roots, with both being born in the country and occasionally traveling back to visit family, Myles Taylor said.
Because of a civil war that was raging in Liberia during the 1990s and early 2000s, the high school sweethearts were refugees in a neighboring West African country for 12 years before coming to the United States 20 years ago.
"My wife and her family came to the U.S. in 2001 through a refugee resettlement program," Myles Taylor said. "They came to Allentown, and then I came over in 2002. My family was already in New Jersey, but since I had known my wife for a while, we reconnected, and I eventually moved to Allentown."
There, they got married three years ago and have started a family.
Kou, a former teacher who has stayed home in recent years to take care of the couple's son, as a teenager learned from her mother to cook traditional Liberian dishes, including fufu and potato greens.
Her childhood household had many mouths to feed, with Kou often preparing meals for her sister, four brothers and other family members.
"She had a large family that she was always cooking for, and that experience helps her today when it comes to catering for large parties," her husband said.
While the business is named after Kou, the operation is a family affair, with Myles Taylor and the couple's two children – 7-year-old Myles and 16-year-old Jasmine – helping out.
At the Allentown Fair, the group will set up its stand near the Agri-Plex (by Gate 6, Liberty and Lafayette streets), offering a variety of grilled items such as peanut butter barbecue pork ribs, peanut butter barbecue beef and chicken kabobs, all made with a signature sauce that's been passed down through Kou's family for generations. Most items will be priced around $10.
"People love the sauce so much," Myles Taylor said. "It's become a fan favorite everywhere we go."
In addition to grilled food, Kou Kitchen also will offer other West African specialties such as Liberian-style vegetable fried rice and bissap, a traditional African fruit drink made from the hibiscus flower and featuring other ingredients such as ginger, cinnamon, orange and pineapple.
"It's going to be hot out, and so we're hoping people try it and fall in love with it," Taylor said of the bissap. "It's completely natural and organic."
Kou Kitchen can cater birthday parties, anniversary dinners and other private functions and already plans appearances at other local events. It will announce the bookings on the business' Facebook page, facebook.com/koukitchenllc.
Other West African dishes that are available for catering include fufu (a dough-like food that is made from boiled and pounded cassava), potato greens with rice (stew-like dish made with sweet potato leaves and various meats, chicken or fish) and cassava leaves and rice (stew-like dish made with cassava leaves and various meats, chicken or fish).
"Sweet potato leaves are very nutritious – high in vitamins and nutrients, and we cook them almost like collard greens," Myles said. "For our proteins, we do beef and lamb, as well as chicken and fish – usually tilapia but sometimes mackerel. All of these can be as spicy as you want."
Kou Kitchen will join more than 30 food vendors setting up shop at the Allentown Fair.
This year, fair President Daryl G. Urmy has challenged concessionaires to come up with a new treat that fairgoers will vote on via a ballot, available inside the Agri-Plex, at two InFAIRmation booths and at participating food stands.
A dozen new offerings include guava jelly barbecue chicken at 3 L Catering; raspberry and peach dumpling at Bissinger Catering & Concessions; and "Banana Ball Blitz" (deep-fried banana balls served with topping of choice, whipped cream and cherry) at Cals Concessions.
Also, Jamaican jerk pork on CoCo Bread at Caribbean Island Cuisine; strawberry funnel cake taco at Danny's Fine Foods; s'mores funnel cake on a stick at Fired Up Concession; and birthday cake kettle corn at Hoff's Kettle Corn.
Also, "Redneck Mac Bowl" (infused cavatelli noodles, six cheeses, pulled pork and bacon, topped with extra cheese, barbecue sauce, bacon and biscuit crumbles) at Holy Macaroni; and cheesesteak dumplings at Humpty's Food Group.
Also, "La Jefa" pastelillo featuring skirt steak and mashed fried plantains at Puerto Rican Culture Preservation; "Guilty Pleasure" 5-ounce burger (with bacon, over-easy egg, cheese and hash brown patties as bun) at RK Mobile Foods; and fried Brussel sprouts at Rose Concessions.
Completed ballots can be dropped off at each admission gate.
---