Habitat for Humanity of the L.V. opens 2nd ReStore, offering new, gently used home goods
Written by John Moser on September 14, 2022
Habitat for Humanity of the L.V. opens 2nd ReStore, offering new, gently used home goods
By Ryan Kneller
September 14, 2022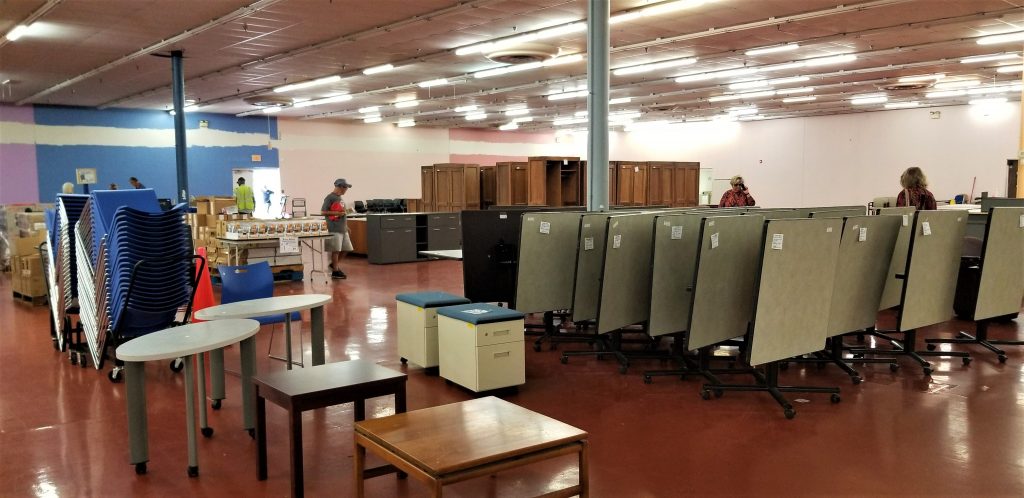 SALISBURY TWP., Pa. – A nonprofit organization known for constructing houses is building a larger presence in the Lehigh Valley.
Habitat for Humanity of the Lehigh Valley, which "works to build simple, decent homes for hardworking, disadvantaged families," on Aug. 2 opened its second ReStore at South Mall on Lehigh Street in Salisbury Township.
The store, selling new and gently used home goods and home improvement items, supplements a nearly 10-year-old location on Grape Street in Whitehall Township.
Proceeds from the sale of ReStore goods benefit the organization's home-building program, making it possible for more families in Lehigh and Northampton counties to become homeowners.
"Business has been good, and we've wanted to expand our footprint for a while," ReStore Director Dave Wagar said. "Donations have been plentiful in recent years, and this spot was originally intended to be just warehouse space for storage.
"But then we thought, 'Since it is actually in a retail space, why not periodically operate it as a second store?'"
The South Mall outpost, occupying the former Limerick Furniture space at the center of the mall, is operating on limited hours – 10 a.m. to 2 p.m. on the first Tuesday of the month through January – as the nonprofit hires more staff, Wagar said. Hours will expand in the new year.
"We decided on these temporary hours because staff members at our original location work on Tuesdays, but we aren't open for shopping that day," Wagar said. "So we're able to peel away some staff from our Whitehall location to come to the South Mall. Our future hours at the mall will depend on how the hiring process goes in the next few months."
ReStores, which are operated by staff and volunteers, carry new and gently used home goods such as furniture and lighting, along with home improvement items such as cabinets and appliances.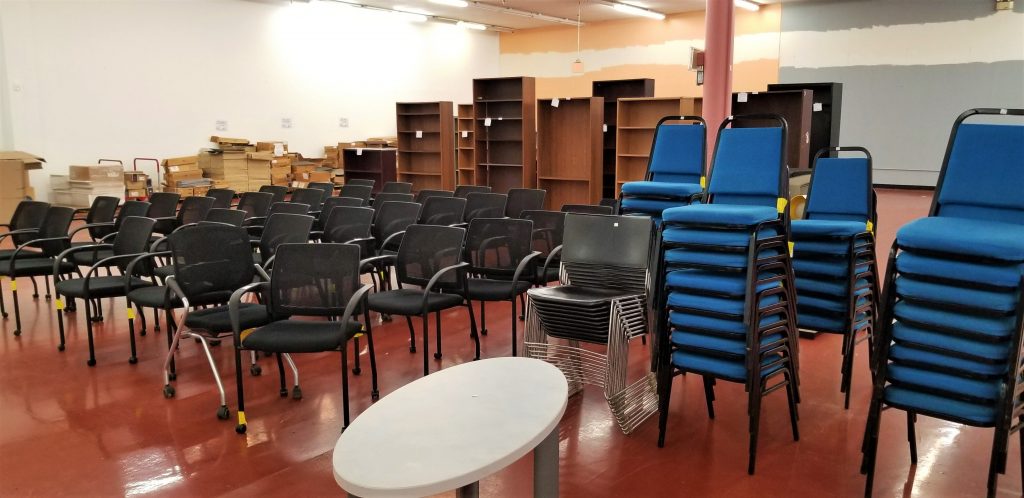 Wagar labels furniture as the top seller, with most customers coming in to shop for gently used chairs, tables and other pieces for every room of their home at "bargain pricing." Outdoor furniture and lawn and garden items also are available seasonally.
Donations are priced with colored tags, with older items discounted even further after each passing month they don't sell.
"It's a built-in price reduction system," Wagar said. "If something makes it to the first Wednesday of the next month, then its price drops 25 percent. It's us saying, 'OK, we put a price tag on this, and obviously the customers didn't want to buy it at that price. So, how about 25 percent less?' If it's still there another month, it moves to 50 percent off."
For people in search of never-touched items, the stores also sell discounted new items donated by companies.
Recent unopened finds at the South Mall included deadbolt locks, dehumidifiers, portable smokers and six-outlet power strips.
"There are some businesses like GailGrey at The Promenade Shops that periodically call us to say that they have a couch, lamp or something else that they'd like to donate," Wagar said. "Oftentimes, it's a floor model or a style that was discontinued but they still have in their warehouse. Lowe's is also a big supporter."
Individuals may drop off donations at the Whitehall ReStore 10 a.m. to 4 p.m. Tuesday through Saturday. The South Mall location is not yet accepting donations.
Shopping hours at the Whitehall ReStore are 10 a.m. to 6 p.m. Wednesday through Friday and 9 a.m. to 5 p.m. Saturdays.
Habitat Lehigh Valley, founded in 1989, is an affiliate of Habitat for Humanity International, a global organization that has provided housing for more than 2 million people around the world.
The nonprofit's mission is "to offer families in need a hand up, not a hand out, and to walk alongside them as they realize the dream of home ownership."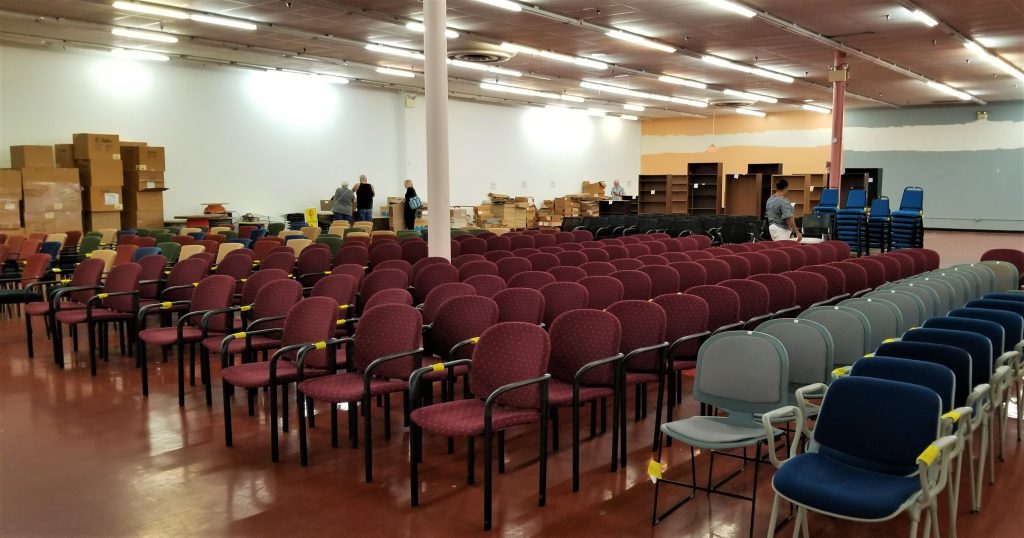 Each Habitat family contributes 250 hours of sweat equity to help build their home and the homes of their neighbors. Once in residence, they make monthly mortgage payments.
"Since most of our families are new to home ownership, HLV stays in contact with them, guiding them and providing support to ensure their successful transition to home ownership," the mission statement says.
"All of the proceeds from our stores, after expenses, go toward our mission of building homes in the Lehigh Valley," Wagar said. "We've dedicated 127 homes thus far, and we probably have about 15 others in various stages of progress."
While ReStores help carry out Habitat's home building program, they also greatly benefit the environment by providing a responsible way to keep reusable materials out of landfills.
In 2015, Habitat ReStores diverted more than 124,000 tons of goods from landfills.
"ReStore is based on three core principles, 'reuse, recycle and reduce,'" an online description on the nonprofit's Facebook page reads. "Whether choosing to drop off building, construction and household material donations, or requesting a pickup of larger items at your home or business for transport to the ReStore, reuse and repurposing of donated items reduces waste by diverting them from landfills."
Falling in line with national trends, the Lehigh Valley has seen an influx of eco-friendly stores in recent years.
Verde, a store selling natural and eco-friendly products along with items made by Lehigh Valley artisans, opened last month at 267 E. Broad St. in Bethlehem. FD Market, a sustainable goods shop and zero-waste refillery that debuted in Emmaus in 2019, in spring opened its second location on Northampton Street in Easton.
According to a recent survey of U.S. consumers by data and analytics company GlobalData, 25% said sustainability was essential when they were buying products, 42% said it was something nice to have and 24% said it wasn't necessary. The balance were unsure.
"These numbers have grown over recent years as people have become more conscious of the environment," said Neil Saunders, managing director of GlobalData's retail division. "So it is not surprising that more retailers are responding with eco-focused ranges."
---