Heart health given spotlight at Macungie Institute
Written by John Moser on September 23, 2022
Heart health given spotlight as Macungie Institute
By Jay Bradley
September 23, 2022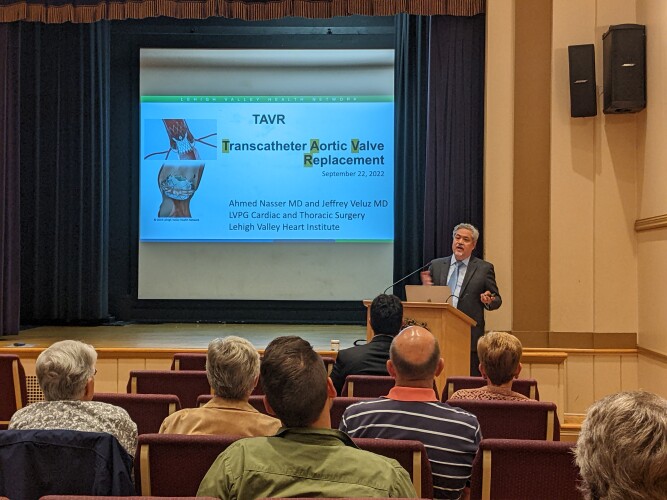 MACUNGIE, Pa. — An audience of about 20 gathered at Macungie Institute on Thursday to hear about the inner workings of heart health and surgery.
It was the first of two scheduled lectures at the community center focused on aortic valve stenosis, a degenerative condition which involves a valve being narrowed by factors such as a calcium buildup, leading to lower blood flow and often fatigue, chest pain, and lightheadedness.
It also represents an expansion of the institute's offerings.
Darlene Misselbeck, the manager of the institute, said there was a desire to expand the community center's programs. With her husband, Tim, a cardiothoracic surgeon at Lehigh Valley Health Network himself, that connection opened the door.
"We wanted to kind of broaden the scope of what we offer here," Misselbeck said.
"So we've done a lot of craft nights and book clubs and fun things, but we want to step more into the educational portion and really reach out to the community and say, "OK, guys, you know, these are some issues that people are facing, especially in this age frame, and so forth.
"We began brainstorming and it actually came up over a Christmas dinner and we said, 'Well, how about we do this?'"
Misselbeck said the directors at the hospital were very helpful in supporting the event in setting it up, and that they were eager to agree to it.
A common problem
Aortic valve stenosis is a very common condition, emphasized by the doctors showing photos of actor Arnold Schwarzenegger and rock star Mick Jagger after their own surgeries.
Cardiothoracic surgeons Dr. Ahmed Nassar and Dr. Jeffrey Veluz from Lehigh Valley Health Network each explained the methods of surgery needed to replace a heart valve that has the issue, be it open surgery or an alternative method known as TAVR (Transcatheter aortic valve replacement).
Both involve the physical replacement of heart valves with an artificial one, but which method a patient undertakes depends on factors such as age, risk from surgery or other health considerations.
Additionally, the doctors discussed causes for the degenerative condition, the rates of surgical outcomes, and what the timeline is like for those that undergo the treatment, which can be life-saving for those that suffer from severe aortic valve stenosis.
Nassar, a Macungie resident, said it was nice to give back to the community to help explain and assuage fears for a type of procedure he has experience in and is passionate about.
"It's fun being, you know, strapped to the [operating room] table and just doing surgeries all day," he said. "But why I do this, to be honest with you, is because it makes people feel better. So, being out here and educating people talking to them, that's what it's all about."
An engaged audience
Many of the attendees remained engaged throughout the event, asking specific questions about the differences of procedures or decisions as it relates to the condition and surgery.
Roseanne Schleicher, a former Macungie Borough Council member who currently assists in the town beautification committee, said it has been great to see not just children's programs, but also adult events come back to the borough-owned center, which only recently reopened this year after the coronavirus pandemic.
"I really wanted to hear what they had to say," Schleicher said. "This is why this building was purchased – for the members of residents of Macungie, to be used for community events, and to me this was very representative of what we wanted it for."
Schleicher, who also faces heart-related concerns, said she appreciated how open the doctors were for questions during and after the event.
"I think talks like this are very important for us all," Schleicher said. "I looked around and wish there were more people, but it was a different group of ages too it wasn't just older people."
More events may be coming
A highlight of the event was a video shown by Nassar of the open-heart surgery that he described, taken from a camera he wore. It showed the process of connecting a patient to a heart-lung machine before manually replacing the heart valve.
"Amazing," one attendee was compelled to say upon seeing the blood flow return and the heart automatically start beating again after the completion of the valve replacement.
Misselbeck said she's going to see how things go for this and the following event before moving forward with more similar health events later in fall.
The next of the lecture, focusing on the irregular heartbeat condition atrial fibrillation (commonly referred to as "AFib"), will be at 7 p.m. Oct. 4 at the Macungie Institute.
It will be free to the public.
---