IronPigs player makes pitch at rejuvenation after life-saving measures, rehab
Written by John Moser on September 15, 2022
IronPigs player makes pitch at rejuvenation after life-saving measures, rehab
By Jay Bradley
September 15, 2022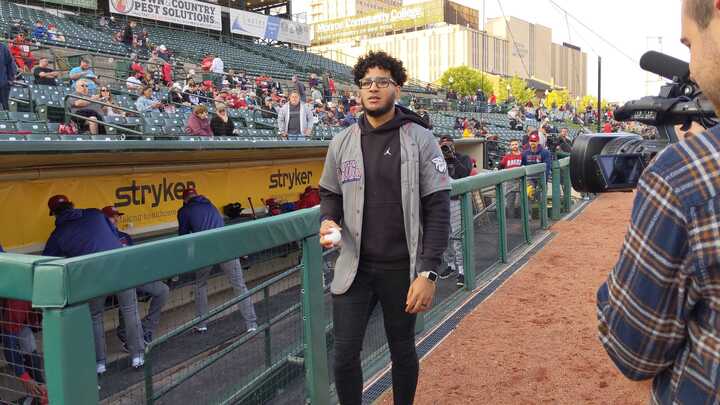 ROCHESTER, N.Y. – On July 31, 2021, the minor league baseball game being played between the Lehigh Valley IronPigs and the Rochester Red Wings came to a dramatic stop.
IronPigs player Darick Hall said teammates noticed that third baseman Daniel Brito seemed off early in the game. When Brito missed a ball in the infield and the manager came up to him, Hall initially thought an argument was about to happen.
But then, it became serious.
"Brito started to like, kind of wobble," Hall said. "Then their manager grabbed him and like, laid him down, right? And that's obviously the onset of everything that happened.
"We thought it was maybe dehydration or something. And we realized pretty quickly that it wasn't and, you know, our immediate thought was, 'Hey, we need to get this guy into the hospital.'"
Brito was rushed to the University of Rochester Medical Center, where neurosurgeons had to perform multiple operations to save his life. Brito then spent 59 days in intensive care, including about a month in a medically-induced coma.
Nearly 14 months later, the former Phillies prospect on Thursday showed he's on his way back to baseball and is back to building back his strength.
For the third game of the IronPigs' series against the Red Wings, Brito was invited to return to the field to throw the first pitch. While there, he met with the doctors who saved him and the fans that followed his recovery.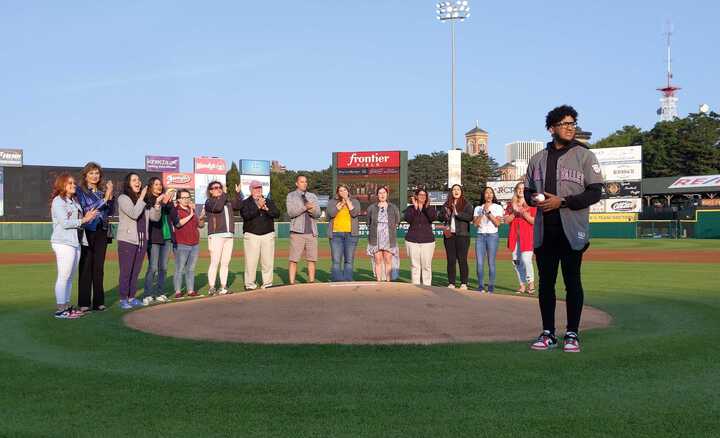 According to the league, Brito had a "ruptured arteriovenous malformation." In other words, an abnormal tangle of blood vessels that disrupted normal blood flow and oxygen circulation, threatening to lead to, as Dr. Debra Roberts explained, "effectively a stroke of your entire brain."
Roberts, a lead ICU doctor at the hospital, led the team of nurses and physicians who cared for Brito, and said he was incredibly lucky to have been where he was, nearby to the high-ranking neurosurgery hospital.
"So if he wasn't close to us, and didn't get to the [operating room] as quickly as he did, very likely he wouldn't be with us today, not everybody can do that stuff," Roberts said.
Brito fought to overcome a plethora of mobility, breathing and even memory issues.
"I think it was a God moment for everybody right?" teammate Hall said upon Brito's return. "He was circling the drain as far as, like, healthwise and just to see a miracle in work right there and to be able to see him back and very, you know, mobile and he still has very good cognition and everything. It's been a miracle."
While Brito was in the coma, the Phillies organization extended his contract, and hospital staff said the baseball club was in frequent contact with them throughout his recovery.
"They took care of him and his family and especially from where his family is in Venezuela," Hall said. "For them to be able to get his family out and be able to extend out financially. It makes us all know we're in good hands."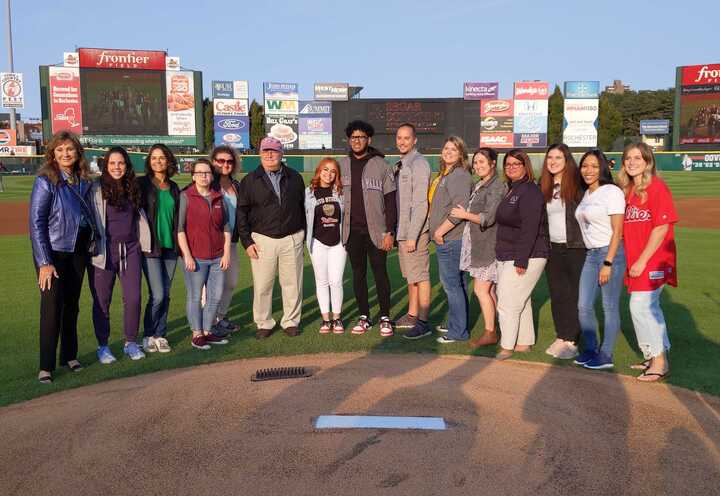 Brito's wife, Anyelis, joined him on the field, having attended his bedside throughout his recovery. They married in August, with Brito finally mobile again.
"I told Angie every time I saw her, he's gonna walk down the aisle with you, and we're gonna make it happen," said Roberts as she cared for Brito in the ICU. "We were all so happy when we saw those wedding pictures."
"They all took care of Daniel, and I'm really thankful for that and for all the support all around Rochester," Anyelis Brito said. "And from the team as well, both of the teams."
Brito, a native Venezuelan, spoke through a translator at the game.
"It's very emotional — he just wants to go play again," he said.
On the field, Brito was cheered on by the stadium of baseball fans, and embraced his teammates, some of whom were there when the injury took place and have thought about it since.
"We would come together as an organization, like, once a week really," Hall said. "We would be talking about our thoughts and feelings, and like, you know, there's a few times we had a word of prayer all together."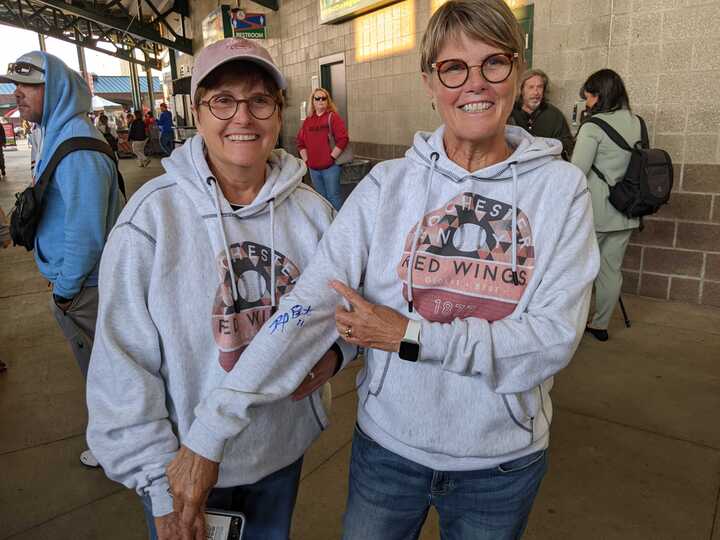 Some attendees Thursday, such as sisters Pam Kirkwood and Linda Hansen, were at last year's game, as well — and have followed Brito's recovery.
"It was an awful feeling to see it," Hansen said.
"Everybody went silent," Kirkwood agreed.
"We ask about him if we come to the games," Hansen said. "You could tell he's a great guy. And I just, aside from baseball, we're just so happy that he's recovering."
Others at the game, such as Pete Lefaiver, saw Brito's story as inspiring.
"I personally am recovering from cancer," Lefaiver said. "Any time I hear a story like that, it just lifts my spirit and lifts everybody's spirits."
Red Wings General Manager Dan Mason said some things are bigger than baseball, and Brito's recovery is one of them.
"I cannot tell you how many people that we would run into over the last year, that would ask us on a daily basis, 'Hey, how is Daniel Brito feeling?" Mason said.
"We felt the best way to show people, you know, to let people know how he's doing, is to show them in-person and have him walk out there and throw out a first pitch in front of the whole ballpark in front of his teammates and in front of the guys that he was playing against.
"It was really emotional to see him."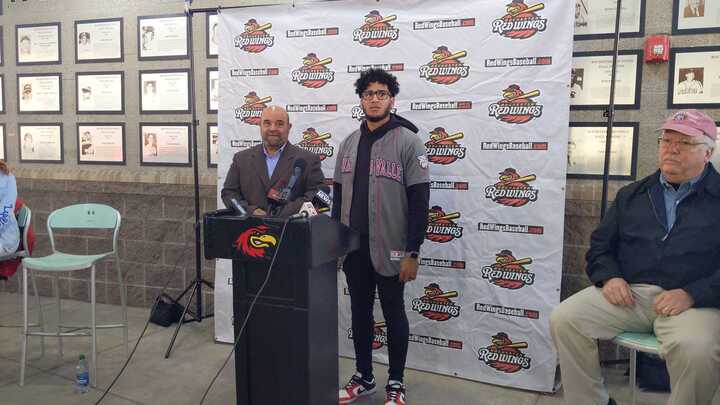 Brito said through the translator that it's been a long journey.
"Thinking back is not a fun time for him, but to know where he's at today and looking forward — he's optimistic that everything's gonna go well," he said.
Brito has been doing rehab in Columbus, Ohio, and has been weightlifting and practicing both hitting and fielding. He plans to return first to the International League, and move forward from there, eager to return.
"He's motivated to strive to get back to where he belongs," the translator said. "He's excited."
Brito said it has been an honor to receive the attention and the support.
"He would have never thought of all the people that have been so supportive," said the translator. "This has been amazing to him."
---