New Bethlehem store has sustainable goods, zero-waste refillery for environmentally conscious shoppers
Written by John Moser on September 6, 2022
New Bethlehem store has sustainable goods, zero-waste refillery for environmentally conscious shoppers
By Ryan Kneller
September 6, 2022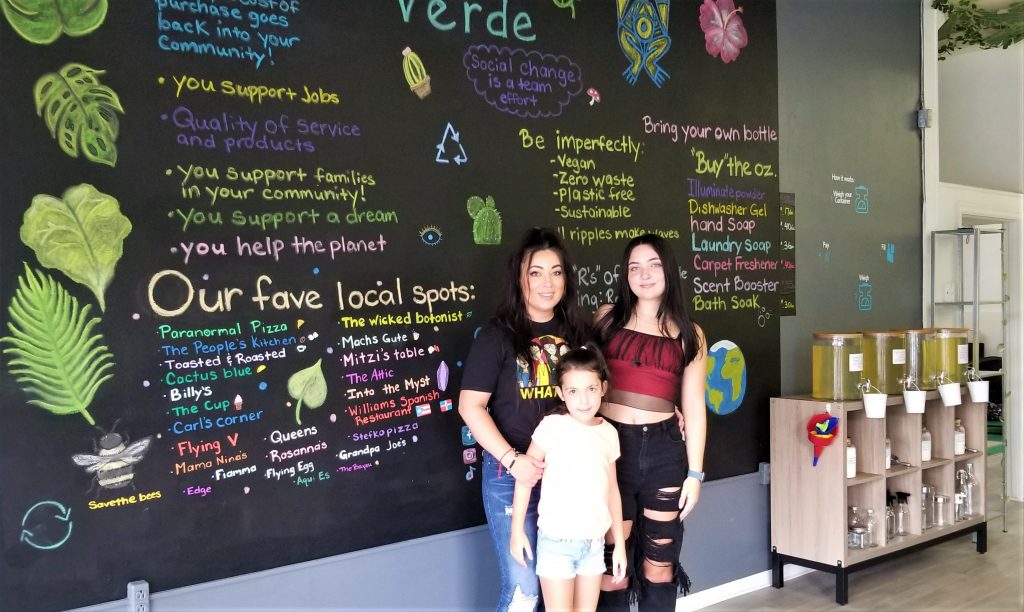 BETHLEHEM, Pa. – A store dedicated to supporting the environment and local businesses has set up shop in Bethlehem.
Verde, spotlighting "clean and beautiful products" as well as items made by Lehigh Valley artisans, opened Aug. 5 at 267 E. Broad St.
The shop features a wide array of natural, eco-friendly and made-in-the-USA products, including bamboo bowls and mugs; oat and honey bath bombs; compostable loofah dish sponges; reusable hemp cotton rounds; door mats made of coconut fibers; scrubbies and toilet brushes made of coconut husk bristles; and Turkish cotton beach towels that can also be used as blankets, sarongs or tapestries.
"Ever since I was a kid, I've been passionate about helping the earth – animals, plants and the environment overall," owner Shawnnah Drey said. "So I've always preferred buying items that are natural – locally made if possible – and swapping out items for existing things where I can.
"And that's the goal of this store: to encourage sustainable living practices while also supporting local artisans."
Verde aims to be "zero-waste," with compostable cling wrap, reusable snack bags and straws, plant-based wax wraps, shampoo bars made with organic hemp seed oil and soy candles in concrete vessels that can be repurposed as planting pots, pen holders and other items.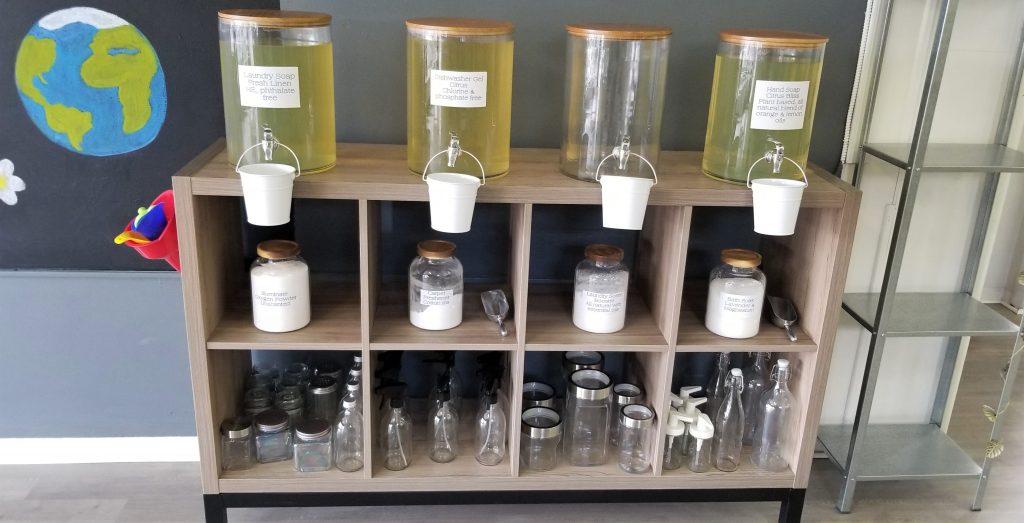 There's also a refillery, where customers can buy reusable containers or bring in their own to stock up on natural hand soap, dishwasher gel, laundry detergent, laundry scent booster and more — all priced by the ounce.
"The refillery is perhaps what I'm most excited about because I really thought the community could use it," Drey said. "The hand soap and carpet freshener have been especially popular, and with a laundromat around the corner, sometimes you only need a certain amount of detergent.
"Also, it can be a fun math lesson for parents to teach their kids – weighing the empty container, weighing the filled container and subtracting the difference."
Verde, which means green in Spanish, is a nod to Drey's Puerto Rican roots – specifically her late grandparents, who she said raised her and instilled in her a love of nature. It also references the shop's mission of being environmentally conscious, or green.
The shop is a family affair, with her daughter, Symarah Drey, a Liberty High School junior, also being heavily involved in operations.
"We're doing this together," said Symarah, who is selling some of her macrame plant hangers. "We're both extremely passionate about conservation, and we've always found creative ways to use items and not waste anything. Even when I was younger, she would make my Halloween costumes."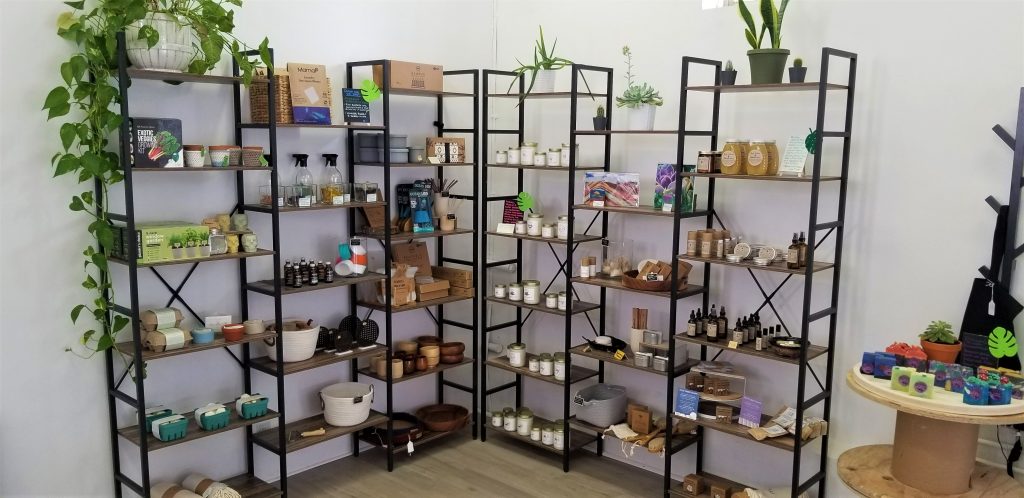 Verde partners with about a dozen Lehigh Valley crafters and businesses, including Bethlehem-based Rosetta Soaps and Quakertown-based Dragon's Breath, both selling handmade natural soaps with eye-catching designs; and a Lehighton artisan, specializing in crocheted baskets, trivets, pillows and other items.
Customers also can buy raw and organic wildflower honey from Black Willow Apiary in New Tripoli, along with the apiary's other products, such as natural deodorant, lip balm, insect repellent and pain relief salves.
A floor-to-ceiling mural displays the store's offerings, inspirational messages and about two dozen local businesses – including The Attic, Paranormal Pizza and The Wicked Botanist – that the Dreys frequent and support.
In the coming weeks, Verde also plans to partner with Toasted and Roasted, a new micro coffee roaster and café a few blocks away on Broad Street.
"Toasted and Roasted is going to provide us with a refill option for their coffee," Shawnnah said. "They're going to purchase containers to keep their coffee quality at a high level, and customers will be able to bring those containers back to be refilled."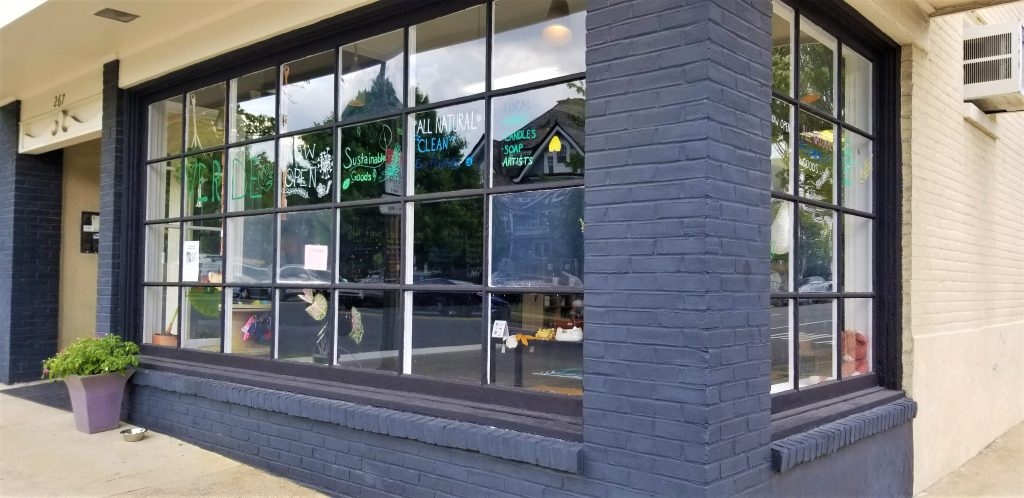 Verde joins a growing list of eco-friendly stores in the Lehigh Valley.
FD Market, a sustainable goods shop and zero-waste refillery that debuted in the Emmaus triangle in 2019, in the spring opened its second location on Northampton Street in downtown Easton.
"In our latest survey with U.S. consumers, 25 percent said that sustainability was essential when they were buying products," said Neil Saunders, managing director of GlobalData's retail division.
"A further 42 percent said it was something that was nice to have. Only 24 percent of consumers said it wasn't necessary. The balance were unsure."
"These numbers have grown over recent years as people have become more conscious of the environment. So it is not surprising that more retailers are responding with eco-focused ranges."
Verde occupies a renovated space that previously housed Wyandotte Cleaners, a dry cleaning business that closed several years ago.
The shop features new flooring, wall paint and other upgrades.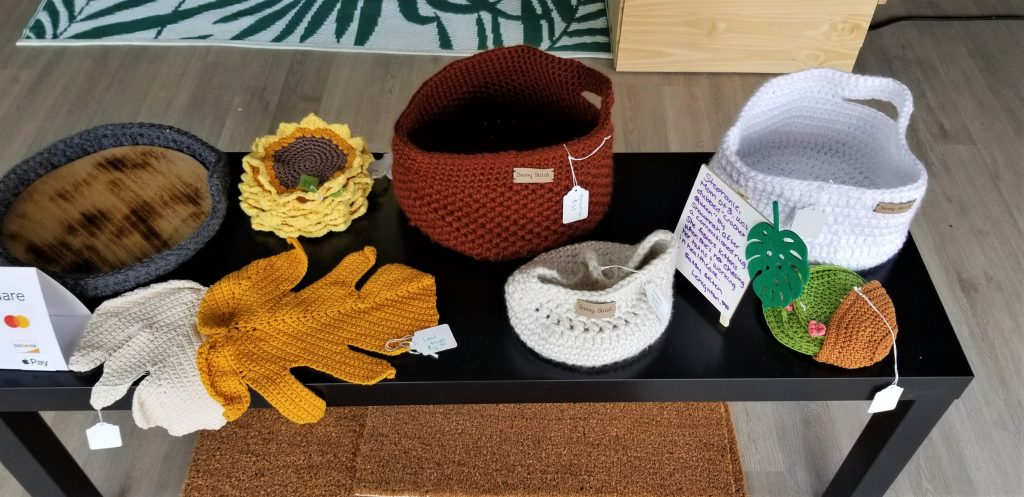 Bethlehem Mayor J. William Reynolds said it plays into the Northside 2027 plan, a comprehensive and community-driven revitalization initiative designed to invest in the city's North Side neighborhoods that surround William Penn and Thomas Jefferson elementary schools.
Launched in 2018 by the City of Bethlehem and Community Action Development Corporation of Bethlehem, the initiative is focused on issues related to housing, transportation, recreation, access to social services, and the vitality of commercial corridors.
"Verde is a very exciting and welcome addition to that important corner that we have at Broad and Linden streets," Reynolds said. "We couldn't be happier to see that space filled after it had been vacant for a long time.
"I think it's a sign of the revitalization of that corridor there as in the middle of our Northside Alive 2027 neighborhoods."
Reynolds noted that "small businesses are the backbone of Bethlehem," and Verde opened during an exciting time for the area.
"We have the Bethlehem Food Co-Op going in across the street, and we're working on turning Linden Street into a two-way street next year in 2023, or at the beginning of 2024," Reynolds added. "We've seen a lot of interest from small business owners to locate in that neighborhood."
Verde is open 10 a.m. to 5 p.m. Tuesdays and Wednesdays, noon to 7 p.m. Thursdays and Fridays and 9 a.m. to 2 p.m. Saturdays. Info: 484-895-7360; verdebethlehem.com.
---