New Lehigh County eatery serving up New York-style bagels, Greek specialties and more
Written by John Moser on September 19, 2022
New Lehigh County eatery serving up New York-style bagels, Greek specialties and more
By Ryan Kneller
September 19, 2022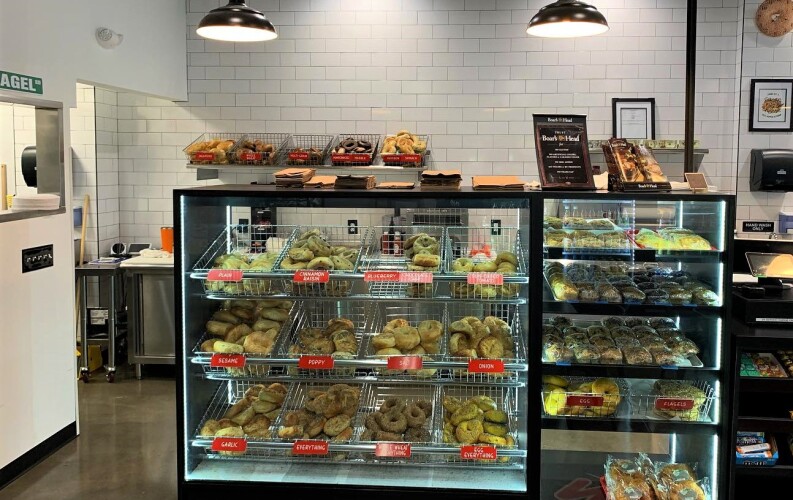 LOWER MACUNGIE TWP., Pa. — A trio of siblings are dishing out bagels, Greek specialties and other freshly prepared food at a new eatery in Lower Macungie Township.
Costas Paxos and his sisters, Maria and Barbara Paxos, on Sept. 2 opened Not Just Bagels at 5585 Hamilton Blvd., Suite D, in the Shepherd's Corner shopping center.
As its name implies, the shop sells made-on-site bagels along with other eats such as hot and cold sandwiches, omelettes, salads and wraps.
The Paxoses are third-generation food operators, with both of their grandfathers emigrating from Greece to the United States to become chefs, and their parents previously operating a diner in Westwood, N.J., for more than 30 years.
The new generation is paying homage to their heritage by offering Greek specialties such as tyropita (cheese pie in phyllo dough), spanakopita (spinach and feta cheese pie in phyllo dough) and Greek salads.
Coming soon are loukoumades, a Greek version of doughnuts that the siblings label "round, fluffy, sweet honey balls."
The golden and crispy dessert is traditionally soaked in hot honey syrup, sprinkled with cinnamon and garnished with chopped walnuts.
Customers will be able to choose from signature varieties such as cookies and cream (topped with milk chocolate, white chocolate and Oreo crumbles) and Nutella (filled with Nutella and topped with milk chocolate, strawberries and bananas) or make their own creation with various fillings, sauces and toppings.
"The loukoumades are on hold temporarily because we were sent a wrong part for the machine," Costas said. "But we're super excited to be offering them in the near future."
The 15-seat shop, with additional outdoor seating, specializes in New York-style bagels that are hand-rolled and baked on site. Customers can choose from 16 options daily (more on weekends) including popular picks such as blueberry, garlic, onion, everything, chocolate chip, vegetable and pumpernickel.
Bagels are priced $1.50 each, $7.50 for a half dozen or $15 for 14. For an additional charge, bagels also can be customized with homemade cream cheese spreads such as garlic herb, strawberry and jalapeno cheddar or other add-ons such as butter, jelly and sliced lox and cream cheese with tomatoes, onions and capers.
Unique bagels include rainbow and "super cinnamon raisin," with the latter being "souped up with sugar similar to a sticky bun," Costas Paxos said.
"We're also offering flagels, which are flat bagels," he said. "They're flatter and crispier."
Other menu highlights include fried selections such as cheesesteak egg rolls, macaroni and cheese triangles, sweet potato tater tots and Wisconsin white cheddar cheese curds; omelettes such as meat lovers', lox and onions and spinach and feta; hot sandwiches such as gyros and London broil; and cold sandwiches such as chicken salad and a turkey club.
"We also have a Sloppy Joe sandwich that's been very popular," Barbara Paxos said. "It includes your choice of turkey or roast beef with coleslaw, Provolone cheese and Russian dressing on rye bread."
Not Just Bagels, open 6 a.m. to 3 p.m. daily, fills a center space in Shepherd's Corner, a six-unit strip mall that was completed in the spring.
Other tenants that have opened over the past few months include the Lehigh Valley's first Capriotti's Sandwich Shop, Prose Nails and Supercuts. The UPS Store and Wayback Burgers are expected to open in the fall.
To stay up-to-date on Not Just Bagels happenings, follow the business' Facebook and Instagram pages. Info: 610-351-0407; notjustbagelspa.com.
---