Wawa, in growth mode, to open third Lehigh Valley location of 2022 this week
Written by John Moser on September 14, 2022
Wawa, in growth mode, to open third Lehigh Valley location of 2022 this week
By Ryan Kneller
September 14, 2022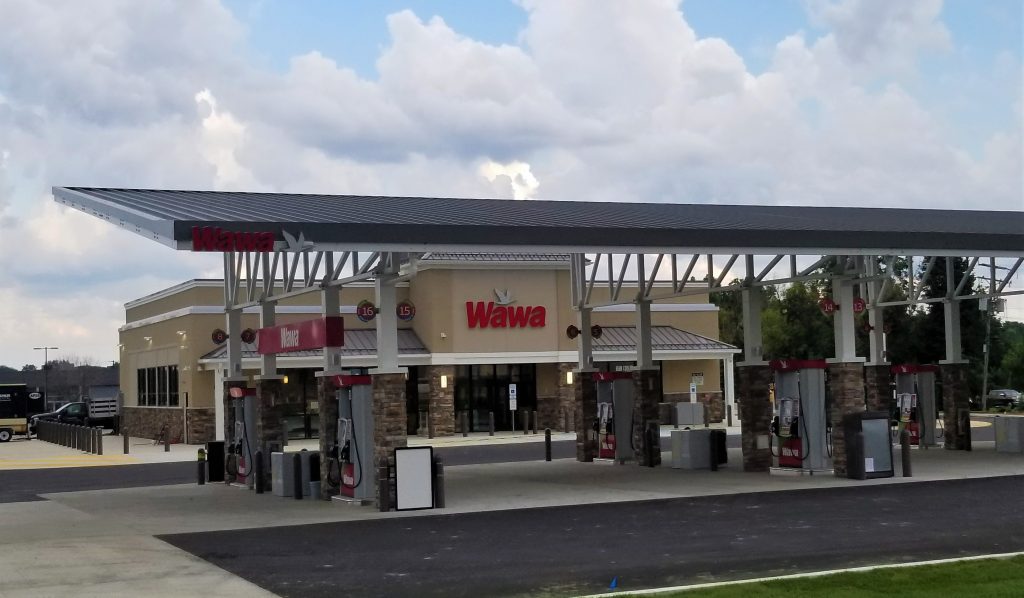 LOWER NAZARETH TWP. – People looking to fill up their cars' gas tanks while stocking up on Shorti hoagies and Sizzli breakfast sandwiches soon will have another option in the Lehigh Valley.
Wawa, the Delaware County-based convenience store and gas station chain with more than 950 locations in six states and Washington D.C., is putting the finishing touches on its newest area store at 4089 Jandy Blvd. in Lower Nazareth Township.
The new location will open at 8 a.m. Friday, followed by an outdoor ribbon cutting with Wawa mascot Wally Goose at 9 a.m., Wawa spokeswoman Alyson Mucha said. The first 100 customers will receive a limited-edition Wawa "Goose Vibes Only" T-shirt.
As part of its Day Brighteners Tour, Wawa will acknowledge its store team and shine a light on an associate who has gone above and beyond to make good times better or challenging times more bearable in the store or community.
It also will recognize local first responders from Colonial Regional Police Department and Hecktown Volunteer Fire Department in a "Hoagies for Heroes" competition that will see which department can build the most hoagies in three minutes. Wawa will conclude the contest by presenting checks for $1,000 to each department's charity of choice.
"Our store teams and associates deliver experiences and emotional connections with customers that go beyond what traditionally happens in a retail environment," Wawa Chief Executive Officer Chris Gheysens said in a news release.
"Simply put, they help make their communities happier and more connected. This year, we're excited to toast all the incredible Day Brighteners and kick off this one-of-a-kind tour with a stop at each new store to show our 'Goose Gratitude' to associates and customers whose little acts of kindness make a big difference in our communities."
The new store will supplement about two dozen local outposts, including another Lower Nazareth location less than two miles south at 3820 Easton Nazareth Highway (Route 248) and other 2022 additions at 364 Susquehanna St. in Allentown and 6680 Route 309 in Upper Saucon Township.
Additionally, construction on a drive-thru-only Wawa, which would be the company's second in the state, is set to begin in fall on Hamilton Boulevard in Lower Macungie Township.
Other Lehigh Valley locations have been proposed or approved at 3608 Nazareth Pike (Route 191) in Bethlehem Township; 774-784 Hellertown Road (Route 412) in Bethlehem; 90 Highland Ave., Hanover Township, Northampton County; and Route 309 and Chapmans Road, South Whitehall Township.
The new area outposts are part of a larger Wawa expansion, with the company planning to open 54 new stores across multiple states in 2022 and up to 40 additional stores in central Pennsylvania in the next three to five years.
"With a commitment to fulfilling lives, we're thrilled to continue our growth and expansion in our existing markets to provide quality fresh food, beverages and support to the community," said John Poplawski, vice president of real estate for Wawa.
"In addition, Wawa's continued expansion will mean even more convenience and new jobs in the central Pennsylvania community."
Wawa, which employs about 40 people at every store, also has plans to expand into markets in Alabama, North Carolina and Tennessee within the next few years.
The company has a goal of nearly doubling its store count to 1,800 locations by 2030, Wawa Chief Executive Officer Chris Gheysens told the Philadelphia Business Journal.
"We are excited to expand beyond our current operating area and look forward to serving the community come 2025 and beyond," Poplawski said in a recent news release announcing plans to open a Nashville store in 2025.
Wawa began in 1803 as an iron foundry in New Jersey.
In the late 19th century, owner George Wood took an interest in dairy farming, and the family began a small processing plant in Wawa, Pa., in 1902. The milk business was a hit because of its quality, cleanliness and "certified" process.
As home delivery of milk declined in the early 1960s, Grahame Wood, George's grandson, opened the first Wawa Food Market in 1964 as an outlet for dairy products.
Today, Wawa has more than 950 convenience stores (more than 750 offering gasoline) in Pennsylvania, New Jersey, Delaware, Maryland, Virginia, Florida and Washington, D.C.
Stores feature built-to-order fresh-food kitchens serving up signature hoagies, custom burgers, quesadillas and more.
Other offerings include coffee; Sizzli breakfast sandwiches; Wawa baked goods such as doughnuts and muffins; specialty beverages (hot, cold, iced and frozen); Wawa's dairy products, juices and teas; packaged goods; and fuel services.
The new Lower Nazareth store, with 16 gas pumps at Jandy Boulevard and Route 191, also will feature alcohol sales.
At a Lower Nazareth Township Board of Supervisors meeting in April 2021, attorney Ellen Freeman noted the new location would offer seating for up to 30 patrons and the amount of alcohol consumed on-site would be limited to two 12-ounce beers or two 8-ounce glasses of wine.
Safety measures will include 100% carding, security cameras, RAMP seller server training for all workers selling alcohol and Wawa's internal training.
---