With majority Hispanic population, Allentown is host to Pennsylvania Latino convention
Written by John Moser on September 29, 2022
With majority Hispanic population, Allentown is host to Pennsylvania Latino convention
By Julian Abraham
September 29, 2022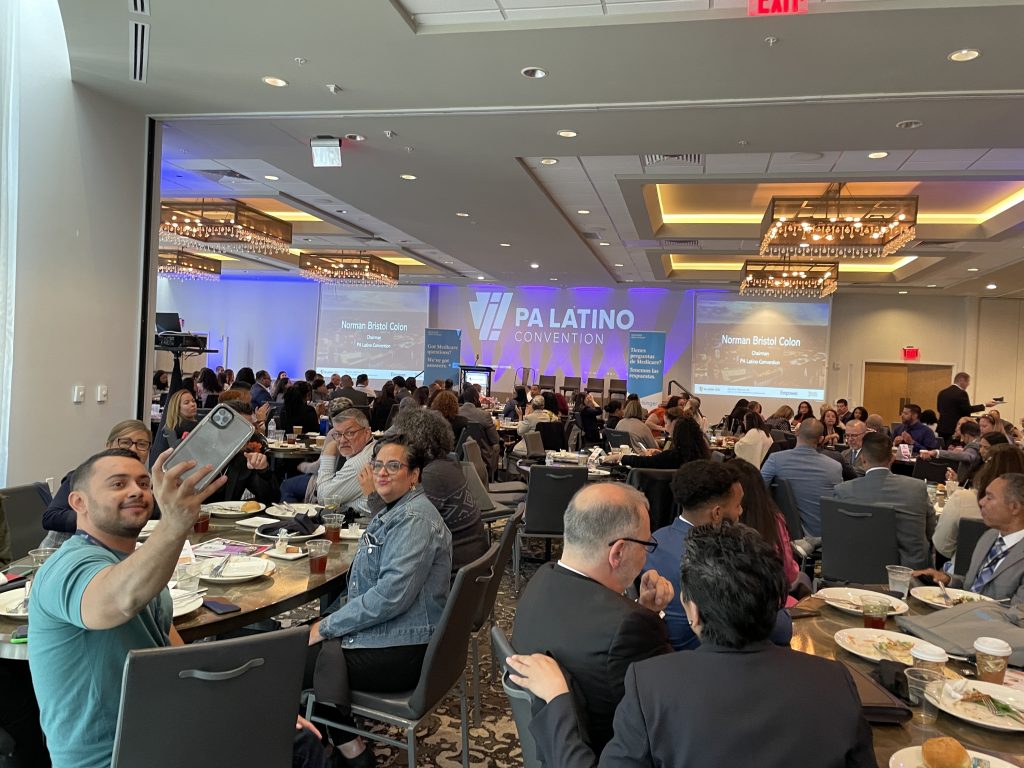 ALLENTOWN, Pa. – A city where more than half more than half the population is Hispanic is host for the fifth annual PA Latino Convention this weekend.
"There are 1.1 million Latinos in Pennsylvania today," convention Chairman Norman Bristol Colon said, speaking on a brightly lit podium to a crowd of hundreds in suits and ties or dresses in Allentown's Renaissance Hotel.
"Numbers should not lie – although sometimes they get twisted … especially when it comes to our community," he added with a laugh. The crowd chuckled in a knowing way.
Formal registration for the convention is Friday morning, and it continues through Saturday.
A Gala Ceremony at Allentown's Miller Symphony Hall, featuring the Power 100 Who's Who in Latino Pennsylvania and the Hispanic Chamber of Commerce of the Lehigh Valley 2022 Awards will start at 6:30 p.m. Friday and be televised by PBS 39.
Thursday morning's part of the convention was the Education Summit – a forum for representatives from universities, medical centers and the like, to present what sort of degrees and jobs they can offer to the next generation of Latinos.
"You saw the young kids that were here today, representing us," Colon said. "They are not the future generation, they are the generation, period."
One of the organizers said it's exactly what he was missing growing up.
"I think it really comes down to access," Gio Negron-Garcia said when asked why today is important for the children and teens. "Being able to have a seat at the table, where they don't feel like they have to constantly build their own – where they are invited and where they do belong."
Negron-Garcia is among the event's organizers, as well as the director of diversity, equity, and inclusion at Lebanon Valley College. He also is the best-selling author of the book "Passion, Purpose, and the Pursuit of Happiness."
Negron-Garcia also said he lost more than 200 pounds. All of this, and he is only 23 years old.
This is not what he imagined himself growing into, he said.
"Honestly, I envisioned myself, you know, settling into what they want me to settle to – to go down that path," Negron-Garcia said. "That's not how it is – we have to go out there and be who we want to be, and be able to access the resources for us to be who we want to be."
When asked how he did it, he said matter-of-factly: "I just found a way."
Allentown and The Lehigh Valley
The conference is in its fifth year. 
Allentown is one place in the United States that has more Hispanic people than any other race. This means a lot, according to one attendee.
"The greatest, you know, cohort of Hispanics in the state of Pennsylvania is along the [Route] 222 corridor – pretty much from Allentown all the way down to Lancaster and York," Dr. Jose R. Torradas said.
Torradas is a medical doctor speaking at the convention with his non-profit organization, Medicos Unidos. It aims to improve healthcare among Hispanic communities in Pennsylvania.
---