'You belong. You matter.' campaign in Nazareth sparks protest, business boycotts
Written by Jim Deegan on September 9, 2022
'You belong. You matter.' campaign in Nazareth sparks protest, business boycotts
By Brittany Sweeney
September 9, 2022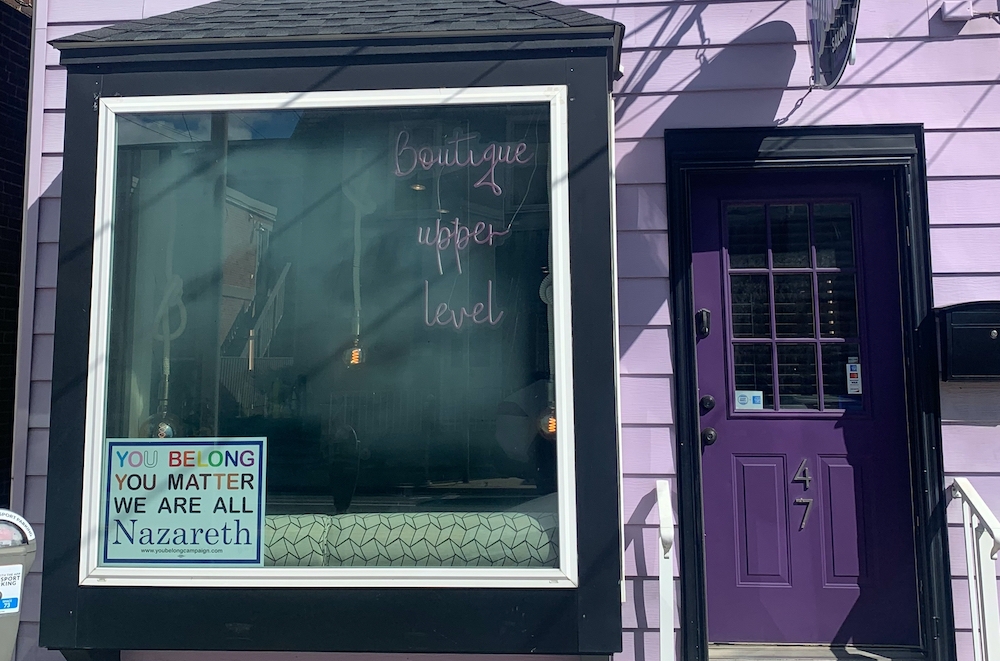 NAZARETH, Pa. — Two advocacy groups are clashing over signs in Nazareth.
A group called Parents for Choice is circulating a letter that says they will not patronize businesses that display signs supporting the "You Belong. You Matter." campaign.
You Belong. You Matter. began in the Southern Lehigh School District and is an effort to show support for inclusivity and kindness, according to the group's website. The website does not mention specific groups or issues that are a focus for the campaign.
April Gabriel-Ferretti volunteers with the group in Nazareth to distribute the signs.
"The letters in the actual sign itself are not just the letters of the rainbow – red, orange, yellow, so on and so forth – but there's different shades of brown and tan," Gabriel-Ferretti explained. "My hope is that when people see this sign that they recognize themselves in it in some way or another."
However, there's been some pushback from Parents for Choice – Nazareth. Members sent a letter to businesses displaying the signs that called the signs a political movement sending the wrong message to their children, noting that they included "colors from the LGBTQ+ /transgender flag."
The letter stated that those who signed it will not be patronizing businesses displaying the signs. A representative for the group declined to comment in an emailed response to WLVR.
Verve Salon and Boutique on Belvidere Street is one of the businesses displaying the "You Belong. You Matter." sign.
"I have some clients who are transgender, I have a lot of clients whose children are struggling with their identity, I have a very diverse group of clientele," owner Beth Knerr said. "So, even if they're not coming to my business, the reality is I want people to see that sign and feel like they're loved."
Knerr said she received the letter from Parents for Choice and felt bullied by it.
"If you're that type of person that doesn't want to include people, doesn't want to care about people, make people feel badly about themselves, you're not welcome in this building," Knerr said of what she calls the "threat."
Since the Parents for Choice letter was distributed, some business owners have decided to take their signs down.
Potts' owner Courtney Beahn says she took down her sign from the hot dog shop because her sign space on the building window is limited and she needed to advertise another upcoming event. Beahn said it had nothing to do with either group.
"We are a small family-owned business that is family oriented," Beahn said. "We want our customers to feel like part of our family when they come in."
WLVR News reached out to Farm and Table in Nazareth, but the owner refused to answer questions about the situation and hung up the phone.
Gabriel-Ferretti said when she signed on to support "You Belong. You Matter." she did not expect this type of reaction.
"Never in a million years did I think that messaging like kindness, and inclusivity, and equality, would come under such attack. It's shocking and it's sad."
In response to the controversy, she and other community members have organized an event to support those who feel marginalized. The Nazareth Together event will be held from 3 to 5 p.m. Saturday, Sept. 10, at Nazareth Borough Park.
---