EASD bus lands in Bushkill Creek
Written by Mariella Miller on November 8, 2021
EASD bus lands in Bushkill Creek
By Tyler Pratt and the Associated Press
November 8, 2021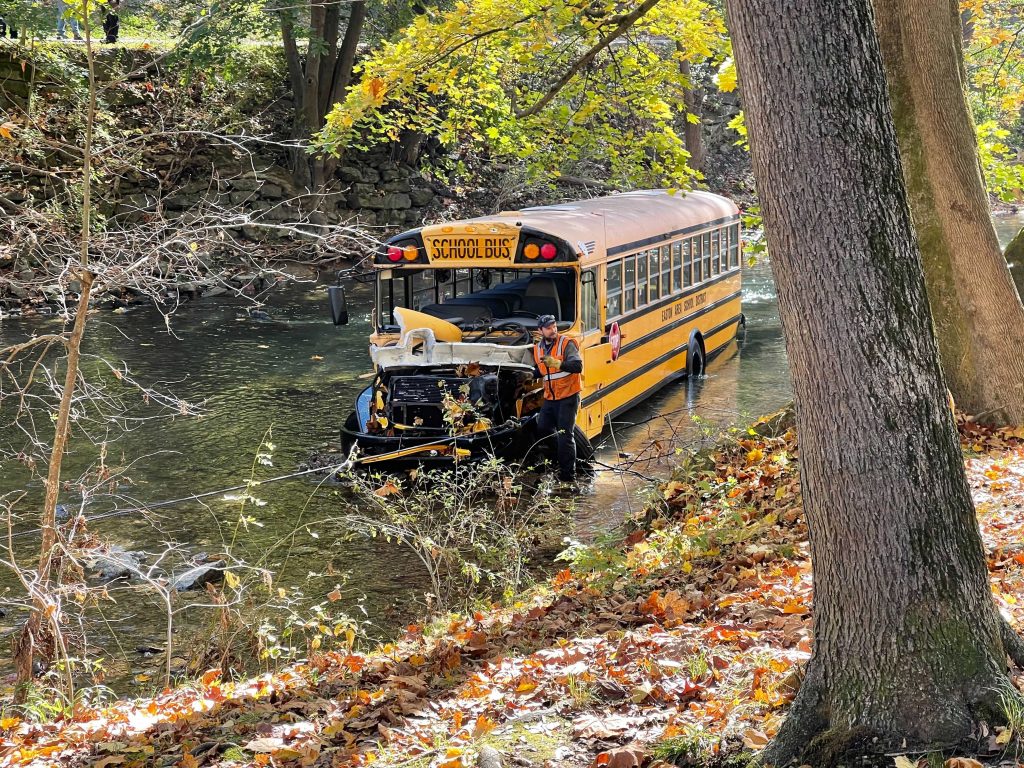 EASTON, Pa. – A school bus carrying roughly 30 Easton middle schoolers went off the road this morning and ended up in Bushkill Creek. Only minor injuries have been reported so far.
Law enforcement says it could have been much worse.
Crews worked throughout the morning to pull a large wrecked school bus up the side of the embankment into Arts Park.
Easton Police Sgt. Joe Alonzo said the bus was going north up Bushkill Drive when it plowed through the guard rail, crashed through the trees and into the water.
He described what the passengers saw.
"You see the water coming through the bus, I couldn't imagine what they were going through and seeing that and how deep that water is. I'm not sure most of the people on the bus aren't aware of how deep that water is," Alonzo said.
The water was about two feet deep, Alonzo said, but often much higher in the spring. He said if the bus had rolled on its side or flipped over there could have been more injuries.
The school district's director of safe schools, John Remaley, told the Associated Press said the driver and eight students were taken to hospitals
Police are investigating what caused the crash.
Alonzo said it's the first time a vehicle has careened into the creek in the area.
Police are investigating what caused the crash.
This story has been updated.
Sign up for our WLVR weekly newsletter to stay up to date with the latest news from the Lehigh Valley and across Pennsylvania.
---