At Easton's Sigal Museum, a collection steeped in America's Black experience
Written by Jim Deegan on November 19, 2021
At Easton's Sigal Museum, a collection steeped in America's Black experience
By Genesis Ortega
November 19, 2021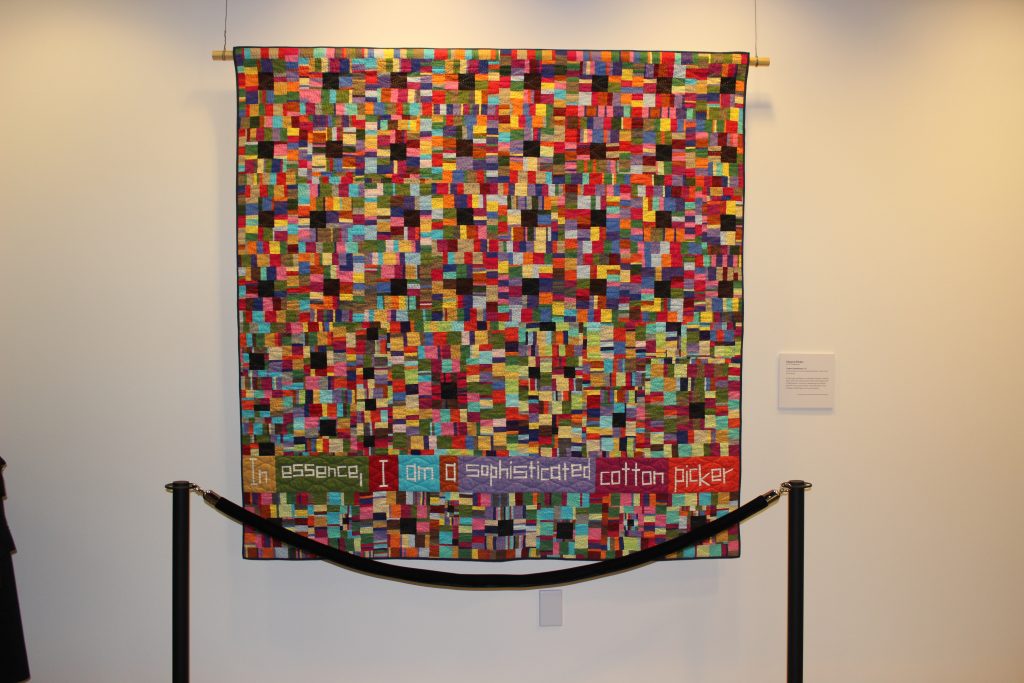 EASTON, Pa. – The work of Black artists inspired by struggles with American identity, allegiance and belonging is on display at Easton's Sigal Museum. 
"Another American's Autobiography" is an exhibit that opens Friday, Nov. 19.
A patterned, multicolored cotton quilt is the first thing to catch your eye when the elevator doors open to the Chrin Gallery on the museum's second floor.
The quilt was sewn by former Lafayette College math professor Chawne Kimber, whose family picked cotton on a Southern plantation at the turn of the 1900s.
Exhibit curator Claudia Volpe said every small stitch on the quilt is intentional, much like the works that are on display. She wanted to set the scene for visitors.
"How can we redefine how people experience themselves in this country and how can we unpack the tensions of Black American patriotism and belonging," she said.
A few feet ahead, visitors will see a three-minute film of a Black man and woman dancing to Marvin Gaye's rendition of the national anthem.
"It's this really elegant exploration of allegiance and how you can see joy delineated through the Black body and expressions of patriotism for this country," Volpe said.
As visitors proceed deeper into the gallery, there are about 30 pieces from the Petrucci Family Foundation's Collection of African-American Art.
Volpe, who's the director for the Petrucci Family Foundation, says she chose each piece and displayed them intentionally to spark discussion from those who visit.
The works tackle subjects like colorism and religious identity in contemporary fashion. Other pieces showcase Black contributions in places like U.S. agriculture and the American military.
Volpe says there's more to see than traditional canvas art. Visitors will even find pieces made entirely from leather and newspaper headlines — another intentional move on Volpe's part.
"The one element is demystifying the idea of a Black monolith. It's that Black Americans have a multitude and various colorful stories to tell and different levels of contributions to this country whether it was elected or not," she said.
The last piece is a large canvas called "Feeding the Veins of the Earth (Grounded Angel)" by Imo Nse Imeh. Volpe said it's a fitting finale.
"The artist, Imo Nse Imeh, envisions angels sent by God to Earth essentially affixed to the skins of Black men to serve as witness to all that people are enduring in this country – the plights, the triumphs, the tribulations of being a Black man in America," Volpe said.
Sigal Museum Executive Director Megan van Ravenswaay says the idea to bring this type of exhibit to Easton was inspired over the past 18 months by the social justice and Black Lives Matter movements.
"As historians, watching history repeat itself in front of us again and again and again, we truly wanted to capture the moment," she said. "And it was a unique time to host this kind of conversation in Northampton County. We truly watched history unfold and we wanted to have this deeper conversation."
Van Ravenswaay says she's grateful for Chawne Kimber, who loaned the quilt, as well as the collaboration with the Petrucci Family Foundation. The artwork will be on display through mid-2022.
Jim Petrucci and the Petrucci Family Foundation sponsored free admission to the Sigal Museum through the end of the year, which includes access to "Another American's Autobiography."
Sign up for our WLVR weekly newsletter to stay up to date with the latest news from the Lehigh Valley and across Pennsylvania.
---