Beers and brats: ArtsQuest's 12th annual Oktoberfest to celebrate German culture in Bethlehem
Written by John Moser on September 29, 2022
Beers and brats: ArtsQuest's 12 annual Oktoberfest to celebrate German culture in Bethlehem
By Ryan Kneller
September 29, 2022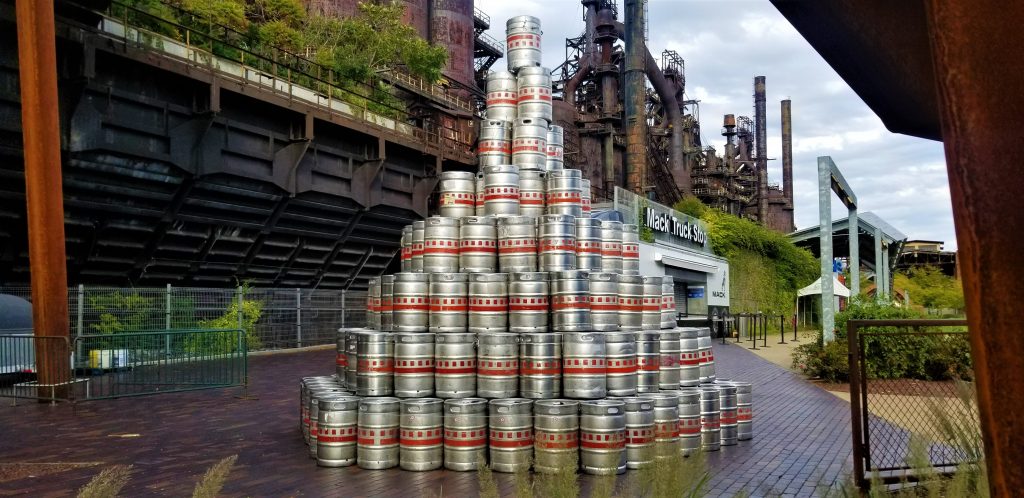 BETHLEHEM, Pa. – Strap on the lederhosen and raise a stein. German traditions are about to shine.
ArtsQuest's Oktoberfest celebration returns this weekend and the following weekend to the SteelStacks campus in south Bethlehem.
Now in its 12th year, the event will include German food, crafts, music and activities such as wiener dog races, a barrel-rolling competition and the Pennsylvania State Steinholding Championship.
While admission is free, some features will require a fee to participate.
Four biergartens will offer beer including Yuengling, Hofbräu, Samuel Adams, Dogfish Head, Victory and more.
Last year, the event set an attendance record of 42,000 people, and ArtsQuest anticipates that "the crowds will be just as eager to attend" this year, according to Shannon Keith, ArtsQuest's director of communications.
"The return of Oktoberfest marks the official start of fall, and we're excited to welcome the public back to this popular annual event here at SteelStacks," ArtsQuest President Kassie Hilgert said in a news release. "None of this would be possible without the support of our corporate and community partners."
Here's a rundown of Oktoberfest attractions: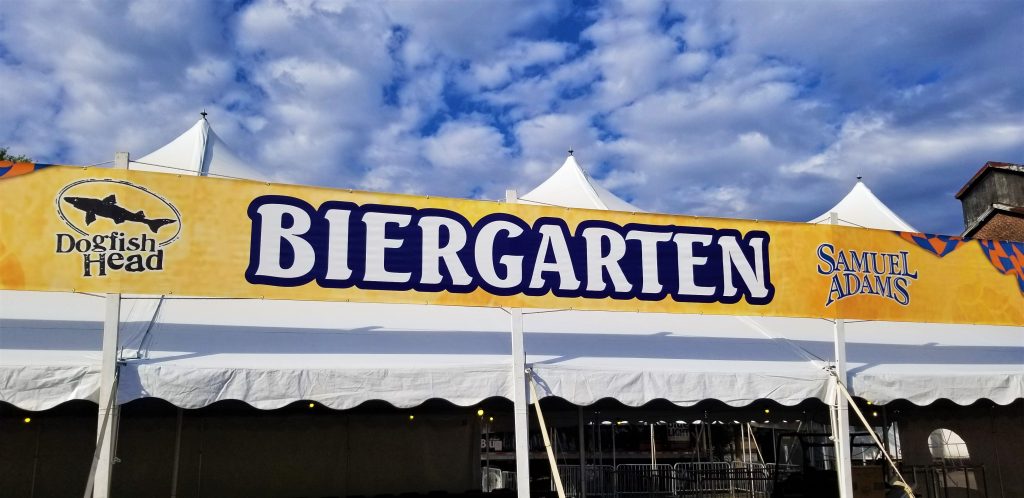 Brewers' Village
Enjoy a wide array of hand-crafted beers, including German-style marzens and autumn-inspired pumpkin ales, at Oktoberfest Brewers' Village, 2-4 p.m. Oct. 8 at Musikfest Café.
Now in its sixth year, the 21-and-over event is presented by The Lehigh Valley Brewers Guild and lets guests sample beer from more than 30 craft breweries, including nearly two dozen local producers such as Hop Hill Brewing Co., McCall Collective Brewing Co., Retriever Brewing Co. and Two Rivers Brewing Co.
Attendees receive a commemorative sampling mug and have the opportunity to meet the brewers and staff.
General admission tickets are $35; $30 for ArtsQuest members; and $10 for designated drivers (those enjoying the festivities without alcohol). VIP tickets, which include 1-hour early access, exclusive commemorative merchandise and access to limited-edition Yuengling cask, are $55; $50 for ArtsQuest members.
Wiener dog fun
achshunds, also known as wiener dogs, will take center stage at multiple Oktoberfest events.
First, the canines are invited to don their favorite costume or simply strut their stuff during free Oktoberfest Wiener Dog Parades (noon Oct. 1, 2, 8 and 9 at Oktoberfest Arena). Prizes will be awarded, and pre-eminent pooches could be elected president or chancellor of the parade.
The parade is free to participate, and no pre-registration is required. You can sign up your dog on the day of the parade at 11:30 a.m. at the Oktoberfest Arena.
More dachshund hijinks will take place during Wiener Dog Races (1:30, 3 and 4:30 p.m. Saturdays and 1:30 and 3 p.m. Sundays at Oktoberfest Arena), where your fast, four-legged friends put their speed to the test.
Purebreds, Dachshund mixes and wiener dogs at heart under 35 pounds are welcome. Registration is $15 per dachshund; $13 for dachshunds of ArtsQuest members. Check-in will begin 30 minutes prior to race start time and end 10 minutes before race start time. Ticket sales will close 30 minutes prior to races.
Pierogipalooza
Pierogipalooza
It's easy to work up an appetite while Oktoberfestin'. Fortunately, food vendors will be on hand selling traditional German eats such as bratwursts, schnitzel and strudels.
Also, Pierogipalooza will return following its sold-out debut in 2021. The potato-filled comfort food experience will take place 2 to 6 p.m. Saturdays, Oct. 1 and 8, throughout the SteelStacks campus.
Passports, $22 in advance and $29 the day of event (while supplies last), will get you six pierogi creations. You can choose any combination of the following flavors:
Apple pie (Pour Bar inside the ArtsQuest Center)
Pork and sauerkraut (Palette Kitchen inside the ArtsQuest Center)
Stuffed mac and cheese (the Fire Bridge over 1st Street)
Loaded baked potato (by the Levitt Pavilion stage)
Halupki/stuffed cabbage (by the Levitt Pavilion stage)
Dill pickle (Mack Truck Stop)
If pierogies aren't your jam, businesses such as Karl Ehmer, Heidi's Strudel, Foodstuff and Heaven on a Bun will sell a variety of seasonal eats.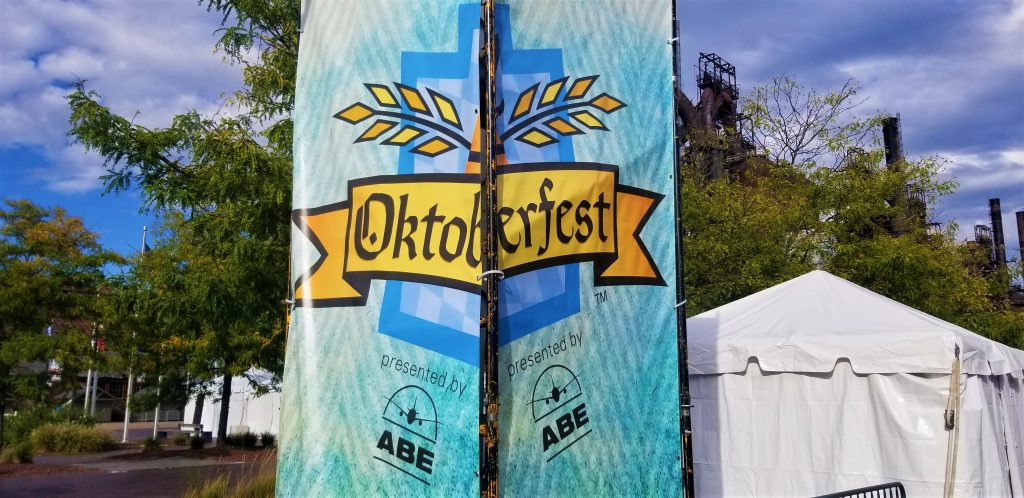 Stein holding and other activities
Watch or participate in free whimsical games and entertainment.
Competitions include barrel rolling (teams of two use one hand each to roll a beer barrel across the finish line as quickly as possible); and stein races (individuals race across a course while carrying six mugs of beer filled to the brim; penalties assessed for spillage).
Stein hoisting, held every hour on the hour throughout the festival, sees which contestants can hold a stein of beer in front of them the longest.
The men and women with the top times during the first weekend will be invited back for the Pennsylvania State Steinholding Championship at 4:30 p.m. Sunday, Oct. 9, at the Oktoberfest Arena at PNC Plaza. The man and woman with the best time at the contest will each win $500 and the title of 2022 Pennsylvania State Steinholding Champions.
Other entertainment will include a "Hasselhoff-Off" (7:15 p.m. Sept. 30 at Oktoberfest Arena), in which contestants show off their David Hasselhoff-like good looks in a hilarious costume and impersonation contest; Karaoke with Royal (9-11 p.m. Sept. 30 and Oct. 7 at Oktoberfest Arena), in which longtime Lehigh Valley karaoke host Royal Rehrig invites you to belt out your favorite song; and Kong Pong Tourney (7-8 p.m. Oct. 7 at Oktoberfest Arena), where duos compete in a blown-up version of the popular party game featuring 55-gallon cups, two dodgeballs and a chance to win a $250 check.
Live music and Dragtoberfest
No festival is complete without toe-tapping tunes, and Oktoberfest will feature a myriad of music, including polka acts such as Polkadelphia, Fritz's Polka Band and John Stevens Polka Band.
Other popular performers will include The Johnny Folsom 4 (Johnny Cash tribute band, 7 p.m. Sept. 30 at Levitt Pavilion); The Moondogs ('60s-'80s music, 8-9 p.m. Oct. 1 at Brewmaster's Biergarten); The Wonton Soups (quirky horn band, 6:30-8 p.m. Oct. 7 at Hofbräu Biergarten); and Auerhahn Schuhplattler Verein (Bavarian dance group, multiple showtimes and venues Oct. 1 and 2).
You also can join some of the Lehigh Valley's top drag queens as they serve up Oktoberfest-themed performances, filled with dancing, ballads and comedy, 8:30 p.m. Oct. 1 and 8. Directed by Elektra Fierce St. James, Dragtoberfest also will feature Golden Girls Drag Shop castmates Sharon Ann Husbands, Georgia Versace Couture and special guests.
OKTOBERFEST
What: Celebration featuring German food, crafts, music, biergartens and activities such as wiener dog races, a barrel-rolling competition and the Pennsylvania State Steinholding Championship.
When: 5-10 p.m. Fridays, noon-10 p.m. Saturdays and noon-6 p.m. Sundays Sept. 30 through Oct. 2 and Oct. 7-9
Where: SteelStacks campus, 101 Founders Way, Bethlehem
How much: Admission is free, but some activities come with a fee
Info: steelstacks.org/festivals/Oktoberfest
---