Cheap fills: Amid inflation, Musikfest mug refills brimming, but local businesses offer price options
Cheap fills: Amid inflation, Musikfest mug refills brimming, but local businesses offer price options
By Ryan Kneller
August 12, 2022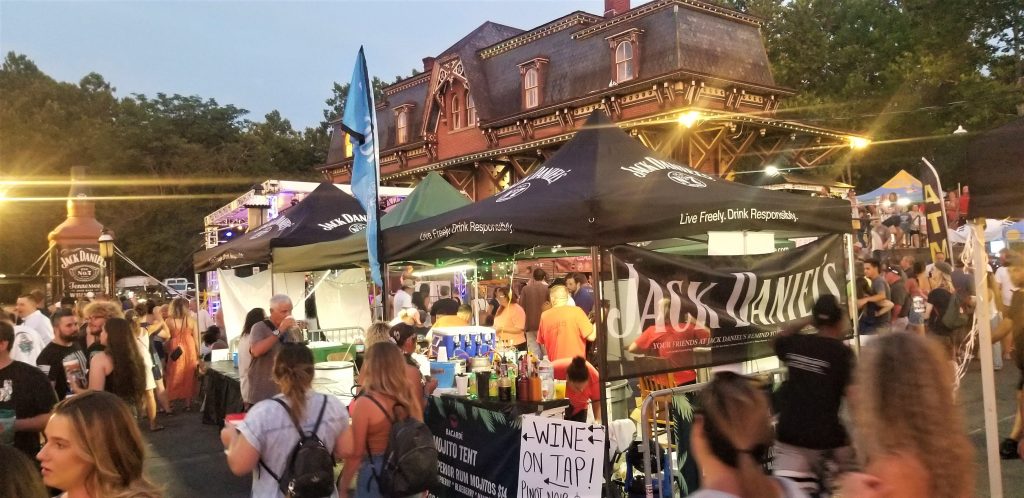 BETHLEHEM, Pa. – Every year, a few weeks after the Fourth of July, countless Lehigh Valley residents perform their annual summer ritual of dusting off – and washing out – their colorful Musikfest mugs for soaking up beer, bands and boisterous fun.
Some will buy a new plastic mug to add to their collections, but whether it's old or new, the 24-ounce vessels prove a loyal sidekick for tens of thousands of festers during the 10-day event.
Prices vary depending on what you want to drink and where you fill up, but overall, the prices are up because of inflation affecting various segments of the economy across the country.
ArtsQuest Director of Communications Shannon Keith said she couldn't provide details on this year's beer prices compared with those of recent festivals.
However, she noted that inflation's wrath has not spared America's largest free music festival, featuring more than 500 musical acts across 16 stages, including a new-for-2022 venue, PNC Stadplatz, at Payrow Plaza.
"Sadly, the combination of supply chain issues and inflation has generated price increases and impacted everything from the beloved Musikfest mugs to an ice cream cone," Keith said.
"As an example, in previous years we've been able to place a reorder for the official Musikfest mugs, but supply chain issues have removed that option."
Best friends Jeremy Schneck and Jerry Richmond, both of Bethlehem, were filling up on Miller Lite and Leinenkugel's Summer Shandy, respectively, on Thursday while listening to The Amish Outlaws band at the festival's Festplatz.
"Prices aren't too outrageous," Richmond said. "I usually drink one or two cans before coming down to save money."
"A mug of beer costing 10 or 11 bucks may not seem like a lot, but someone like me who drinks at least three mugs a day, the price tag adds up pretty quickly," Schneck said.
Mug refills at designated Musikfest tents are $10 for domestics and $11 for craft beers, and festers also can opt for 16-ounce cups for $8 and $9.
Brews include Yuengling products such as Flight, Oktoberfest and Raging Eagle Mango Beer along with other options such as SweetWater Brewing Company's Hazy IPA.
For people who prefer cocktails over beer, the festival also features several cocktail tents and stands, with cocktails of Deep Eddy Vodka, Jack Daniel's Whiskey, Bombay Dry Gin and other spirits. Those run $9 for a 12-ounce cup and $16 for a mug refill.
Lori Hauser of Allentown attended the festival on Thursday with her two elementary school-age children, Christian and Jessica.
The family was in high spirits, with Hauser sipping Yuengling Lager out of a newly purchased mug and her children munching on decadent waffles and ice cream desserts from the Philly Waffle Cabin, while browsing merchandise in Martin Guitar Handwerkplatz.
It was the family's second day in a row attending the festival, but the merriment has required Hauser to "dig a little deeper into the pockets" than past years, she said.
"We seem to be paying a couple of bucks more for everything this year – from the food and drinks to the souvenirs," she said. "I always let the kids choose a toy or other take-home item from the vendor area, and I noticed that many items seemed to be a bit pricier than they were last year.
"So, we settled on a bracelet and hat, which were pretty reasonable – less than $15 each. The festival overall is still a fun and a fairly affordable family outing, considering there is no fee to enter and we can park a few blocks away at no charge."
Keith echoed Hauser's sentiments, noting that while prices for refreshments and artisan wares are likely to have higher price tags this year, the event's free admission and entertainment continue to make it an affordable option.
"Again, prices are up across the board," she said. "However, when folks come to Musikfest — a free festival, it is more affordable than competing options. Those who come to Musikfest and support official festival vendors are ensuring that the festival continues to offer the caliber of free entertainment for years to come."
For fans of cheap thrills – and cheap fills – some destinations to fill up mugs for less can be found at dozens of bars and restaurants on Bethlehem's North and South sides.
Some popular destinations for mug refills include:
Old Brewery Tavern, 138 W. Union Blvd.: $5 select beers
Joe's Tavern, 12 W. Broad St.: $6 domestics (Yuengling Lager, Miller Lite and more) and $8 crafts (Troegs Independent Perpetual IPA, Cigar City Jai Alai and more);
Ripper's Pub, 77 W. Broad St.: $6 Miller Lite and Yuengling Lager and $8 Guinness, Hazy IPA and Stella Artois;
Matchplatz (The Wooden Match, 61 W. Lehigh St.): Mojito tent (red or white sangria and Bacardi Superior Rum mojitos, $14 each; $12 Tito's Handmade Vodka draft cocktails; $8 draft wine (pinot noir, pinot grigio, orange cider and orange sangria; and beers from Two Roads Brewing Company (prices vary);
Hotel Bethlehem, 437 Main St.: $7 Miller Lite and Yuengling Lager and $8 SweetWater and Mighty Swell;
Corked 2.0, 515 Main St.: $6 domestics and $7 craft and imports;
McCarthy's Red Stag Pub & Whiskey Bar, 534 Main St.: $7 Guinness, Harp Lager, Smithwick's Red Ale, Logyard Brewing and more;
Tavern at the Sun Inn, 564 Main St.: $7 Victory Summer Love, Kona Big Wave, Shock Top, Landshark and more;
Urbano Mexican Kitchen & Bar, 526 Main St.: $7 beers from Shock Top, Troegs Independent Brewing, Goose Island Beer Company and Kona Brewing Company;
Cave Brewing Company stand (in front of Domaci, 523 Main St.): $8 Cave Cream Ale, Brown Saison, Bert's Oatmeal Stout and Strawberry Seltzer;
Lost Tavern Brewing, 444 Main St.: More than a dozen beers and seltzers, $8-$14, and slushees (watermelon cider and rotating flavors of hard seltzer), $13 and $15 respectively;
The Steel Pub, 320 E. 1st St.: $8 Miller Lite and Yuengling Lager and $9 premium (Sam Adams, Lagunitas, Dechutes and more); and
Bethlehem Brew Works, 559 Main St.: $9 Blueberry Belch and Valley Golden.
Southside 313 Bar & Grille, 313 E. 3rd St.: $6 domestics (Miller Lite, Yuengling Lager, Michelob Ultra) and $8 crafts (Troegs Perpetual IPA, Troegs Sunshine Pils, Down East Cider and more).
Bonn Place Brewing Company, 310 Taylor St.: About a half dozen selections, including Mooey and Intercooler, available for $8; and
F&A Grog House, 117 E. 3rd St.: More than 52 beers on tap, with mug refills starting at $6.
Sign up for our WLVR weekly newsletter to stay up to date with the latest news from the Lehigh Valley and across Pennsylvania.
---